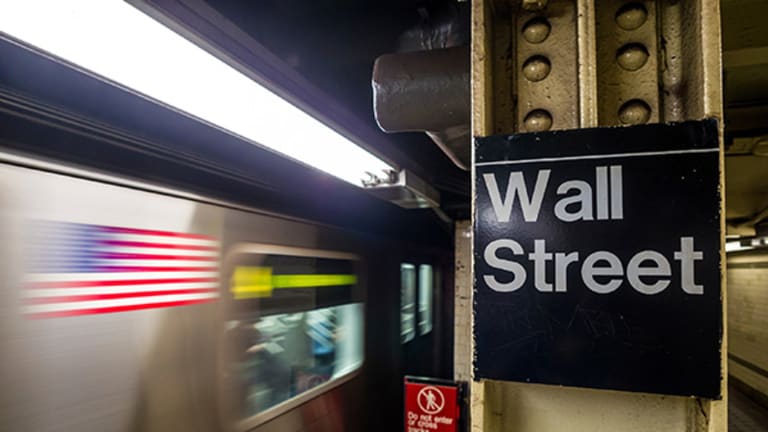 Publish date:
Stocks Struggle for Direction as Jackson Hole Conference Looms
Stocks fluctuate Monday afternoon as a selloff in crude oil hits the energy sector and Federal Reserve speeches at the end of the week leave investors wary.
Stocks fluctuate Monday afternoon as a selloff in crude oil hits the energy sector and Federal Reserve speeches at the end of the week leave investors wary.
Stocks struggled for direction on Monday with investors wary ahead of an annual meeting of Federal Reserve members at the end of the week. 
The S&P 500 was down 0.08%, the Dow Jones Industrial Average fell 0.09%, and the Nasdaq was up 0.03%.
The Fed will again take focus this week as central bank officials convene at the Monetary Policy Symposium in Jackson Hole, Wyo. Members will discuss monetary policy at the two-day annual meeting with a speech on Friday from Fed Chair Janet Yellen providing important context to the markets' outlook for rates.
Like recent Fed chatter, Yellen's comments will likely remain dovish and conservative, pushing data dependency for any future rate moves. Yellen will also likely tout a more positive view on the economy and labor market, reflective of recent improvements in the data.
The U.S. economy is close to warranting another rate hike with a 2016 move still in consideration, Fed Vice Chairman Stanley Fischer said over the weekend. Fischer said the Fed is "close to [its] targets" in a speech in Aspen, Colo., on Sunday. He noted that GDP will likely pick up in coming quarters as currency headwinds subside and investment recovers from recent weakness.
The chances of a September rate hike currently sit at 18%, according to CME Group fed funds futures. A rate hike in November has better chances at 41%.
"For the past three weeks there's been a growing dissension among Fed opinions and market expectations regarding near-term interest rate trajectory out of the United States," James Stanley, currency analyst at DailyFX, wrote in a note. "While markets are seemingly expecting the Federal Reserve to stay loose and passive with monetary policy, Federal Reserve members are getting increasingly bolder in their verbiage regarding rate hikes in the not-too-distant future."
Crude oil snapped a seven-day winning streak after Morgan Stanley threw doubt on whether an agreement between the Organization of the Petroleum Exporting Countries would come to pass. Analysts wrote in a note that a deal was "highly unlikely" as producers remain reluctant to give up market share.
"The market treats OPEC as the central banker of oil where simple jawboning can move markets and scare off shorts," analysts wrote. "However, we see too many headwinds and logistical challenges to a meaningful deal given past statements by OPEC and its members."
Hopes over a deal when members meet in September have recently buoyed crude prices, particularly after Saudi Arabian Oil Minister Khalid Al-Falih said the country would "take any action to help the market rebalance" with the help of other producers.
West Texas Intermediate crude oil for October delivery fell 3.5% to $47.41 a barrel.
Medivation (MDVN) rocketed 20% higher, pulling health care stocks into rally mode, after agreeing to be acquired by Pfizer (PFE) - Get Pfizer Inc. Report in a deal valued at $14 billion. Pfizer agreed to pay $81.50 a share in cash for the cancer specialist, representing a 21% premium to its Friday close. Pfizer expects the deal to close in the third or fourth quarter of this year.
CST Brands (CST)  fell slightly after agreeing to be bought by Alimentation Couche Tard in a deal worth $4.4 billion. Canadian company Alimentation will pay $48.53 a share in cash, roughly a 2% premium to CST's Friday close. CST said in March that it was exploring strategic alternatives and reports of a potential buyout had circulated last week.
Syngenta (SYT) climbed after the Committee on Foreign Investment in the U.S. approved its acquisition by ChemChina. The $43 billion deal had been put under scrutiny as the largest overseas acquisition by a Chinese firm.
Valeant Pharmaceuticals (VRX) added 9% after appointing Paul Herendeen, an executive at animal health care company Zoetis, as its new chief financial officer. The move is the latest of several management changes at the beleaguered pharmaceutical company. 
Intersil (ISIL) jumped 20% on reports Japan's Renesas Electronics is in the final stages of negotiations to acquire the chipmaker. Renesas could offer as much as 300 billion yen ($2.99 billion), according to Reuters sources.