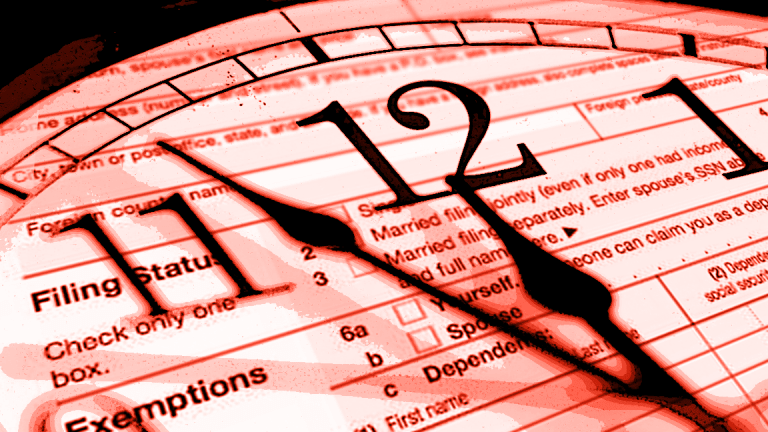 Wall Street Holds Lower as Tax Reform Details Trickle Out
Stocks are lower on Thursday as the wait for the Senate GOP's tax plans stretches Wall Street's patience.
Stocks are lower on Thursday as the wait for the Senate GOP's tax plans stretches Wall Street's patience.
Stocks were falling on Thursday, Nov. 9, as details of the Senate GOP's tax plan trickled out, though were yet to be confirmed.
The Dow Jones Industrial Average was down 0.5%, the S&P 500 fell 0.5% and the Nasdaq slid 0.8%. The Nasdaq was on track for its worst day since Aug. 17. Only three Dow components were in the green -- the rest were sharply lower.
Senate Republicans could delay a corporate tax cut until 2019, according to a report from The Washington Post. That move by the Senate Finance Committee would lower the cost of the House's bill by more than $100 billion. In a small concession, the Senate has included an allowance for corporations to deduct capital investments as soon as next year. 
President Donald Trump and the House GOP had pushed for the tax rate to be cut to 20% from 35%, effective immediately once legislation passed. They have argued that cutting the corporate tax rate would provide stimulus to U.S. companies and inspire reinvestment in businesses. 
Treasury Secretary Steven Mnuchin said on Wednesday that the hope was for a corporate tax rate cut in 2018, but that the administration would not automatically dismiss a delay. 
"The longer we wait, the worse it is for the economy and making companies competitive," Mnuchin told Bloomberg TV. "The president's strong preference -- he feels very strongly that he wants to start this right away... But having said that, we'll have to look at the entire Senate package."
The Senate has reportedly diverged from the House's bill on other points. Their plan would keep the mortgage interest deduction unchanged, leaving the cap at $1 million. The House bill had reduced the cap to $500,000. Their proposal also scraps the ability to deduct state and local taxes from federal taxes owed -- the House bill had allowed individuals to deduct up to $10,000 in property tax, but eliminated state income tax deductions. 
Senate Republicans were still set to unveil actual tax reform legislation. The first draft to be made public is expected to include billions in tax cuts for people and corporations, a repeal of the federal deduction for state and local taxes, and a likely compression of the personal income tax brackets to four from seven.
Senate Majority Leader Mitch McConnell said his chamber aims to debate the bill next week, while the House could pass its version around the same time. President Donald Trump's White House has pushed for tax cuts to pass by the end of the year. If that happens, it will be the first piece of major legislation since he assumed office in January.
Tweaks are being made to the House's Tax Cut and Jobs Act after initial calculations found that it increased the deficit by a massive amount, debt Trump and Republicans had pledged to reduce when they were back in power. The House's plan as written would raise the deficit by around $1.7 trillion over a decade, the Congressional Budget Office said on Wednesday, Nov. 8. That surpasses the $1.5 trillion threshold needed so the Senate can vote along party lines, according to Senate rules. Any more than that and the bill would require 60 votes to pass, meaning Republicans would have to court votes across the aisle.
House Ways and Means Committee Chair Rep. Kevin Brady made revisions to the House bill on Thursday in efforts to generate broader support and lower the original's increase in the deficit. Among those changes, the House introduced a new tax rate of 9% for small businesses earning less than $75,000 in income. The adoption tax credit was also preserved after initially being removed in the original version. 
House Speaker Paul Ryan conceded in a statement on Thursday that the House bill will not definitively cut rates for everyone. Instead, individual income tax rates would be cut for those making less than $1 million a year. However, eliminating certain exemptions and deductions could mean an overall higher tax bill for individuals. 
Even with stocks sharply lower on Thursday, Kevin Miller, CEO and portfolio manager at E-Valuator Funds, does not expect a prolonged market downturn should the GOP's tax plans fail to pass. 
"I don't think we would see a significant selloff if it didn't pass, but it might be a pullback," Miller told TheStreet in a call. "The earnings reports are coming in very strong. So I think it would just slow down the potential upside as opposed to creating a big drawback."
Trump capped his visit to China on Thursday with a litany of new commercial contracts for some of America's biggest companies even as he continued to criticize trade relations between the world's two biggest economies. Around $250 billion in new and existing deals between U.S. and Chinese companies were touted by the president and his team as they departed from the third leg of Trump's 11-day Asia tour and celebrated the anniversary of his shock election victory last November.
Boeing Co. (BA) - Get Report , General Electric Co. (GE) - Get Report , Qualcomm Inc. (QCOM) - Get Report , Goldman Sachs Group Inc. (GS) - Get Report and Ford Motor Co. (F) - Get Report were just some of the names on the list of deals and contracts linked to the Trump visit and the broader ambitions of an economic policy he began trying to coordinate with China President Xi Jinping earlier this year.
Boeing was perhaps the biggest recipient of what China's Commerce Minister Zhong Shan called a "miracle" of trade deals, agreeing to terms on the sale of 300 jets with a list value of around $37 billion to China Aviation Suppliers Holding Co. Some of the orders, however, could have been blended into past agreements, analysts said, making it difficult to judge how much the announcement will change Boeing's order book.
General Electric is a holding in Jim Cramer's Action Alerts PLUS Charitable Trust Portfolio. Want to be alerted before Cramer buys or sells GE? Learn more now.
Tech stocks were the worst performers on Thursday and a major drag on the Nasdaq. The sector's largest companies including Alphabet Inc. (GOOGL) - Get Report , Microsoft Corp. (MSFT) - Get Report , Facebook Inc. (FB) - Get Report , Alibaba Group Holding Ltd. (BABA) - Get Report  and Intel Corp. (INTC) - Get Report were all lower. The Technology Select Sector SPDR ETF (XLK) - Get Report fell 1%.
The sector has been responsible for a large chunk of the gains since Trump's election a year earlier. However, that has also made tech names susceptible to sharp selloffs since their  first major slump in June. 
Facebook and Alphabet are holdings in Jim Cramer's Action Alerts PLUS Charitable Trust Portfolio. Want to be alerted before Cramer buys or sells those stocks? Learn more now.
In earnings news Thursday, Square Inc. (SQ) - Get Report reported better-than-expected adjusted earnings over its third quarter and increased its full-year revenue and profit estimates. The payments processor reported adjusted profit of 7 cents a share, one cents higher than a year earlier and two cents more than expected. Adjusted revenue of $257.2 million exceeded analysts' targets of $245.2 million. 
For its full year, Square projected adjusted earnings of 24 cents to 25 cents a share, higher than previous guidance of 21 cents to 23 cents. 
Kohl's Corp. (KSS) - Get Report  reported revenue and same-store sales growth, but earnings per share disappointed. Earnings of 70 cents a share fell 12.5% from a year earlier and fell short of estimates by 2 cents. Revenue inched 0.1% higher to $4.33 billion, matching analysts' estimates. Same-store sales also grew 0.1%, far better than a 1.7% drop a year earlier. 
Macy's Inc. (M) - Get Report reported third-quarter adjusted earnings of 23 cents a share, beating forecasts that called for 19 cents. Revenue of $5.28 billion was slightly below estimates of $5.31 billion. Same-store sales fell 4%, Macy's 11th consecutive quarter of same-store sales declines.
Twenty-First Century Fox Inc. (FOXA) - Get Report reported fiscal first-quarter revenue that beat analysts' expectations, while earnings of 49 cents a share were in-line with Wall Street forecasts. Fox's better-than-expected results came as investors continued to wonder what to make of a CNBC report earlier this week that said Fox executives recently spoke with their counterparts at Walt Disney Co. (DIS) - Get Report about selling their film and TV production studio along with their Star India networks and 39% stake in Sky PLC, the enormous European satellite-TV operator.
The two parties currently aren't holding discussions, according to reports. CEO James Murdoch said he wouldn't respond directly to deal speculation but did say that Fox has "a great set of brands and businesses that we really like."
Roku Inc. (ROKU) - Get Report rocketed higher, up 45%, after a better-than-expected quarter, its first earnings report since going public. The home-streaming service reported a 40% rise in revenue to $124.8 million, exceeding estimates of $110 million. A loss of 10 cents a share was a fraction of an expected loss of 28 cents a share. Founder and CEO Anthony Wood called the quarter a "milestone" in the company's young history.
Initial jobless claims rose in the past week, though a monthly average fell to its lowest level since March 1973. The number of new claims for unemployment benefits increased by 10,000 to 239,000 in the week ended November 4, according to the Labor Department. Analysts expected a reading of 231,000. The less volatile four-week average dipped by 1,250 to 231,250. 
Updated from 1:57 p.m. ET, Nov. 9. 
More of What's Trending on TheStreet: