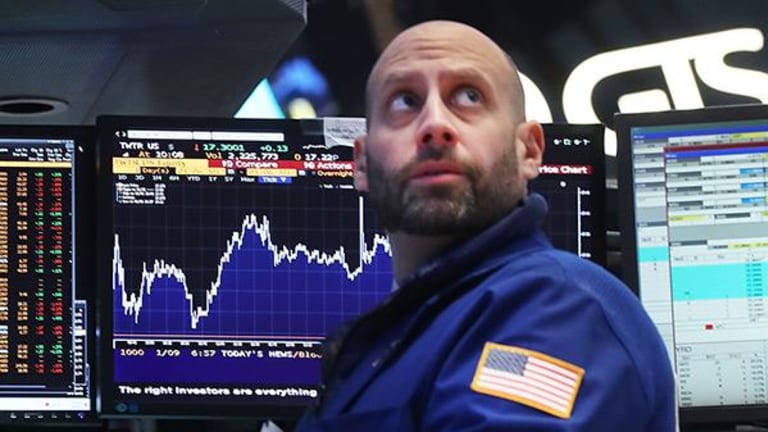 Stocks Lower as Trump Touts Protectionist Vision
Stocks hold lower on Monday as the Donald Trump administration commits to protectionist policies.
Stocks held lower on Monday as the Donald Trump administration committed to protectionist policies.
The S&P 500 was down 0.34%, the Dow Jones Industrial Average fell 0.2%, and the Nasdaq added 0.12%. The Volatility Indexundefined increased 5%.
Trump signed an executive order on Monday to formally withdraw the U.S. from the Trans-Pacific Partnership, a deal he frequently lambasted on the campaign trail. Other executive orders included a hiring freeze on federal employees, except the military, and a limit on abortion funding overseas. 
Earlier Monday, Trump met with business leaders and repeated his proposal for significant border taxes for companies manufacturing outside of the U.S. He also said companies building domestic factories would receive speedy approvals. Lockheed Martin (LMT) - Get Free Report , Under Armour (UA) - Get Free Report and Tesla (TSLA) - Get Free Report  executives, among others, were in attendance. Trump also said he planned to cut business regulations by 75% or more.
Stocks traded mostly lower in recent days as investors grappled with uncertainty over Trump's policies, particularly on protectionist trade moves. Trump underlined his belief in "America first" in his inauguration speech on Friday, which could lead to higher tariffs for foreign companies and U.S. companies manufacturing overseas.
"Given the contentious nature of the election, I do not see a lessening of drama from Washington in the coming months," said Tom Siomades, head of Radnor-based Hartford Funds Investment Consulting Group. "In fact, it will be interesting to see how the markets go about parsing meaningful news amid the rancor. I would be wary of industries and high-profile companies within those industries, particularly health care right now, that may draw the ire of our new president and his itchy Twitter finger."
The coming week should shed a little light on what markets can expect going forward. The president and Republican officials have suggested that the repeal of the Affordable Care Act is high on the agenda, while Wilbur Ross, Trump's nominee for commerce secretary, has indicated the reopening of the North American Free Trade Agreement is also a top priority.
"A focus on rules of origin and dispute-settlement panels rather than punitive tariffs would be viewed positively, while greater detail on infrastructure spending and corporate tax reform plans would reinforce market sentiment as well," TD Securities analysts wrote in a note.
Trump and his team spent little time over the weekend detailing any substantive policy proposals. Instead, Trump and his White House Press Secretary Sean Spicer attacked the media and defended the crowd size at Friday's inauguration. Trump is set to meet with House Speaker Paul Ryan and a number of business leaders on Monday.
The U.S. dollar was under pressure on Monday amid uncertainty over Trump's policy plans. The U.S. Dollar Index, which measures the greenback against six other currencies, was down 0.3% to 100.29.
McDonald's (MCD) - Get Free Report was one of the biggest losers on the Dow despite reporting a better-than-expected fourth quarter. The world's largest burger chain earned $1.44 a share in the quarter, higher than $1.31 a share in the year-ago quarter and 3 cents more than estimates. Same-store sales rose 2.7%, more than double estimates. Same-store sales in the U.S., however, fell 1.3% while international sales grew 2.8%. Shares fell 1%.
Crude oil prices closed lower even after upbeat comments from Saudi Arabia, a key player in the Organization of Petroleum Exporting Countries. Saudi Arabia's energy minister, Khalid al-Falih, said the 20 nations participating in a production cut agreement had so far shown "very good compliance."
Aetna (AET) slid more than 3% after a federal judge on Monday blocked its proposed $37 billion merger with Humana (HUM) - Get Free Report , finding that the merger would likely harm competition in Medicare Advantage in hundreds of counties around the U.S. and in the public Obamacare exchanges in Florida. Shares of Humana rose slightly.
Halliburton (HAL) - Get Free Report fell 3% after reporting a mixed quarter. Losses for the fourth quarter widened to 17 cents a share from 3 cents in the year-ago quarter. Adjusted earnings of 4 cents a share came in above consensus of 2 cents.. Revenue declined to $4.02 billion from $5.08 billion and fell short of estimates of $4.1 billion.
AMC Entertainment (AMC) - Get Free Report agreed on Monday to buy Nordic Cinema Group, a Stockholm-based cinema chain, in an all-cash deal worth $929 million. Nordic is the largest theater chain in Sweden, Estonia, Lithuania, Latvia and Finland. The acquisition is expected to close in June.
Qualcomm (QCOM) - Get Free Report was downgraded to neutral from buy at Nomura. The company is facing increased legal scrutiny, which could affect the pending NXP Semiconductors (NXPI) - Get Free Report deal, Nomura said.
NXP is a holding in Jim Cramer's Action Alerts PLUS Charitable Trust Portfolio. Want to be alerted before Cramer buys or sells NXPI? Learn more now.
Kate Spade (KATE) climbed nearly 4% on reports of takeover interest. Accessories brands Coach (COH) and Michael Kors (KORS) are reportedly both mulling a bid.