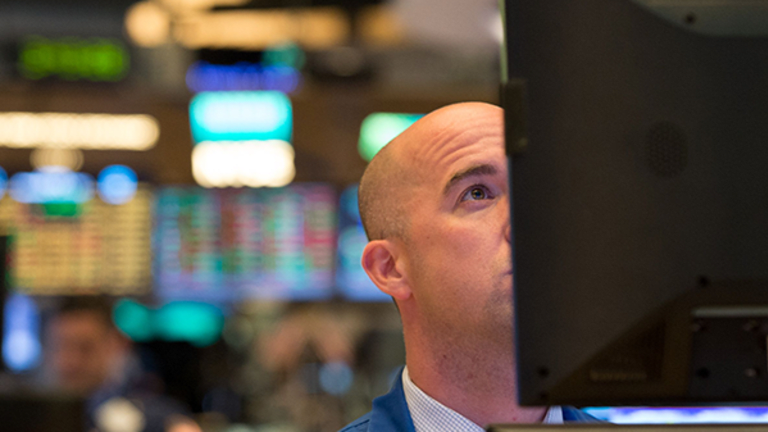 Stocks Mixed as Travelers Weighs on Dow Amid Harvey Damage Assessments
Stocks are mixed at the start of the week.
Stocks are mixed at the start of the week.
Stocks turned mixed on Monday, Aug. 28, as Dow Jones Industrial Average component Travelers Cos. (TRV) - Get Report weighed on the index, pulling it lower.
Stock of the insurance giant fell nearly 3% as insurers scrambled to assess damages from Hurricane Harvey. At the same time, volatile energy markets responded to catastrophic destruction along the Texas coast.
The Dow Jones Industrial Average was down 20 points, or 0.08%, the S&P 500 rose 0.15% and the Nasdaq increased 0.17%.
Hurricane Harvey has caused massive, unprecedented flooding in Corpus Christi, Texas, and Houston, and the storm's impact on the area's refineries, pipelines and storage remains unknown though there is some evidence of major losses.
The relentless rain from Harvey, which was downgraded to a tropical storm, brought as many as 50 inches of rain. Ahead of the hurricane, refiners shut down about 900,000 barrels per day of capacity, mostly in the Corpus Christi area. Before the Category 4 hurricane made landfall with winds of 130 miles per hour, the four refineries owned by Valero Energy Corp. (VLO) - Get Report and Citgo Petroleum and Flint Hill Resources shut down production on Thursday.
FactSet, quoting the U.S. Bureau of Safety and Environmental Enforcement, reported that 22% of daily oil output and 25.7% of gasoline production in the Gulf has been shut-in.
Exxon Mobil Corp. (XOM) - Get Report closed its Baytown refinery, located on the Houston Ship Channel, when floodwaters paralyzed large portions of the area after Harvey was downgraded to a tropical storm from a hurricane, according to the Journal. Exxon stock was down 0.14% in early trading on Monday. The plant is the second-largest refinery in the country, processing as much as 560,000 barrels of oil a day.
Royal Dutch Shell Corp. (RDS.A) also shut down its Deer Park refinery. Shares trended lower in morning trading.
The Wall Street Journal reported that Harvey knocked almost 15% of U.S. refinery capacity out of commission, which could boost fuel prices across the U.S. Gasoline futures spiked nearly 4% on Monday morning. Futures for West Texas Intermediate crude oil for October delivery were down 1.6% to $47.13 Monday morning after surging on Friday.
Shares of Allstate Corp. (ALL) - Get Report , which is the second-biggest insurer in Texas, fell 1.7% on Monday. 
Insurer Hanover Re is expecting total damages from Tropical Storm Harvey to fall below the levels of Hurricanes Katrina and Sandy. However, insurance research group the Insurance Information Institute told Fox Business that flood damage alone from the storm could match the $15 billion in damage it estimated Katrina caused. Sandy, which hit the Northeast in 2012, was responsible for $36 billion in damage while Katrina, which hit the Gulf Coast in 2005, caused damages topping $80 billion, according to Hanover.
Shares of generator manufacturer Gernerac Holdings Inc. (GNRC) - Get Report continued to rise Monday morning, with the stock trading up nearly 1% just after the opening bell. Home-improvement retailers Home Depot Inc. (HD) - Get Report and Lowe's Cos. (LOW) - Get Report were each climbing over 0.5% Monday.
President Donald Trump will travel to Texas on Tuesday to review the state's recovery program following the storm. It's unclear where the president will visit, but Press Secretary Sarah Huckabee Sanders said the administration is still coordinating details and logistics with Texas officials.
Biopharmaceutical company Gilead Sciences Inc. (GILD) - Get Report agreed to buy Kite Pharma Inc. (KITE) for about $11 billion in cash. Kite has made waves in the drug industry for a promising new technology that harnesses the body's immune system to fight cancer.
Gilead will pay $180 a share, offering a 29% premium to Kite's Friday closing price.
The deal is expected to close in the fourth quarter of this year. Gilead stock traded up 1.8% Monday while Kite shares were surging nearly 29%.
After weeks of speculation, investors now know who will likely lead the beleaguered Uber Technologies Inc. after former CEO Travis Kalanick was ousted in late June amid a strong of public relations crises.
Dara Khosrowshahi, the CEO of online travel company Expedia Inc. (EXPE) - Get Report , will reportedly take the helm at the ride-sharing company, which is worth nearly $70 billion.
Recode's Kara Swisher and The New York Times' Mike Isaac bothtweeted Sunday that Khosrowshahi, Expedia's CEO since 2005, will take Kalanick's old position. Khosrowshahi, a former investment banker, was previously an executive at IAC/InterActiveCorp and serves on the board of New York Times Co.
The final front-runners for the CEO post at Uber were Hewlett-Packard Enterprise Inc. CEO Meg Whitman, General Electric Co. Chairman Jeff Immelt and an unknown third candidate, presumably Khosrowshahi.
Uber Just Missed a Big Opportunity by Hiring Expedia's Dara Khosrowshahi as CEO
Whole Foods Market Corp. (WFM)  has begun slashing prices as much as 43% at its store on 57th street in Manhattan, Bloomberg reported Monday after performing a spot check at the store. Amazon.com Inc. (AMZN) - Get Report  said that it expects to complete its acquisition of Whole Foods today, about two months after it announced it was acquiring the company for $13.7 billion.
It's the final week of the month which means the labor market will go under the microscope again. The nonfarm payrolls report will be released on Friday, Sept. 1, in what is the most highly anticipated and closely scrutinized economic data point of any month.
The number of jobs added to the U.S. economy is expected to slow down after July marked the fifth month over 200,000 so far this year. Economists surveyed by FactSet anticipate 172,500 jobs to have been added to nonfarm payrolls in August, slowing from a pace of 209,000 in July.
The unemployment rate is expected to hold steady at 4.3%, while hourly earnings are forecast to have climbed 0.3% month on month. Private payrolls data from Automatic Data Processing will be released on Wednesday, Aug. 30.
The U.S. trade deficit in goods for July increased to $65.1 billion, topping economists' expectations of a $64.1 billion deficit.
Updated from 9:45 a.m. ET
More of What's Trending on TheStreet: