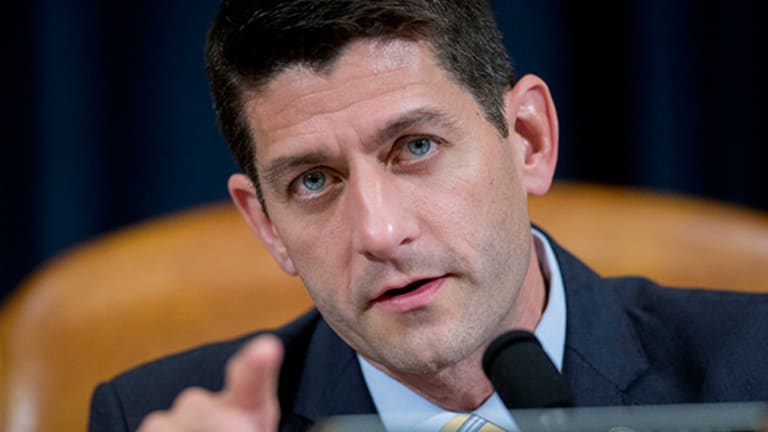 Publish date:
Stocks Break Higher in Jittery Trading Ahead of Vote on Health Care Bill
Stocks break higher Thursday morning ahead of a vote on Capitol Hill on the Republicans' bill to repeal and replace Obamacare.
Stocks break higher Thursday morning ahead of a vote on Capitol Hill on the Republicans' bill to repeal and replace Obamacare.
Stocks broke higher Thursday morning ahead of a vote on Capitol Hill on the Republicans' bill to repeal and replace Obamacare.
The S&P 500 was up 0.18%, the Dow Jones Industrial Average gained 0.14%, and the Nasdaq fell 0.17%. 
The passage of the Republicans' health care bill is on the line as a number of GOP lawmakers withhold their support ahead of a House vote on Thursday. The Trump administration has implored lawmakers in closed-door meetings to support the bill and has made concessions, including reportedly dropping the minimum benefits insurers must provide. Donald Trump reportedly told lawmakers that their seats would be on the line in 2018 if they didn't back the bill. Republicans can afford to lose just 21 votes from their party. 
The American Health Care Act, designed to replace the Affordable Care Act (better known as Obamacare), has been widely criticized on both sides of the aisle. The Congressional Budget Office calculated that 24 million more people will be uninsured by 2026 under the Republicans' bill, including 14 million more by 2018. Premiums are expected to jump 20% in the individual market in 2018 and 2019.
Struggles over the passage of the bill have spooked investors keen to see the Trump administration pass a number of other reforms. Stocks had rallied since the election on Trump's promises of tax cuts and regulatory reform, issues he has said he will address once health care reform has passed. Patience with the slow progress of health care and financial reforms wore thin earlier in the week, sending stocks spiralling to their worst losses of the year.
New home sales surged to seven-month highs in February as high demand overcame constrained inventory. Sales of newly built houses in the U.S. rose by 6.1% month over month to a seasonally adjusted annual rate of 592,000, according to the Commerce Department. Sales were at their second-highest since 2008 and came in higher than estimates of 571,000. 
Federal Reserve Chair Janet Yellen refrained from speaking about the economic outlook and interest rates in her opening keynote address at the Federal Reserve System Community Development Research Conference in Washington. Instead, Yellen spoke on new research highlighting how important basic work skills are for young people and how the research will benefit the labor market. She also spoke on the importance of research into new programs for poor children to develop skills. 
Minneapolis Fed President Neel Kashkari, the only member of the Fed who didn't agree interest rates should be raised earlier this month, is scheduled to participate in a Q&A session at the conference at 12:30 p.m. The Fed voted to raise interest rates by 25 basis points at its meeting this week. 
Weekly jobless claims unexpectedly rose, while revisions showed higher claims this year than previously seen. The number of new claims for unemployment benefits increased by 15,000 to 258,000 in the past week. Analysts anticipated claims to fall to 240,000 from 243,000. The less-volatile, four-week claims average increased by 1,000 to 240,000.   
London Metropolitan Police said Thursday their investigation into the deadly terrorist attack Wednesday outside the Palace of Westminster in central London that left four people dead and 40 more injured would focus on the attacker's "motivation and preparation." Police arrested eight suspects in overnight raids. U.K. Prime Minister Theresa May said the suspected Westminster attacker was British-born. May also confirmed Thursday that 40 were injured in the attack, including one American.
PVH (PVH) - Get Report surged 9% after reporting a better-than-expected quarter. The parent of Calvin Klein earned an adjusted $1.23 a share over the quarter, down from $1.52 a year earlier, though above estimates of $1.19. Revenue of $2.1 billion was flat from a year earlier and met expectations. The board authorized $750 million to be added to its current share repurchase program.  
Accenture (ACN) - Get Report fell 4% after reporting a drop in quarterly earnings. Second-quarter earnings of $1.33 a share fell from $2.08 a year earlier. Analysts anticipated earnings of $1.30. Revenue increased 4% to $8.76 billion, below estimates of $8.77 billion. The company also said it anticipates a $425 million charge tied to its U.S. pension cuts.   
Conagra (CAG) - Get Report   rose 1% after topping quarterly earnings estimates. Net income of 41 cents a share came in 5 cents lower than a year earlier. However, adjusted earnings of 48 cents a share beat consensus by 4 cents. Revenue of $1.98 billion came in slightly short of a $1.99 billion target. 
Ford (F) - Get Report declined by 2% after issuing disappointing earnings guidance for its first quarter. The automaker said it anticipates earnings between 30 cents and 35 cents a share, well below consensus of 47 cents. A weaker bottom line was tied to lower volume, currency exchange woes, and increased costs.