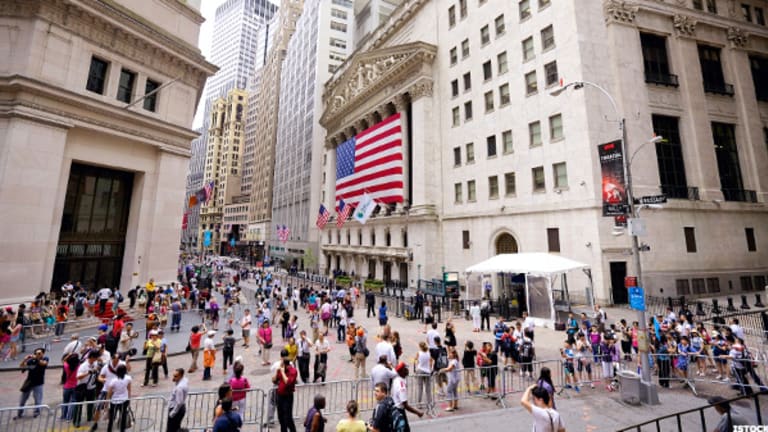 Publish date:
Stocks Are Choppy as FBI Reopens Probe Into Clinton Emails
Stock trading is choppy on Friday afternoon after federal investigators reopen a case into Democratic presidential candidate Hillary Clinton's email server.
Stock trading is choppy on Friday afternoon after federal investigators reopen a case into Democratic presidential candidate Hillary Clinton's email server.
Stock trading was choppy on Friday afternoon after federal investigators reopened a case into Democratic presidential candidate Hillary Clinton's email server.
The S&P 500 was down 0.28%, the Dow Jones Industrial Average was flat, and the Nasdaq slid 0.4%.
The Federal Bureau of Investigation announced Friday that it would take another look at Clinton's use of a private email server. The re-investigation comes just 11 days before voting for president begins. FBI Director James Comey said the body had "learned of the existence of emails that appear pertinent to the case." Comey said investigators do not yet know whether the material will be significant. 
The FBI and Justice Department had previously declined to bring any charges against Clinton in a previous investigation of the private server. 
Crude oil prices fell below $49 a barrel on skepticism a weekend meeting among Organization of the Petroleum Exporting Countries would yield any agreement. OPEC will meet in Vienna over the weekend to discuss solutions to global oversupply, primarily a production cut agreement. Iraq requested exemption from any agreement earlier in the week. 
Oil held lower despite a decline in the number of active drilling rigs in the U.S. The number of active U.S. rigs drilling for oil fell by two to 441 in the past week, its first decline since June. 
West Texas Intermediate crude was down 2.4% to $45.55 a barrel on Friday. 
Third-quarter GDP grew at a faster pace than expected, according to the first estimate of growth from the Bureau of Economic Analysis. The U.S. economy grew at a 2.9% pace in the quarter, driven by a 2.1% increase in consumer spending. Analysts had anticipated growth of 2.5%. Business investment in equipment remained sluggish, falling 2.7%. The third-quarter estimates represents a significant pickup from 1.1% growth over the first half of the year.
Employment costs rose in the third quarter, the third straight period of gains. Total costs increased 0.6% as both wages and salaries and benefits increased. The increase was as analysts had expected.
"Confirmation of above-trend growth reinforces the economy's momentum in the third quarter, as already supported by strengthening labor market conditions," TD Securities analysts wrote in a note. "Today's data on economic growth conditions and wage trends keep the Fed's tightening bias intact, with a December meeting the most likely time for the next step in rate normalization."
The final reading on consumer sentiment in October came in slightly weaker than expected as the impending U.S. presidential election continued to weigh on expectations. The University of Michigan index settled at 87.2, down from 91.2 in September and an expected reading of 88.5. Sentiment on current conditions weakened to 103.2 from 104.2 in September, while expectations fell to 76.8 from 82.7.
Alphabet (GOOGL) - Get Report was slightly higher after topping earnings estimates in its third quarter and reporting a 20% surge in revenue. The tech company earned $9.06 a share, easily surpassing consensus by 43 cents. The search-engine giant reported advertising revenue growth of 18%, driven by a 33% jump in paid clicks. Alphabet also announced a $7 billion stock buyback program.
"We remain confident in the company's long-term growth, which is underpinned by savvy investments by CFO Ruth Porat in addition to continued dominance in core businesses,' wrote Jim Cramer and Jack Mohr, who hold Alphabet in Cramer's Action Alerts PLUS Charitable Trust Portfolio.
Amazon (AMZN) - Get Report fell 4% after falling well short of analysts' bottom-line forecasts. The e-commerce site earned 52 cents a share, three times profit in the year-ago quarter, but missed estimates of 78 cents. Revenue jumped 29% and came in as analysts had expected. Amazon forecasts holiday quarter sales to grow between 17% and 27%, roughly in line with analysts' estimates.
Amgen (AMGN) - Get Report surpassed profit expectations in its third quarter and raised its earnings outlook. Adjusted earnings of $3.02 a share beat estimates by 23 cents, while revenue jumped 2% to $5.81 billion. Amgen anticipates full-year adjusted earnings between $11.40 and $11.55 a share, higher than consensus of $11.36.
Exxon Mobil (XOM) - Get Report fell 1% after falling short of third-quarter sales. Quarterly revenue slumped 12% to $58.7 billion, missing expectations of $60.4 billion. Third-quarter earnings of 63 cents a share fell sharply from $1.01 in the year-ago quarter, though came in 5 cents above consensus. Earnings have fallen for eight straight quarters. The oil company has faced a tough number of years as global oversupply continued to pressure oil prices.
Chevron (CVX) - Get Report also faced a tough quarter, reporting a 35% drop in net income and a 12% decline in revenue. The oil company beat estimates, though, with adjusted net income of 68 cents a share coming in higher than consensus of 37 cents. Chevron also upped its quarterly dividend to $1.08 a share from $1.07, its 29th straight increase to dividends.
AbbVie (ABBV) - Get Report slid 5% after a mixed quarter in which earnings beat estimates but revenue fell short. Earnings climbed to $97 cents a share from 74 cents in the year-ago quarter. Adjusted net income of $1.21 a share beat by a penny. Revenue rose 8% to $6.43 billion, but fell short of $5.94 billion consensus.
MasterCard (MA) - Get Report moved 4% higher after topping analysts' estimates on its top- and bottom-lines. Earnings of $1.08 a share topped estimates by a dime. Sales jumped 13% to $2.88 billion, exceeding estimates of $2.74 billion.
Hershey (HSY) - Get Report climbed 7% after third-quarter earnings came in higher than expected. The chocolate company earned an adjusted $1.29 a share, higher than $1.18 consensus. Revenue grew to $2 billion, higher than $1.96 billion in the year-ago quarter and nudging past estimates of $1.99 billion. However, Hershey anticipates full-year sales growth of just 1%, disappointing analysts expecting 3.7% growth.
Xerox (XRX) - Get Report was on watch after reporting disappointing sales in its recent quarter. Third-quarter sales declined 3% to $4.21 billion, missing estimates by $4.31 billion. Xerox guided for fourth-quarter profit of 32 cents to 35 cents compared to consensus of 34 cents a share. The company also settled a lawsuit that had prevented it from splitting into two by year's end.
General Electric (GE) - Get Report and oilfield services provider Baker Hughes (BHI) have reportedly begun discussions on possible partnerships, joining forces to weather a tough commodities environment. Neither company has considered a complete takeover, according to The Wall Street Journal. A GE spokesperson confirmed discussions were taking place.
General Electric is a holding in Jim Cramer's Action Alerts PLUS Charitable Trust Portfolio. Want to be alerted before Cramer buys of sells GE? Learn more now.