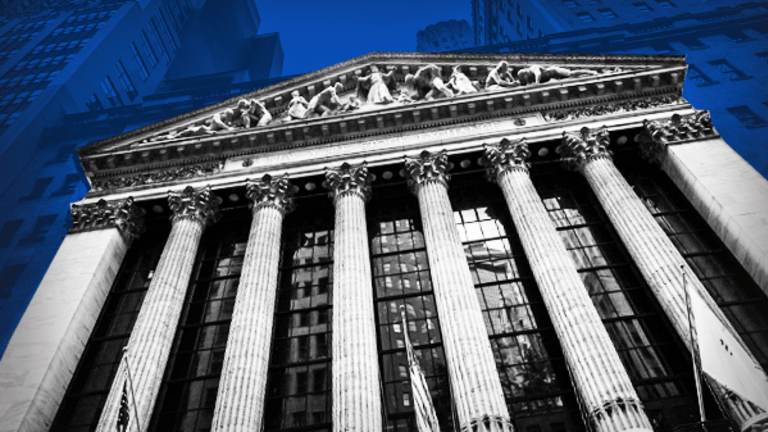 Stocks Claw Back Gains but North Korea Keeps Pressure on
Stocks are higher.
Updated from 9:52 a.m. Friday, Aug. 11.
Stocks moved higher on Friday, Aug. 11, though concerns over North Korea and President Donald Trump kept global markets on edge.
The Dow Jones Industrial Average was up 0.18%, the S&P 500 gained 0.08%, and the Nasdaq added 0.1%. Indexes were up for their first day in four. However, three days of losses have pulled markets sharply lower for the week. The S&P 500 was on track to close with weekly losses of 1.4%, its worst since the week ended March 24. 
Global markets have been on edge since Tuesday when Trump warned North Korea of severe retribution should the authoritarian state proceed with any more missile tests or threats. Trump said that further threats would be met with "fire and fury like the world has never seen." He doubled down on those remarks on Thursday, suggesting that perhaps his rhetoric was not harsh enough.
In a Friday morning tweet, Trump wrote, "Military solutions are now fully in place, locked and loaded, should North Korea act unwisely. Hopefully Kim Jong-un will find another path!"
Trump's threats have escalated since reports broke at the beginning of the week that North Korea had successfully produced a nuclear warhead that could be fitted inside its missiles. The U.N. Security Council unanimously voted on Saturday, Aug. 5,  to impose new sanctions on North Korea after several missile tests.
North Korea have since threatened to launch missiles at the U.S. territory of Guam. The country previously threatened a further "all-out war, wiping out all the strongholds of enemies, including the U.S. mainland" in a government statement.
"In all likelihood, the North Korea problem will persist for years to come, with the U.S, and increasingly China, attempting to contain and restrain Kim Jong-un," said Tom Elliott, international investment strategist at deVere Group. "He knows that any use of missiles -- nuclear-tipped or not -- against the U.S or one of its Asian allies, risks a retaliation that will lead to the end of his family's rule of the country. Therefore, there is a high probability that the current tension will ease off, and the recent flight into defensive stocks will reverse."
European markets were sharply lower on Friday, while safe-haven assets such as precious metals continued to climb. Germany's DAX dropped 0.5%, the CAC 40 in France fell 1.2%, and the FTSE 100 in London declined 1.2%. Gold, silver and platinum prices were higher. 
J.C. Penney Co. Inc. (JCP) - Get J. C. Penney Company, Inc. Report tanked, sliding nearly 20%, after a far worse quarter than expected. A net loss of 20 cents a share was 2 cents deeper than a year earlier. An adjusted loss of 9 cents a share came in double consensus. Sales of $2.96 billion exceeded estimates of $2.84 billion. Same-store sales declined by 1.3%. 
For the full year, J.C. Penney reiterated adjusted earnings guidance of 40 cents to 65 cents a share, wrapping estimates of 49 cents. 
Snap Inc. (SNAP) - Get Snap, Inc. Class A Report  tumbled Friday after posting a deeper loss than anticipated and weaker user numbers over its second quarter. The disappearing-message app reported a net loss of $443.1 million, far wider than $115.9 million a year earlier. On a per-share basis, a net loss of 16 cents a share came in wider than consensus by 2 cents. Revenues rocketed 153% higher to $181.7 million, yet still came in short of estimates by $5.13 million. Average revenue per user more than doubled to $1.05, up from 50 cents a year earlier. That also missed estimates of $1.07.
Snap had 173 million daily users during the quarter, a 4% increase from last year's quarter, while analysts were hoping for 175 million users. User growth slowed quarter-over-quarter, too, as 7.3 million new users were added to the platform compared with 8 million during the first quarter.
A record second-quarter earnings and revenue from Nvidia Corp. (NVDA) - Get NVIDIA Corporation Report were not enough to prop it up in Friday trading. The chipmaker earned $1.01 a share, higher than consensus of 70 cents a share. That marks its eighth quarter of better-than-expected earnings in a row. Sales rose by 56% to $2.23 billion, exceeding estimates of $1.96 billion. Gaming revenue increased 52% to nearly $1.2 billion with games such as the Call of Duty and Star Wars franchises contributing a healthy boost to the topline. Shares declined by more than 8% before the bell.
Nvidia CEO: Here Comes Robot Taxis
Nordstrom Inc.  (JWN) - Get Nordstrom, Inc. Report jumped nearly 2% after exceeding profit and sales forecasts over its recent quarter. The department store chain reported earnings of $110 million, or 65 cents a share. That was lower than a year earlier when Nordstrom had reported $117 million, or 67 cents. Analysts had anticipated 64 cents a share in profit. Revenue increased 3.8% to $3.79 billion, beating consensus by $40 million. Same-store sales were a particular bright spot. The measure increased by 1.7%, a surprise to analysts looking for a drop of 0.5%. Nordstrom also bumped up its full-year earnings to between $2.85 and $3, raising forecasts on the low-end by a dime. 
What Macy's CEO Has Planned for the Storied Retailer
Crude oil prices were sharply lower after the International Energy Agency commented that some Organization of Petroleum Exporting Countries were compromising a pact to limit production in order to balance supply. In its regular Monthly Oil Market Report, the Paris-based IEA said there would be "more confidence that rebalancing is here to stay if some producers party to the output agreements were not, just as they are gaining the upper hand, showing signs of weakening their resolve." OPEC's combined production increased by 173,000 barrels per day to nearly 32.9 million barrels in July. 
The IEA also raised its global oil demand forecasts. The group anticipates demand will rise by 1.5 million barrels a day, higher than the 1.4 million increase forecast last month. In its report, the IEA said "producers should find encouragement from demand, which is growing year-on-year more strongly than first thought."
A weekly read on domestic drilling activity will be released at 1 p.m. eastern time. The number of active oil-drilling rigs fell by one in the previous week to 765, according to Baker Hughes data.
West Texas Intermediate crude was down 0.6% to $48.31 a barrel on Friday morning.
Inflation trends remained soft in July with consumer and producer prices both coming in weaker than expected. Consumer prices increased 0.1% in July, half the anticipated increase. Core prices, excluding food and energy also rose 0.1%, though at a slower-than-forecast pace. Consumer prices over the past 12 months have risen 1.7%. Producer prices for July out on Thursday unexpectedly declined. Soft inflation could give the Federal Reserve pause in its path to tighter monetary policy. 
Blue Apron Inc. (APRN) - Get Blue Apron Holdings, Inc. Class A Report declined by 2% after SunTrust Robinson Humphrey downgraded the shares to hold from buy. The meal-kit delivery service tumbled after reporting earnings for the first time since going public on June 29, posting a loss steeper than consensus as the number of customers declined. 
Blue Apron also reported delays at its Linden, N.J., factory.
"We opt to move to the sidelines given a lack of visibility on timing for a full recovery and costs associated with the effort," SunTrust analysts wrote.
More of What's Trending on TheStreet:
The 30 Nastiest Storms in Recent U.S. History Have Caused Mind-Blowing Damage