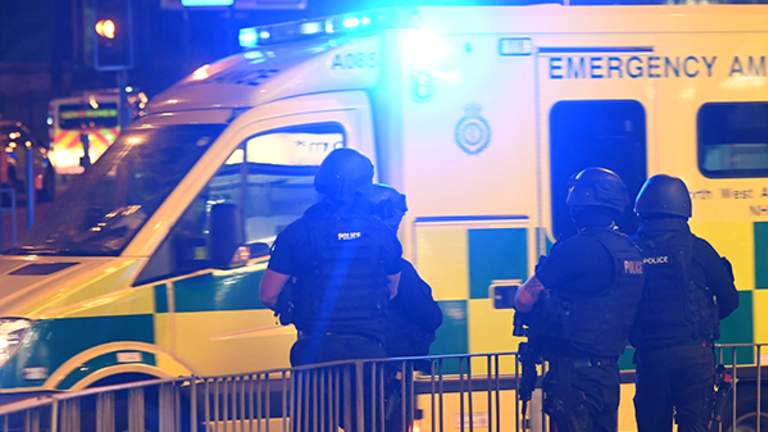 S&P 500, Dow Try for Fourth Day of Gains as Trump Budget Proposes Big Cuts
Stocks are mixed on Tuesday after a bombing at a Manchester, England, concert sets Wall Street on edge.
The S&P 500 and Dow Jones Industrial Average were on track for their fourth straight day of gains after a Trump budget proposal backed big cuts to social programs.
The S&P 500 was up 0.13%, the Dow increased 0.17%, and the Nasdaq was flat. The stretch of gains was a  streak not seen since mid-February. 
The White House hopes to sell its 2018 budget proposal as a "taxpayer first" plan that makes deep cuts to a number of programs while raising spending on border security and defense. The Trump administration will send the budget proposal to Congress on Tuesday, outlining its wish list for how the federal government will spend its money next year.
The plan, titled "A New Foundation for American Greatness," will include $3.6 trillion in spending reductions by slashing funds for entitlements and discretionary programs while increasing allocations for items including law enforcement, defense and school choice. About $600 billion in cuts would be made to Medicaid over the next decade, while cuts to food stamps would amount to $193 billion over 10 years. Trump promised on the campaign trail that he would not enact cuts to Medicaid should he become president.
Trump's proposed budget cuts could hurt the discount retail sector, Brian Sozzi argued over on TheStreet's premium site Real Money. Get his insights with a free trial subscription.
Crude oil fluctuated on Tuesday morning after the Trump administration proposed selling roughly half of the U.S.'s emergency oil stockpile to lower the national debt. The emergency stockpile consists of 687.7 million barrels of oil. Trump's plan also allows oil drilling in the Alaska National Wildlife Refuge.
West Texas Intermediate crude was up 0.06% to $51.16 a barrel on Tuesday morning.
A bombing at a Manchester, England, concert set Wall Street on edge. The deadly attack at an Ariana Grande concert at the Manchester Arena late Monday claimed 22 lives, injured as many as 60 more, and is being treated as a terrorist incident, a spokesman for the Greater Manchester Police has confirmed. The attacker died at the scene after using a self-detonating explosive in the 21,000-seat capacity arena. Police are investigating whether he acted alone or with assistance. ISIS has claimed responsibility for the attack, according to Reuters.  
The incident is the deadliest terrorist attack on British soil since July 2005, when Muslim extremists killed 52 people with three separate suicide bombs across London's transport system at the height of the morning rush-hour commute.
European markets were higher, largely following substantial gains in U.S. equities a day earlier. Germany's DAX rose 0.22%, the CAC 40 in France increased 0.4%, and the FTSE 100 in London gained 0.13%.  
Wall Street rose on Monday after a series of deals with Saudi Arabia lifted defense stocks. The S&P 500 ended the day less than 10 points from its all-time closing record achieved a week earlier. Shares of Lockheed Martin (LMT) and Dow component Boeing (BA) rose Monday after both companies were seen walking away as winners from the weekend's Saudi deals bonanza, which saw Donald Trump and representatives for American companies inking more than $350 billion of deals.
Manufacturing activity in May fell to an 8-month low, according to the IHS Markit flash manufacturing PMI. The measure decreased to 52.5 from 52.8. Analysts expected the measure to tick up to 53. A flash services reading increased to a four-month high of 54 from 52.5, higher than consensus of 53.1. 
New home sales retreated in April after reaching a 10-year high a month earlier. Sales of newly constructed homes fell 11.4% to a seasonally adjusted pace of 569,000, according to the Commerce Department. Consensus was for an annual pace of 610,000. March's figure was revised to show an annual pace of 642,000, its highest level since October 2007. 
AutoZone (AZO) declined by 4% after falling short of earnings and sales estimates over its fiscal third quarter. The car parts retailer earned $11.44 a share over its quarter, up from $10.77 in the year-ago quarter, but below consensus of $11.99. Revenue of $2.62 billion fell short of estimates of $2.71 billion. Domestic same-store sales fell 0.8%, a surprise to analysts anticipating growth of 2.7%. 
Agilent Technologies (A) rose nearly 5% after a better-than-expected quarter. Earnings of 50 cents a share grew from 28 cents a share in the same quarter a year earlier, while revenue increased 8% to $1.1 billion. Analysts expected earnings of 48 cents a share and revenue of $1.05 billion. 
Homebuilder Toll Brothers (TOL)  rose after quarterly earnings and sales topped Wall Street estimates. Quarterly profit of 63 cents a share beat estimates by a dime thanks to a solid spring season. 
DSW (DSW)  decreased 6% after a weaker-than-anticipated first quarter. Adjusted earnings of 32 cents a share missed consensus by 2 cents, though revenue of $691.1 million narrowly beat estimates by $6 million. Same-store sales declined 3%, slightly better than an expected 3.4% decrease. CEO Roger Rawlins conceded that sales "were challenging," though said trends improved during the quarter. 
Nokia (NOK) shares rose the most in nearly three years Tuesday after the company said it settled an intellectual dispute with Apple (AAPL) and simultaneously signed a multi-year patent license agreement withe the iPhone maker. The deal will allow the Epsoo, Finland-based networking company to provide infrastructure products to Apple, while Apple will resume carrying Nokia's digital health products in its online and retail stores. Nokia also will receive an undisclosed cash payment from Apple.
Apple is a holding in Jim Cramer's Action Alerts PLUS Charitable Trust Portfolio. Want to be alerted before Cramer buys or sells AAPL? Learn more now.
Meet the Millennial Media Moguls
Planning to be in New York on Tuesday, June 13? You're invited to join us for an evening of cocktails and conversation with three dynamic young CEOs whose companies have found big news audiences and good markets. How have they done it? What have they learned? Meet Chris Altchek, CEO and co-founder of Mic; Shafqat Islam, co-founder and CEO of NewsCred; and Kathryn Minshew, the CEO and co-founder of TheMuse. Our panel discussion will be led by Ken Doctor, media analyst and columnist for TheStreet. The event, from 6 to 8 p.m. is free, but space is limited and reservations are required. Please click here to RSVP and get more information.