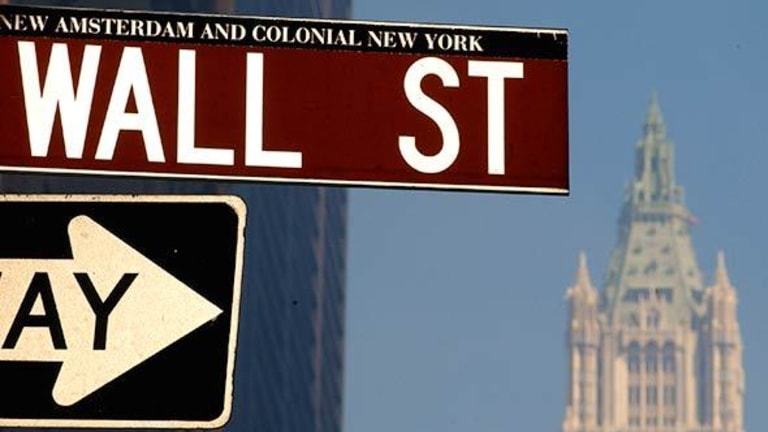 Stocks Fall on Uncertainty Over Trump's Presidency
Stocks fall on Tuesday as uncertainty over a Donald Trump presidency casts a pall over markets.
Stocks fell on Tuesday as uncertainty over a Donald Trump presidency cast a pall over markets.
The S&P 500 was down 0.5%, the Dow Jones Industrial Average fell 0.5%, and the Nasdaq slid 0.7%. Banks JPMorgan (JPM) - Get JPMorgan Chase & Co. Report and Goldman Sachs (GS) - Get Goldman Sachs Group, Inc. Report led losses on Tuesday in a pullback following Friday's rally in financial stocks. The Volatility IndexI:VIX increased 5%.
The so-called Trump rally appears to have subsided as Wall Street tries to make sense of the incoming administration's policies, including which will actually come to pass and which were merely campaign bluster. Trump will be inaugurated as the 45th President of the U.S. on Friday. 
"The question surrounding the financial markets will be whether or not most of his campaign rhetoric regarding trade agreements will actually be implemented," Peter Cardillo, chief market economist, wrote in a note. "We suspect in large part it will be watered down. The mere thought of it, however, will raise the possibilities that trade wars will develop, thus bringing the world financial order closer to protectionism than at any time since the early 1930's."
In an interview Friday with The Wall Street Journal, Trump said the U.S. dollar has become "too strong" and criticized China for what he sees as currency manipulation. Trump noted that U.S. "companies can't compete with [China] now because our currency is too strong and it's killing us."
The U.S. Dollar Index, which measures the strength of the dollar against a basket of six major currencies, was down 1.1% on Tuesday to 100.48.
Equities rallied after Trump's unexpected win in November as investors placed bets on increased infrastructure spending and a rollback of financial regulations. The run-up over the past two months has left Wall Street vulnerable to a dip, though.  
"Increasing post-election optimism among traders, combined with round-number resistance overhead, [has] suggested equities were vulnerable to trading range behavior at best, and, at worst, a short-term pullback," Todd Salamone, senior vice president at Schaeffer's Investment Research, wrote in a note.
U.K. Prime Minister Theresa May on Tuesday outlined long-awaited plans for Britain's exit from the European Union. The U.K. hopes to gain the greatest access to the European Union without being a member of it, May said in a highly anticipated speech on the country's plans for removal from the bloc. May also said she seeks to avoid a "cliff edge" that could prove disruptive and instead intends for the 'Brexit' to come in phases. The eventual deal would be voted upon in both houses of Parliament. The U.K. voted to exit the regional bloc in June after four decades of participation.
Crude oil prices rose on hopes a production freeze agreement among the Organization of Petroleum Exporting Countries would begin to correct a years-long decline in commodities. Saudi Oil Minister Khalid al-Falih reiterated his view that markets would begin to rebalance and stabilize in the first half of this year in response to the agreement that went into effect at the beginning of January.
West Texas Intermediate crude oil was up 0.2% to $52.48 a barrel on Tuesday.
A faster tightening of monetary policy might be needed if Trump's spending plans give the U.S. economy enough of a jolt, Federal Reserve Gov. Lael Brainard said Tuesday morning. Brainard warned that significant fiscal changes could "lead to a more rapid elimination of slack." Brainard also said that the U.S. economy is nearing full employment, a position which could be sustainable if the Fed suitably tinkers its policy.
Business conditions in the New York region weakened in January, according to the latest Empire State Manufacturing Survey. The index fell to 6.5 in January, down from 7.6 in December. Conditions were expected to improve this month.
Walmart (WMT) - Get Walmart Inc. Report limited losses on the Dow after announcing plans to create roughly 10,000 U.S. jobs this year. The world's largest retailer previously announced plans to open a number of new stores and expand existing locations. Shares rose 2.3%.
Morgan Stanley (MS) - Get Morgan Stanley Report fell 3.5% after reporting an 83% surge in quarterly earnings thanks to a year-end boost to trading revenue. Quarterly profit increased to 81 cents a share, up from 39 cents in the same quarter a year earlier and above consensus of 65 cents a share. Sales increased 17% to $9.02 billion, above estimates of $8.47 a barrel.
UnitedHealth (UNH) - Get UnitedHealth Group Incorporated Report reported adjusted earnings of $2.11 a share in the fourth quarter, topping estimates of $2.07. Quarterly profit rose 56% over the quarter as premiums continued to rise. The largest U.S. health insurer also reported a 9% increase in revenue, above estimates, while backing its forecasts for full-year earnings growth. The stock fell 1.3%.
British American Tobacco (BTI) - Get British American Tobacco plc Report said Tuesday it reached an agreement to buy the remaining stake of Reynolds American (RAI) it doesn't already own for just under $50 billion. The cash-and-share deal pegs the deal's value at around $49.4 billion.
Syngenta (SYT) increased 1.9% on hopes its $43 billion takeover of ChemChina would soon pass regulatory muster. The agricultural chemicals company said it is "working well with the U.S. and the EU regulators now toward finalizing the agreements." CEO Erik Fyrwald said he anticipates a deal in the "not too distant future."
Tiffany (TIF) - Get Tiffany & Co. Report suffered a weak holiday season as a scrum of protests, media and security around Trump Tower strangled traffic to its flagship Fifth Avenue store. Sales at the Midtown Manhattan store tumbled 14%. Total Tiffany sales fell 4%, when adjusted for currency exchange. Shares fell 2%.
J.C. Penney (JCP) - Get J. C. Penney Company, Inc. Report rose on Tuesday after partnering with sports apparel brand Nike (NKE) - Get NIKE, Inc. Class B Report . The retailer has added in-store Nike stores inside more than 600 of its stores, a move investors hope will draw increased traffic.
Noble Energy (NBL) - Get Noble Energy, Inc. Report will buy Clayton Williams Energy (CWEI) for about $2.7 billion in a cash-and-stock deal. The deal expands Noble Energy's holdings in the sought-after Permian Basin. The merger is expected to close in the second quarter of 2017.
American Express (AXP) - Get American Express Company Report moved slightly higher after being upgraded to overweight from neutral at JPMorgan. Meanwhile, JPMorgan also downgraded Chipotle (CMG) - Get Chipotle Mexican Grill, Inc. Report to neutral from overweight, sending shares sliding 0.8%.
Nordstrom (JWN) - Get Nordstrom, Inc. Report was up despite being being downgraded to hold from buy at Stifel with its price target slashed to $40 from $62. Analysts said they anticipate holiday sales will be less than expected, noting that the "highly competitive environment for retail" has affected profit margins and sales.