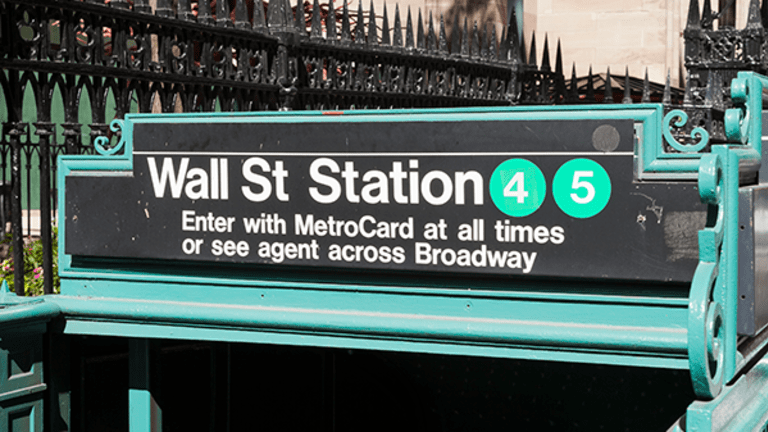 Publish date:
Stocks Hold Big Gains, Dow Hits 21,000 on Optimism Over U.S. Economy
Stocks hold big gains through Wednesday morning, trading at all-time highs, as investors rejoice over the Federal Reserve's apparent faith in the U.S. economy.
Stocks hold big gains through Wednesday morning, trading at all-time highs, as investors rejoice over the Federal Reserve's apparent faith in the U.S. economy.
Stocks held big gains through Wednesday morning, trading at all-time highs, as investors rejoiced over the Federal Reserve's apparent faith in the U.S. economy. 
The S&P 500 was up 1%, the Dow Jones Industrial Average added 1.2%, or 241 points, and the Nasdaq increased 0.9%. The indexes were trading at intraday records.
The Dow exceeded 21,000 for the first time in history on Wednesday, having reached 20,000 in late January. It took only 24 days to move from 20,000 to 21,000, the fastest move between milestones since the Dow moved from 10,000 to 11,000 in 1999. 
"A modest correction would be perfectly normal, but the positive thing about this move is it has been driven by improving earnings," said Ryan Detrick, senior market strategist at LPL Financial. "This helps justify the gains, as it isn't all based on hopes for tax reform or infrastructure spending. There is real economic improvement now that has sparked much of the rally."
The chances of a rate hike in March grew overnight after New York Federal Reserve President William Dudley said the case for a rates increase had become a "lot more compelling" recently. In comments to CNN, Dudley said "most of the data we've seen over the last couple months is very much consistent with the economy continuing to grow at an above-trend pace, job gains remain pretty sturdy, inflation has actually drifted up a little bit as energy prices have increased."
A turn toward a more hawkish Fed in recent months has boosted Wall Street's confidence in the economy. Fed minutes from the January-February meeting said another rate hike would come "fairly soon." The Fed next meets on March 14-15.
Investors also expressed relief that Donald Trump largely stuck to the script of promising tax cuts and economic improvements in his speech to Congress on Tuesday night. The president promised "massive" tax cuts for the middle class and U.S. companies and $1 trillion in infrastructure investment. 
"To accomplish our goals at home and abroad, we must restart the engine of the American economy -- making it easier for companies to do business in the United States, and much harder for companies to leave," he said in a speech more measured than his past addresses. Still, many saw his remarks as lacking in detail, as his remarks have been throughout his still-young presidency. Trump had been light on details for tax and health care reform since his election in November. 
The Dow's remarkable record-breaking streak flamed out on Tuesday as Wall Street grew impatient ahead of Trump's congressional address. The Dow fell 0.12%, putting an end to a stretch that had seen 12 sessions of consecutive all-time closing highs. The blue-chip index hadn't seen a streak that long since 1987.
Crude oil prices fluctuated on Wednesday after an unexpected increase in domestic inventories over the past week. Crude stocks rose by 1.5 million barrels in the past week, according to the Energy Information Administration. Analysts had anticipated supplies to decline by 1.5 million barrels. 
West Texas Intermediate crude was up 0.3% to $54.15 a barrel on Wednesday. 
Manufacturing activity in the U.S. improved at a better pace than anticipated in February. The ISM Manufacturing Index climbed to 57.7 in February, its highest level since August 2014 and better than an expected reading of 56.3. New orders climbed to 65.1 from 60.4 in January. 
U.S. personal income in January rose by 0.4%, while consumer spending increased 0.2%. Both measures were expected to increase 0.3%. The PCE price index rose 0.3%, as anticipated, while the 12-month PCE climbed 1.9%, its largest increase since 2012. 
Construction spending sank in January on less activity in public works, including transportation and roads. Spending decreased by 1%, surprising analysts expecting an increase of 0.6%. 
General Motors (GM) - Get Reportrose2% after reporting an increase in sales in February. Sales rose by 4.2% last month, while its average transaction price increased by $570 per unit to $34,900, its highest ever. Analysts had expected sales to increase 5.7%. 
Ford (F) - Get Report reported a drop in sales over February. Sales fell 4% to 208,440, steeper than an anticipated 3.4% decline. Retail car sales slid 3%, while fleet sales declined 5%. The stock rose more than 1%.
Wells Fargo (WFC) - Get Report climbed 3% after withholding year-end cash bonuses for eight of its senior executives. CEO Tim Sloan and Chief Financial Officer John Shrewsberry, among the eight, will not receive their 2016 bonuses following a massive sales scandal last year. The bank has since opened an investigation into how millions of credit card accounts were opened without customer knowledge or consent in order to trump up sales numbers. 
Wells Fargo is a holding in Jim Cramer's Action Alerts PLUS Charitable Trust Portfolio. Want to be alerted before Cramer buys or sells WFC? Learn more now.
Best Buy (BBY) - Get Report  fell 5% following a disappointing fourth quarter. International same-store sales climbed just 0.9%, below estimates of 1.2% growth. Domestic same-store sales fell 0.9%, below consensus of a 0.4% increase. The electronics retailer anticipates first-quarter adjusted earnings no higher than 40 cents a share, missing consensus of 49 cents. 
Lowe's (LOW) - Get Report spiked 10% after posting an in-line fourth quarter and announcing expansion plans. The home-improvement retailer earned an adjusted 86 cents a share over the quarter, up from 59 cents a year earlier. Comparable-store sales increased by 4.2%. Lowe's said it plans to add 35 locations this year.
Mylan (MYL) - Get Report  rose 8% after it topped quarterly estimates on its top- and bottom-lines. Adjusted earnings of $1.57 a share beat consensus of $1.42 a share, while revenue jumped 31% to $3.27 billion. Sales in North America rose 22%, while European sales climbed 50%. 
Dollar Tree (DLTR) - Get Report moved higher by 2% following a better-than-expected fourth quarter. The retailer earned $1.36 a share over the quarter, up from 97 cents a year earlier and above estimates of $1.32. Sales of $5.64 billion exceeded a target of $5.62 billion. Same-store sales increased 1.2%, weaker than an anticipated 1.8% increase. 
Office Depot (ODP) - Get Report  gained 15% on Wednesday after reporting net income five times higher than a year earlier. The office products retailer earned 15 cents a share over its fourth quarter, up from 3 cents in the year-ago quarter. Adjusted earnings of 11 cents a share came in as analysts expected. Same-store sales in North America declined by 4% as its locations saw less traffic. 
Ross Stores (ROST) - Get Report  fell 4% despite topping earnings estimates. The retailer's board also approved a two-year, $1.75 billion share repurchase program and increased the company's dividend by 19%.