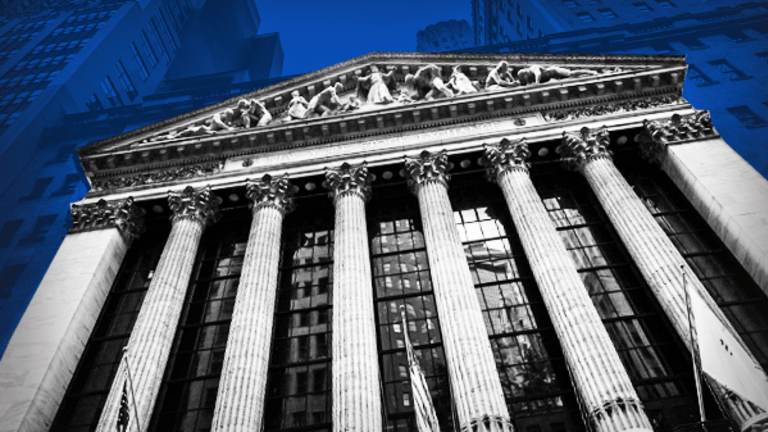 Here's Where Wall Street Stands
Apple Inc. unveiled its highly anticipated next-generation iPhones and Florida began the long road to recovery after Hurricane Irma. Here's where Wall Street stands after a busy week.
Apple Inc. (AAPL) unveiled its highly anticipated next-generation iPhones and Florida began the long road to recovery after Hurricane Irma. Here's where Wall Street stands after a busy week. 
Records for Markets
A record-breaking week ended with Wall Street at fresh all-time highs. Small gains sprinkled over the past five days have propelled the bull market to new heights. 
For the Dow Jones Industrial Average, Friday marked its fourth record close in a row. Boeing Co. (BA) drove a big chunk of the Dow's gains in recent days following a surprisingly upbeat outlook and the prospects of increased demand for its commercial passenger jets.
The Dow ended 1.3% higher for the past five days, the S&P 500 closed with weekly gains of 0.86%, and the Nasdaq gained 0.51%. 
Irma Cleanup
Hurricane Irma lost some of its steam over the weekend and was downgraded to a tropical storm early Monday as it moved along the Florida coastline and into the southeastern U.S. Irma's strong gusts and powerful storm surge still caused life-threatening conditions, but maximum sustained wind speeds fell to 65 mph from Irma's peak wind speed of 185 mph late last week.
Close to 7 million homes and businesses in several states lost power, with the majority of outages in Florida, the Associated Press reported. Utility officials said it could take weeks to restore electricity to everyone. About 70% of Miami was without power on Monday. The hurricane swamped much of downtown Miami and toppled at least three constructions cranes -- two over downtown Miami and one in Fort Lauderdale, the Associated Press reported.
AIR Worldwide, a risk modeling software company, projected that Irma will create combined insured losses of $20 billion to $65 billion. Before Irma made landfall, Barclays forecasters predicted damages in line with Hurricane Katrina in 2005, which cost about $50 billion in insured damages.
More than 12,000 flights across the globe were grounded as a result of Irma. Florida's largest airport, Miami International, sustained "significant water damage" that has suspended flights, according the the airport's CEO. 
Apple, iPhones and Anniversaries
Apple Inc.unveiled its highly anticipated iPhone 8 and iPhone X models during a press event with no major surprises on Tuesday, Sept. 12. The iPhone 8 has a steel-reinforced glass design and stronger material to prevent cracks in what Apple calls its "most durable ever." The 8 has a 4.7-inch display and the 8 Plus has a 5.5-inch display. The latest model will be available on Sept. 22. Apple shares declined less than 1%.
The buzzier iPhone X was revealed as a new model in tribute to the original iPhone's 10-year anniversary. The newest model is comprised of a front and back glass screen held together by a stainless steel band. The 5.8-inch display has 458 pixels per inch, the most ever for an iPhone. The new model relies on face ID for access to the phone instead of touch ID in current models. The iPhone X carries a $1,000 price tag.
Apple also unveiled a new Apple TV which provides higher resolution, 4K movies and TV shows via iTunes and its latest version of its smartwatch, the Apple Watch 3. The new watch now provides cellular service and will be able to take calls and stream music.
However, questions rose over the timing of the iPhone X. Sales of the new anniversary iPhone edition, the company said, will likely begin in early November, well in time for the peak of the U.S. holiday shopping season but still likely to push a good portion of the phone's revenue into the December to March quarter, the second of the company's next financial year. The later release could potentially hinder sales of the new iPhone 8, which will be available later this month.
Apple is a holding in Jim Cramer's Action Alerts PLUS Charitable Trust Portfolio. Want to be alerted before Cramer buys or sells AAPL? Learn more now.
London and North Korea Bring Geopolitical Worries to a Head
Geopolitical worries spiked on Friday after a terrorist incident in London and North Korea launched another missile. 
An explosion on a London Underground train Friday morning was declared a terrorist incident by British police. At least 23 people have been injured when a possible explosion took place on the District Line at the Parsons Green stop in West London. Reports indicated the explosion was caused by a homemade bomb, placed into a bucket.
In a statement following the incident, London Mayor Sadiq Kahn said the city would "never be intimidated or defeated by terrorism." He added, "I urge all Londoners to remain calm and vigilant."
An arrest was made in the incident on Saturday. 
Also on Friday, North Korea again ignored international calls to cease its ballistic tests after launching a missile that flew over Japan for the second time in a month. The overnight launch flew more than 3,700 kilometers, Japan's Chief Cabinet Secretary Yoshihide Suga said, and landed in the sea around 2,000 kilometers east of the island of Hokaido.
U.S. Secretary of State Rex Tillerson said that "continued provocations only deepen North Korea's diplomatic and economic isolation", and urged tougher sanctions. 
Oil Has a Banger of a Week
Crude oil prices stabilized on Friday after a days-long rally pulled the commodity to its highest level in more than six weeks. This week's rally kicked off on signs of reduced global production. Global oil supplies have hit a snag in recent weeks as Hurricane Harvey limited output in the U.S. and declining activity in the Middle East helped the Organization of Petroleum Exporting Countries keep to a previous deal to limit production.
Global oil supply fell by 720,000 barrels a day in August to 97.7 million barrels a day, the first drop in four months, the International Energy Agency said in its monthly report. Production among the Organization of the Petroleum Exporting Countries fell from its 2017 peak in July as the bloc took efforts to comply with its previous agreement. A monthly report from the cartel on Tuesday showed that production had fallen, largely attributed to output declines in Iraq, Libya, Gabon and Venezuela.
Also helping prices, demand for oil increased in the second quarter, largely driven by Germany and the U.S., according to the IEA. The IEA anticipates oil demand to increase 1.6 million barrels per day in 2017 and 1.4 million barrels next year.
However, crude stockpiles in the U.S. have ballooned recently as Harvey crippled refinery production in the Texas and Louisiana region. U.S. supplies increased by 5.9 million barrels in the past week, the Energy Information Administration reported Wednesday morning, lower than S&P Global Platts consensus of 10.1 million. Gasoline and distillates stocks fell.
Major oil producers posted solid gains for the week. Exxon Mobil Corp. (XOM) , Royal Dutch Shell PLC (RDS.A) , Chevron Corp. (CVX) , BP PLC (BP) and Statoil ASA (STO)  were all higher. The Energy Select Sector SPDR ETF (XLE)  added more than 2.1% since Monday. 
Inflation Raises Fed Questions
Continued softness in inflation data brought the Federal Reserve's possible plans into focus. The inflation rate has struggled to reach the Fed's 2% target. Recent weak readings on inflation have been characterized by Fed members as "transitory." Producer and consumer prices for August, as with all data, will play a part in the Fed's next policy decision.
U.S. consumer prices for August rose at a slightly faster pace than expected. The Consumer Price Index, released Thursday, increased by 0.4%, four times the pace in July, and 10 basis points higher than expected. Prices increased at their fastest monthly since January. Core prices, excluding food and gas, climbed 0.2% and met consensus. Core prices over the past 12 months increased 1.7%, their fourth straight month holding at that growth rate.
U.S. producer prices increased at a slower pace than anticipated in August with a large bulk of the rise attributed to higher gas prices. The producer price index rose by 0.2% in August, according to the Bureau of Labor Statistics, weaker than an anticipated 0.3% increase. Core prices, excluding food and energy, gained 0.2%. Core prices rose 1.9% over the past 12 months. Consumer prices will be released on Thursday, Sept. 14.
"There is no momentum there, there is no sign of it picking up," Lee Ferridge, head of macro strategy, North America at State Street, said in a call. "Data on the real economy is mixed. I think for most [Fed members] they feel no need to really rush. They've hiked a couple of times already this year and if they don't hike in December, I think for a lot of Fed members that won't be the end of the world."
The Federal Open Market Committee, the decision-making branch of the central bank, will meet for two days beginning on Tuesday, Sept. 19. An announcement and updated forecasts will be released on Wednesday, Sept. 20, followed by press comments from Fed Chair Janet Yellen.  
The Tax Plan
Republicans' tax plan has a date of release: Sept. 25. In a weekly press briefing on Wednesday, House Speaker Paul Ryan said an "outline" will be made public in just under two weeks and that the House Ways and Means Committee and the Senate Finance Committee would then have a chance to revise and draft up a bill. President Donald Trump has touted his tax plan in recent speeches, though details have been scant.
On Tuesday, Treasury Secretary Steven Mnuchin again amped up expectations of tax reform before the year is out, even bringing up the possibility of backdating changes to Jan. 1. At a CNBC "Delivering Alpha" event, Mnuchin said the Trump White House was "super focused" on reform, particularly now that a deal to fund the government through December was made last week.
However, Mnuchin did back off Donald Trump's pledge of a decrease in the corporate tax rate to 15% and said it may not be able to be achieved "given the budget issue."