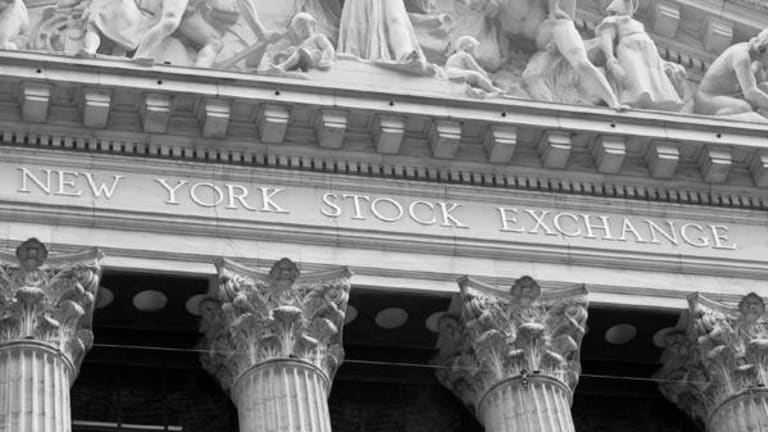 Stock Futures Trade Mixed as Trump Rally Loses Energy
Stock futures on Monday halt a recent rally that had pushed the Dow Jones Industrial Average to new records.
Stock futures on Monday halt a recent rally that had pushed the Dow Jones Industrial Average to new records.
Stock futures on Monday halted a recent rally that had pushed the Dow Jones Industrial Average to new records. 
S&P 500 futures were up 0.02%, and Nasdaq futures declined 0.2%. Dow futures drifted 0.24% higher, but with none of the energy that characterized last week's rally. 
The Dow rocketed higher last week, fueled by gains in financials and pharmaceutical stocks, after President-elect Donald Trump's election night victory. While most of his policies remain murky, investors bet big that Trump would loosen banking regulations and not pursue Democratic candidate Hillary Clinton's plan to address price gouging at drug companies. The Dow ended with its best weekly gain since 2011. 
Treasury yields surged on Monday as investors feared faster inflation from Trump's spending plans would drive the Federal Reserve to hike rates at a faster pace to stay ahead of the curve. Trump proposed a "$1 trillion over a 10-year period" infrastructure stimulus plan in his victory speech last week. The yield on the 10-year Treasury note rose to 2.293% on Monday, its highest since the beginning of the year. 
The Fed will next meet on December 13-14. Investors have priced in an 85% chance the Fed will hike at that meeting, according to CME Group fed funds futures. The Fed's plans will gain even more scrutiny this week as Fed Chair Janet Yellen presents her economic outlook on Capitol Hill. Yellen will address the Congressional Joint Economic Committee at 10 a.m. on Thursday. The Fed Chair last testified before that committee in December of last year, prior to the Fed's decision to hike interest rates for the first time in nearly a decade.
Crude oil prices were sharply lower on Monday as worries over global oversupply persisted. The Organization of Petroleum Exporting Countries on Friday reported output at a record 33.64 million barrels a day in October. The International Energy Agency forecast the global supply glut to remain in 2017. OPEC are set to meet at the end of the month, though any production freeze agreement is in doubt. 
West Texas Intermediate crude was down 1.8% to $42.65 a barrel. 
Siemens (SIEGY) agreed to buy Mentor Graphics (MENT) for $4.5 billion on Monday in a deal that will expand its industrial software portfolio. Siemens offered $37.25 a share in an all-cash deal that values Mentor at a 21% premium to its Friday close. Mentor shares rose 20% in premarket trading on Monday. 
In more deal news Monday, Samsung Electronics (SSNLF) agreed to buy Harman International (HAR) for $8 billion. The acquisition allows Samsung access to the fast-growing auto electronics technology business. Samsung will pay $112 a share for Harman, a 28% premium to its close on Friday. Harman shares rocketed 24% higher in premarket trading.  
SeaWorld (SEAS) - Get Report was downgraded to neutral from buy at Citigroup. Analysts said the valuation is less attractive based on a $19 price target.
Square (SQ) - Get Report was upgraded to overweight at Pacific Crest. The firm said profitability and cash flow are growing and long-term projects offer optionality.