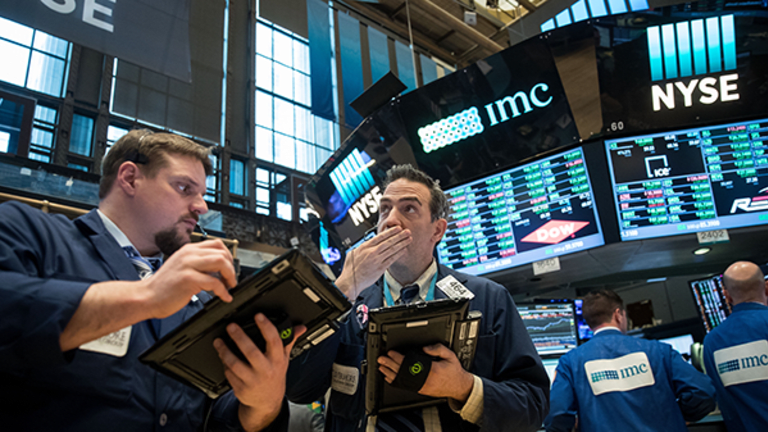 Stock Futures Rise on Earnings Beats From AMD and Boeing
Stock futures are higher.
Updated from 7:42 a.m. ET, Wednesday, July 26. 
Stock futures were higher on Wednesday, July 26, as investors digested earnings from the likes of Advanced Micro Devices Inc.  (AMD) - Get Report  and Boeing Co. (BA) - Get Report .
S&P 500 futures added 0.19%, Dow Jones Industrial Average futures were up 0.32%, and Nasdaq futures climbed 0.22%.
AMD rose sharply in premarket trading as cryptocurrency use increased demand for its graphics chips. Second-quarter revenue rose 19% to $1.22 billion, beating estimates of $1.16 billion. Adjusted earnings of 2 cents a share exceeded estimates of a flat reading. Computing and graphics revenue increased 51% from a year earlier. 
Boeing Co. (BA) - Get Report rose more than 3% in premarket trading following an earnings beat. The plane manufacturer swung to a profit of $2.89 a share from a loss of 37 cents in the year-ago quarter. Adjusted profit of $2.55 a share came in higher than $2.30 consensus. Revenue slid 8.1% to $22.74 billion and missed estimates of $23.02 billion.
Watch: Jim Cramer Reveals Why He's Pleased With Advanced Micro Devices and Boeing's Earnings
Ford Motor Co. (F) - Get Report easily beat Wall Street earnings estimates, posting second-quarter adjusted profit of 56 cents a share compared to estimates of 43 cents. The report from the No. 2 U.S. automaker was the first under new CEO Jim Hackett, who replaced former CEO Mark Fields in May. Revenue in the quarter was $39.85 billion; analysts expected $37.28 billion. The stock fell 2.2%.
Watch: Ford Is Committed to Electric Cars: CFO
Chipotle Mexican Grill Inc. (CMG) - Get Report  moved higher after the burrito chain posted second-quarter earnings ahead of forecasts. Profit in the quarter was $2.32 a share; analysts had expected Chipotle to report $2.18. Revenue in the quarter rose $17.1% to $1.17 billion and same-store sales rose 8.1%. Revenue came in shy of analysts' estimates of $1.19 billion.
During the company's conference call, Chipotle CEO Steve Ells touched on food safety which first plagued the company in 2015, and more recently caused a closure at a Virginia location. Ells detailed several steps and procedures in conjunction with a plan to strengthen the company's commitment to developing one of the "most advanced" foods safety systems.Regarding the Norovirus specifically, Ells said that the outbreak last week wasn't related to the company's food supply and that he is disappointed that Chipotle failed in preventing it from spreading.
Coca-Cola Co. (KO) - Get Report  fell 0.8% following a better-than-expected quarter. The beverage company earned an adjusted 59 cents a share, 2 cents higher than estimates. Revenue of $9.7 billion was down from $11.5 billion a year earlier but was in-line with expectations. A decline in revenue was tied to currency headwinds.  
Before Wednesday's market open, the beverage giant reported second-quarter earnings of 59 cents a share on revenue of $9.7 billion, compared to Wall Street's estimates for earnings of 57 cents a share on revenue of $9.7 billion.
AT&T Inc. (T) - Get Report  increased in premarket trading after exceeding second-quarter earnings estimates. The telecom added 127,000 new wireless postpaid subscribers over its recent three-month period, far higher than analysts' expectations for growth of 20,500. Earnings of 79 cents a share topped estimates by a nickel. Revenue of $39.8 billion was in-line with forecasts. 
Other earnings of note include Amgen Inc. (AMGN) - Get Report , Corelogic Inc. (CLGX) - Get Report , Express Scripts Holding Co. (ESRX) , Juniper Networks Inc. (JNPR) - Get Report , Texas Instruments Inc. (TXN) - Get Report , United States Steel Corp. (X) - Get Report , Wynn Resorts Ltd. (WYNN) - Get Report , Six Flags Entertainment Corp. (SIX) - Get Report , Hess Corp. (HES) - Get Report , Hershey Co. (HSY) - Get Report , D.R. Horton Inc. (DHI) - Get Report , Corning Inc. (GLW) - Get Report , Bloomin' Brands Inc. (BLMN) - Get Report , Baxter International Inc. (BAX) - Get Report , Anthem Inc. (ANTM) - Get Report , and Angie's List Inc. (ANGI) - Get Report .
The Federal Reserve will convene Tuesday with an announcement on monetary policy scheduled for Wednesday, July 26. Economists don't expect the central bank to make a change to interest rates (leaving the federal funds rate at 1% to 1.25%), though investors will comb through the Fed statement to discern when the Fed could begin to unwind its balance sheet. Most Fed watchers anticipate that process to begin at the September meeting at the earliest.
"There's getting close to zero chance of the Fed raising rates before December," Mike Piershale, president of Piershale Financial Group, told TheStreet.
Piershale noted that the Fed's decision to end its reinvestment policy in coming months should cause more concern for markets: "We do have some concern about that causing some volatility and it's such unprecedented territory I'm not sure if anybody honestly knows what it's going to do."
The Fed currently holds $4.5 trillion in Treasurys and mortgage-related bonds on its balance sheet. Unloading those would likely tighten monetary conditions in the same way an interest rate hike would. The Fed has emphasized that when it plans to do so, it will be a gradual process.
On the economic calendar Wednesday: New home sales for June will be released at 10 a.m. ET, and a weekly reading on domestic oil stockpiles from the Energy Information Administration will be released as normal at 10:30 a.m.