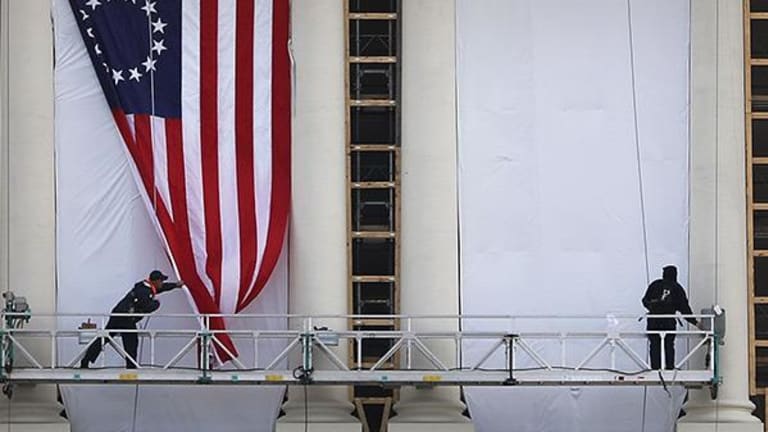 Stock Futures Rise but in Hesitant Trading as Trump Prepares to Take Office
Stock futures creep higher on Friday in hesitant trading ahead of the inauguration of President-elect Donald Trump.
Stock futures crept higher on Friday but in hesitant trading ahead of the inauguration of Donald Trump as U.S. president. 
S&P 500 futures were up 0.25%, Dow Jones Industrial Average futures rose 0.11%, and Nasdaq futures rose 0.27%. 
Stocks have been shaky for days as investors wrestled with what changes an incoming Trump administration could implement and how quickly. During confirmation hearings, Trump's cabinet member picks have frequently disagreed on some of Trump's core campaign promises, including a ban on Muslim immigration and foreign relations with Russia. 
Markets had initially rallied in the two months following Trump's unexpected win in November. Investors had placed big bets that a Trump administration would lead to higher infrastructure spending and looser financial regulations. The Dow, in particular, had surged to new heights on Trump's proposals, even coming within a hair of its 20,000 milestone. 
"Markets are typically prone to rise on lofty expectations and fall on less-than-lofty realities," James Chen, analyst at Forex.com, wrote in a note. "If the realities under President Trump fail to match expectations with regard to fiscal spending, lower taxes, financial deregulation, or other market-related issues, the many investors who have fully bought-in to the "Trump Trade" could potentially be in for a rude awakening."
Procter & Gamble (PG) - Get Free Report increased 2% following a better-than-expected quarter. Adjusted earnings of $1.08 a share came in 2 cents above estimates, while revenue of $16.86 billion beat consensus of $16.94 billion. The company warned that currency exchange woes could cut its sales growth by two to three percentage points this year. 
General Electric (GE) - Get Free Report declined in premarket trading as persistent pressure on oil prices hurt its energy business. Revenue dropped 2% to $33.1 billion, falling short of estimates of $33.63 billion. Oil and gas revenue slumped 22% over the fourth quarter, though sales in its renewable energy business rose 29%.
Schlumberger (SLB) - Get Free Report declined more than 1% before the bell after reporting an in-line quarter. The energy company narrowed its fourth quarter loss to 15 cents a share from 81 cents a share in the year-ago quarter. Adjusted earnings of 27 cents a share met analysts' estimates, while revenue of $7.11 billion came in above consensus of $7.07 billion.
General Electric and Schlumberger are holdings in Jim Cramer's Action Alerts PLUS Charitable Trust Portfolio. Want to be alerted before Cramer buys or sells GE or SLB? Learn more now.
American Express (AXP) - Get Free Report fell in premarket trading following a mixed fourth quarter. The credit card company earned 91 cents a share, 7 cents below estimates. Revenue fell 4.4% to $8.02 billion, though beat forecasts by $70 million. Net revenue, excluding currency exchange, rose 6% as card member spending increased. 
IBM (IBM) - Get Free Report  fell 1% despite topping quarterly estimates on its top and bottom lines. Earnings of $5.01 a share breezed past forecasts of $4.88. Sales slipped 1.2% to $21.8, but came in $160 million above consensus. IBM said its technology services and cloud platforms saw revenue increase 1.7% from last year to $9.3 billion. For the full year, IBM said cloud revenue rose 35% to $13.7 billion. Its outlook for 2017 was also upbeat with anticipated earnings of at least $13.80 a share beating consensus of $13.74. 
Amazon (AMZN) - Get Free Report was initiated with a buy rating and $953 price target at Aegis Capital. The company can deliver sustained sales growth and expand margins, Aegis said.
Ford (F) - Get Free Report was on watch after disclosing plans to record a pretax $3 billion loss in 2016. The loss was tied to remeasurement of its pension benefits after tweaking its pension accounting processes. 
Bristol-Myers Squibb (BMY) - Get Free Report  suffered another cancer immunotherapy setback Thursday night when the pharma giant said it would not seek accelerated approval for a combination of two drugs -- Opdivo and Yervoy -- as a treatment for newly diagnosed lung cancer. The stock fell 7.8% in premarket trading on Friday.