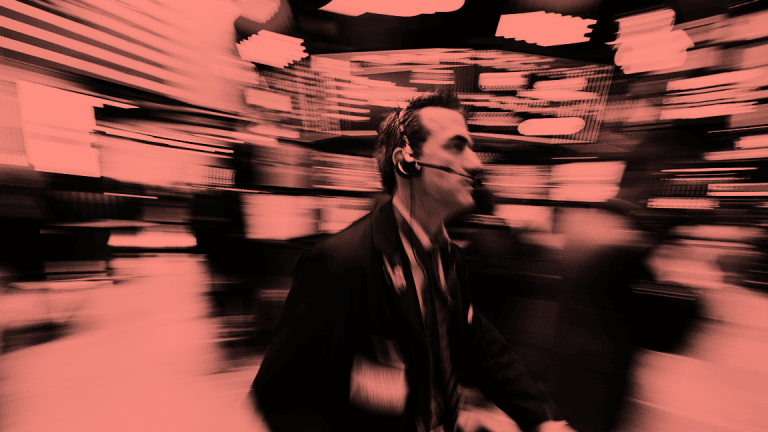 Stock Futures Pull Back After Second-Quarter U.S. Growth Ticks Higher
Stock futures indicate a lower opening for Wall Street on Thursday.
Stock futures pulled back on Thursday, Sept. 28, following a session a day earlier that was laser-focused on tax reform and as U.S. economic growth ticked higher. 
Dow Jones Industrial Average futures were down 0.21%, S&P 500 futures fell 0.21%, and Nasdaq futures dipped 0.36%.  
The U.S. economy grew at a pace of 3.1% in the second quarter, according to the final estimate of gross domestic product released Thursday. Previous estimates put growth at 3%. Higher GDP was mostly tied to farm inventories. Consumer spending growth held at 3.3%.
Weekly jobless claims rose in the past week as blips from Hurricane Irma and Harvey continued to skew the results. The number of new claims for unemployment benefits in the U.S. climbed by 12,000 to 272,000, the Labor Department said Thursday. The less volatile four-week claims average rose by 9,000 to 277,750.
Wall Street clinched solid gains on Wednesday, Sept. 27, as the tech sector rallied and big banks made moves higher after the Trump administration laid out its plans for tax reform. The framework document proposed downsizing individual tax brackets into three from seven and reducing the corporate tax rate to 20%. The proposal was just the beginning -- now congressional Republicans will need to provide the legislative details to turn it into a bill that can pass. 
BlackBerry Ltd. undefined  surged more than 7% on Thursday after reporting a surprise second-quarter profit. The tech company earned an adjusted 5 cents a share, better than expectations of a breakeven result. Revenue declined to $238 million from $334 million. Analysts had anticipated sales of $222 million. Enterprise software and services sales increased 8%, while licensing and IP revenue rocketed 250% higher. For the full year, BlackBerry anticipates sales of at least $920 million, higher than a targeted $916 million. 
Pier 1 Imports Inc. (PIR)  tumbled 9% after posting a wider loss in its second quarter and a muted outlook for the full year. The furniture retailer reported a loss of 10 cents a share, double a year earlier. An adjusted loss of 5 cents a share beat by a penny. Comparable-store sales increased 1.8%, outpacing an expected 0.7%.
For the full year, Pier 1 expects GAAP earnings of 31 cents to 41 cents a share, below analysts' target of 46 cents. The company revised its guidance to "reflect the anticipated impact of Hurricane Harvey and Irma" on its third-quarter results. 
Sherwin-Williams Co. (SHW) also expects the recent hurricanes to impact its third quarter. More than 600 stores were affected by the weather patterns and tens of stores in the Caribbean remain closed. The paint company expects the disruptions to reduce overall third-quarter revenue by $50 million to $70 million. Earnings guidance was also cut to $3.40 to $3.70 a share, down from its previous range of $3.70 to $4.10. 
Hurricane activity in the U.S. and the Caribbean will also impact Southwest Airlines Co.'s (LUV) quarterly performance. The airline expects operating revenue to be reduced by $100 million after cancelling roughly 5,000 flights. Operating revenue per available seat miles is expected to come in flat to down 1%.  
Rite Aid Corp. (RAD)  declined 4% on Thursday after quarterly sales came up short. Revenue dropped 4.4% to $7.68 billion, below estimates of $7.84 billion. Pharmacy segment sales fell 3.4%, while same-store sales dropped 3.4%. An adjusted net loss of one cent a share met analysts' estimates. 
Applied Materials Inc. (AMAT) announced a new share buyback program and positive growth for the long term. The chipmaker anticipates adjusted earnings of $5.08 a share in fiscal 2020 thanks to sustained growth in its internet-of-things and artificial intelligence developments. That implies healthy growth from analysts' expectations of $3.21 a share in the current fiscal year. Applied Materials also authorized $3 billion in share buybacks, adding to the $995 million still available for repurchases.  
Updated from 7:45 a.m. ET, Sept. 28. 
More of What's Trending on TheStreet: