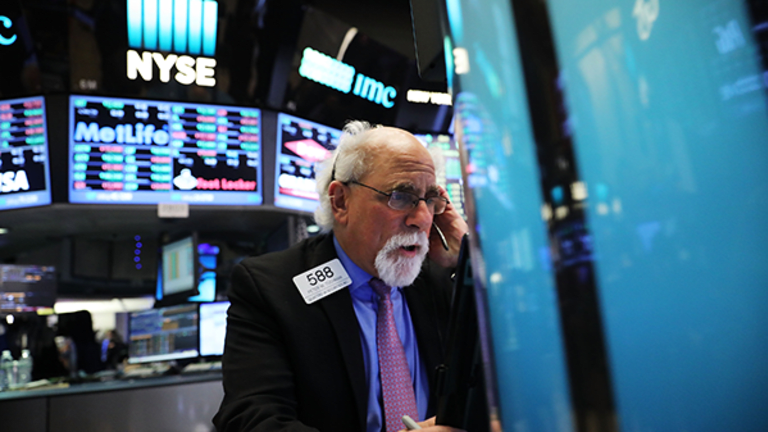 Stock Futures Turn Lower Even as Q2 GDP Improves, Private Payrolls Jump
Stock futures turn lower.
Stock futures turn lower.
If you'd like to receive our daily "5 Things You Must Know Before the Bell" newsletter, please register here.
Stock futures were lower on Wednesday, Aug. 30, even after an improvement in second-quarter economic growth and as private payrolls in the U.S. rose more than anticipated in August. 
Dow Jones Industrial Average futures were down 0.07%, S&P 500 futures fell 0.13% and Nasdaq futures slid 0.06%. 
The second estimate of second-quarter economic growth in the U.S. came in above expectations. Second-quarter GDP increased to 3% from a prior estimate of 2.6% growth, according to the Bureau of Economic Analysis. Analysts anticipated a smaller increase to 2.7%.
"The revised GDP growth rate likely comes as a sigh of relief for folks looking for further confirmation that the U.S. economy is moving along swiftly," said Mike Loewengart, vice president of investment strategy at E*TRADE. "With solid recent retail sales numbers and this morning's blockbuster ADP jobs numbers, growth was expected but certainly not guaranteed."
U.S. private companies added added 237,000 jobs in August, according to the ADP Employment Report. Analysts expected 185,000 jobs to have been added after a reading of 178,000 in July. 
The official U.S. jobs report  will be released on Friday, Sept. 1, in what is the most highly anticipated and closely scrutinized economic data point of any month. The number of jobs added to the U.S. economy is expected to slow down after July marked the fifth month over 200,000 so far this year. Economists surveyed by FactSet anticipate 172,500 jobs to have been added to nonfarm payrolls in August, slowing from a pace of 209,000 in July.
The unemployment rate is expected to hold steady at 4.3%, while hourly earnings are forecast to have climbed 0.3% month on month.
"The extremely low level of unemployment at 4.3% is keeping a lid on job growth as companies struggle to find people to hire," Bryce Doty of Sit Fixed Income Advisors told TheStreet. "A source of labor supply has been part-time workers that have been looking for full-time work. The spike in Job Openings may be indicating that this source of workers is drying up. As a result, watch for wage growth to resume an upward trend by year end even though next Friday's data is expected to show only a slight increase in average hourly earnings."
Crude oil prices were lower ahead of a weekly reading on domestic inventories to be released Wednesday morning. The Energy Information Administration will release its data on U.S. stockpiles at 10:30 a.m. ET. 
West Texas Intermediate crude was down 0.7% to $46.09 a barrel on Wednesday morning. 
Commodities prices have been on watch in recent days as flooding in Texas interrupted a number of refineries and taken a large chunk of the U.S. refining capacity offline. Gasoline futures prices in the U.S. have risen more than 10% over the past two days to a two-year high as investors counted the cost of Tropical Storm Harvey's devastation, which has taken out the equivalent of more than 3.6 million barrels of refining potential in the Gulf of Mexico region. Key distribution pipelines that take gas and distillate products to markets around the United States also have been hit, although most are still operating under reduced capacity.
Warren Buffett's Berkshire Hathaway Inc. (BRK.A) - Get Report  has become the top shareholder of Bank of America Corp. (BAC) - Get Report after exercising its right to acquire 700 million shares of the bank. The purchase more than triples Buffett's original investment made six years ago. Charlotte-based Bank of America announced the exercise of warrants that gave Berkshire the right to obtain the bank's shares for roughly $7.14 each. The action now gives Berkshire around a 6.6% stake in Bank of America. Bank of America shares were up 0.7% in premarket trading.
Bob Evans Farms Inc. (BOBE) moved slightly higher in premarket trading after topping fiscal first-quarter sales estimates. The restaurant chain earned 37 cents a share over its recent three-month period, in-line with estimates. Revenue surged 27.2% to $109.3 million, $7 million above estimates. Chief Executive Officer Mike Townsley said in a statement, "We continued to grow household penetration of refrigerated sides and increased market share by 250 basis points from the year ago period."
H&R Block Inc. (HRB) - Get Report fell more than 5% in premarket trading after reporting a wider quarterly loss than a year earlier. The tax-preparation firm posted a net loss of 63 cents a share over the quarter, wider than 56 cents a share a year earlier. Analysts anticipated a net loss of 62 cents a share. Revenue increased 10% to $138 million, above $129 million consensus.
Updated from 8:38 a.m. ET, Aug. 30. 
More of What's Trending on TheStreet: