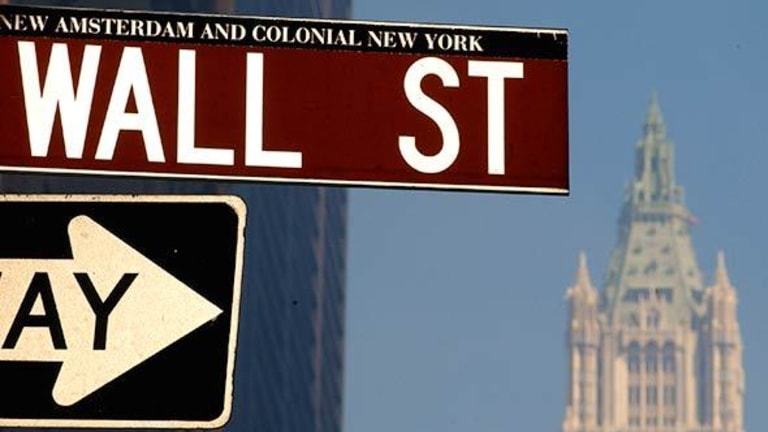 Stock Futures Mostly Lower as Crude Oil Slides Below $53
Stock futures mostly lower Monday morning amid a slump in crude oil prices.
Stock futures mostly lower Monday morning amid a slump in crude oil prices.
Stock futures traded mostly lower Monday morning amid a slump in crude oil prices. 
S&P 500 futures were down 0.09%, Dow Jones Industrial Average futures slid 0.19%, while Nasdaq futures rose slightly. 
Dow 20,000 came agonizingly close on Friday, but building momentum flagged in the final moments to fall short of the milestone. The Dow came within a point of the level in the afternoon session before backing off, just as it has for weeks. The S&P 500 and Nasdaq each closed at fresh records.
Crude oil prices pulled below $53 a barrel on Monday, continuing to trade off of data late Friday that showed rising U.S. production. A weekly reading on U.S. activity showed the number of U.S. oil rigs climb for the 10th consecutive week in a row. Commodities trading has been erratic in the past week as investors weigh U.S. production against an agreement among major oil-producing nations designed to rebalance markets. A production cut agreement among Organization of Petroleum Exporting Countries and other non-OPEC producers took effect at the beginning of the year. 
West Texas Intermediate crude was down 2% to $52.89 a barrel on Monday morning. 
The British pound tumbled more than 1% overnight after Brisith Prime Minister Theresa May suggested a full withdrawal from the European Union, conflicting with a former ambassador to the EU who had suggested the approach so far had been "muddled." May told Sky News that the U.K. would no longer be a member of the EU and that she would provide "more details in the coming week as we look ahead to triggering Article 50."
Pet health care company VCA (WOOF) - Get Report agreed to be acquired by Mars Inc. on Monday in a deal worth $9.1 billion. Snacks and petcare company Mars agreed to purchase VCA for $93 a share, a roughly 31% premium to its close on Friday. The deal is slated to close in the third quarter of this year. 
Ariad Pharmaceuticals (ARIA) surged 74% after Takeda Pharmaceutical agreed to acquire the drugmaker in a deal worth $5.2 billion. Takeda offered to purchase Ariad for $24 a share, valuing the drugmaker at a premium of 75% compared to its closing price on Friday of $13.74. The all-cash deal is expected to close by the end of February. 
Urban Outfitters (URBN) - Get Report moved lower after saying same-store sales over the critical holiday shopping season increased 3%, while total same-store sales climbed 1.5%, which was less than expected. Same-store sales at its Urban Outfitters stores increased 3.6%, while Anthropologie sales declined 1%. 
Francesca's Holdings (FRAN) - Get Report climbed 3% after upping its fourth-quarter outlook. The retailer anticipates earnings for its January-ending quarter between 35 cents and 37 cents a share. Francesca's had previously targeted 33 cents to 37 cents a share. Its fourth-quarter same-store sales outlook was also revised from an expected 1% decline to expected 1% growth.  
Fiat Chrysler (FCAU) - Get Report added more than 2% in premarket trading after outlining plans to invest $1 billion in plants in Michigan and Ohio, adding 2,000 new jobs to the U.S. The move comes after President-elect Donald Trump took aim at a number of automakers via Twitter in which he criticized any plans to ship jobs oout of the U.S. and threatened to impose border taxes. 
Merrimack Pharmaceuticals (MACK) - Get Report shot 37% higher in premarket trading after drugmaker Ipsen agreed to buy some of its assets, including its drug for pancreatic cancer, in a deal worth more than $1 billion. Merrimack also said it would eliminate about 80% of its staff as it refocuses its pipeline.
McDonald's (MCD) - Get Report  crept higher after selling a majority stake in its operations in China to Carlyle Group (CG) - Get Report and a state-backed investment group for around $2.1 billion. The agreement would see McDonald's part with 80% of its 2,200 stores in China and Hong Kong. The world's largest hamburger chain intends to keep a minority stake in the region.