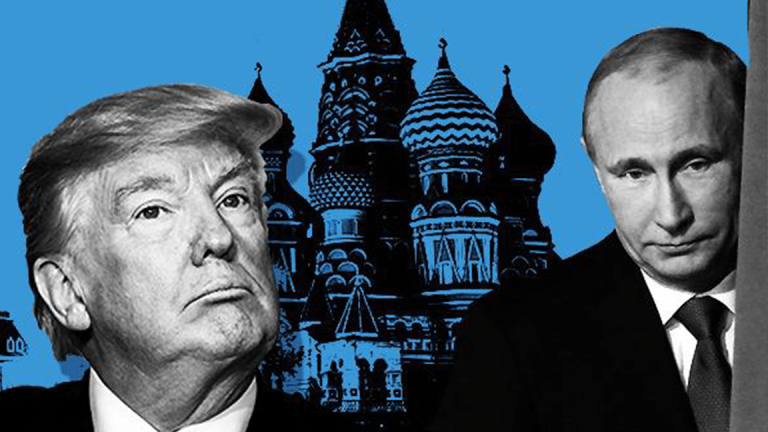 Stock Futures Lower as Manafort Told to Surrender in Mueller Probe
Stock futures are lower on Monday as Mueller's Russia investigation takes its first concrete steps.
Stock futures were lower on Monday, Oct. 30, as investors awaited for concrete details on the first reveal in the Robert Mueller investigation into Russian interference in the 2016 presidential election. 
Dow Jones Industrial Average futures were down 0.24%, S&P 500 futures slid 0.23%, and Nasdaq futures fell 0.04%. 
Former Trump campaign chairman Paul Manafort and longtime aide Rick Gates reportedly have been told to surrender to authorities for arrest, according to the New York Times. The potential for the first arrests linked to special counsel Mueller's investigation into Russia meddling in last year's elections had been discussed all weekend by a number of different media outlets. 
President Donald Trump unleashed a barrage of Tweets Sunday expressing anger and dismay at the length and cost of the investigation and said it was a distraction to his overall economic ambitions on tax reform. On Sunday, Trump tweeted, "All of this 'Russia' talk right when the Republicans are making their big push for historic Tax Cuts & Reform. Is this coincidental? NOT!"
House Republicans are slated to unveil their bill for tax reform on Wednesday, Nov. 1, according to CNBC sources. Investors so far have seen little detail on highly anticipated reform, though the promise of what's to come has supported market gains in recent months. The Trump White House has promised tax cuts for individuals and businesses, but details on how they will be paid for without blowing up the deficit have not been forthcoming.
The impact of a string of devastating hurricanes in late August and early September will again be the focus of investor attention this week with the release of the U.S. jobs report for October. That report, to be released on Friday, Nov. 3, should provide color on how those disasters affected the U.S. economy.
After a surprisingly weak September report, the onus is on October to show that this isn't the beginning of a trend. But, like with the September jobs report, Wall Street could take any weakness in stride as a momentary blip in an otherwise healthy labor market.
The U.S. nonfarm payrolls report for September showed the first contraction in seven years, a result of Hurricane Harvey and Irma that hit Texas and Florida, respectively. Almost 3% of employed workers nationwide said they had not been able to work or had worked fewer hours in September because of bad weather, a record high for the measure. Leisure and hospitality jobs saw a sharp decline.
But markets mostly shrugged when that surprise came on Oct. 6. The Dow Jones Industrial Average and S&P 500 both closed with minor losses, while the Nasdaq inched higher to seal a new record.
Investors have high hopes of a solid rebound on nonfarm payrolls in October. Consensus is for 310,000 jobs to have been added to the U.S. economy and for the unemployment rate to hold at 4.2%, according to FactSet. Year-over-year hourly earnings are expected to have increased 2.7%.
In economic news Monday, income and spending rose in September. Incomes increased by 0.4% in September, according to the Bureau of Economic Analysis, meeting analysts' estimates. Consumer spending grew by 1%, while the savings rate dropped to 3.1%.
In deal news Monday, Lennar Corp. (LEN)  agreed to buy smaller rival CalAtlantic Group (CAA)  for $9.3 billion to create the U.S.'s largest homebuilder. The boards of both companies approved a definitive merger agreement where each CalAtlantic share would be exchanged for 0.885 shares of Lennar Class A common share, valuing the company at approximately $9.3 billion, including $3.6 billion of net debt assumed.
The combination will create a homebuilder with revenue of more than $17 billion in the past 12 months and a market capitalization of about $18 billion. The combined company will control approximately 240,000 homesites and will have about 1,300 active communities in 49 markets across 21 states, where roughly 50% of the U.S. population currently lives.
Novartis AG (NVS)  agreed to buy French drugmaker Advanced Accelerator Applications S.A. (AAAP) for $3.9 billion in a deal to strengthen its oncology businesses. Advanced Accelerator develops, produces and commercializes molecular nuclear medicines including Lutathera, which was approved in Europe in September for use against gastroenteropancreatic neuroendocrine tumors. 
Under the deal, Novartis will make a cash offer of $41 a share and $82 per American depositary share for Advanced Accelerator, valuing the French company at $3.9 billion.
Akzo Nobel NV (AKZOY) confirmed on Monday that it was in talks with Axalta Coating Systems Ltd. (AXTA) about a possible merger. The Dutch paints maker said it was in "constructive discussions" about a "merger of equals" of AkzoNobel Paints & Coating and Axalta, which would create a company with a market value of about $30 billion. Akzo Nobel was responding to market speculation about the talks that sent Axalta's shares up 16.95% on Friday, Oct. 27, to $33.15..
Merck & Co. Inc. (MRK) dropped after the company withdrew an application for approval for an additional indication of wonder drug Keytruda in Europe. In a statement late Friday, Merck said that withdrawn its European application for the drug in combination with pemetrexed and carboplatin as a first-line treatment for metastatic nonsquamous non-small cell lung cancer. No concrete reason for the withdrawal was given.
Tesla Inc. (TSLA) shares were downgraded to neutral from buy at Evercore after analysts grew "more cautious" over production of the Model 3. Analysts said in a note that the electric vehicle was the "most important piece of the Tesla investment story in coming quarters." Tesla will report on earnings this Wednesday, Nov. 1. 
Updated from 7:57 a.m. ET, Oct. 30. 
More of What's Trending on TheStreet: