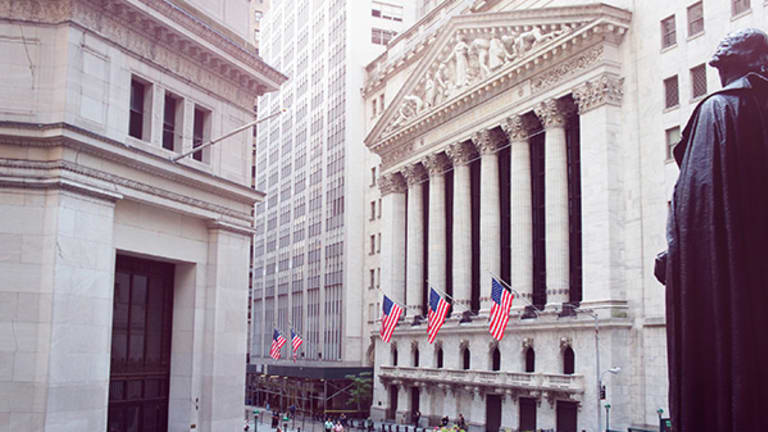 Stock Futures Slip Slightly as Second-Quarter U.S. Growth Is Revised Down
Stock futures slip as investors await key rate-hike clues from Federal Reserve Chair Janet Yellen later in the morning.
Stock futures were down slightly after a revision to second-quarter growth showing the economy in weaker health than initially estimated. 
S&P 500 futures were down 0.06%, Dow Jones Industrial Average futures fell 0.09%, and Nasdaq futures declined 0.12%.
The U.S. economy grew 1.1% over the second quarter, according to the second estimate of GDP from the Bureau of Economic Analysis. The downward revision from 1.2% was as analysts had expected. Weaker manufacturing activity caused by slower international demand and a stronger U.S. dollar put a cap on U.S. economic growth last quarter. Consumer spending remained strong with estimates raised to 4.4% from 4.2%. 
The U.S. trade gap narrowed to $59.3 billion in July, the Commerce Department said Friday. The June deficit was $64.5 billion. 
Investors waited for key rate-hike clues from Federal Reserve Chair Janet Yellen later in the morning. Yellen will deliver a widely anticipated speech mid-morning at the Economic Policy Symposium in Jackson Hole, Wyo., a presentation that provide important context to the markets' outlook for interest rates.
"We expect the Chair to carry the torch and set a tone that suggests a greater likelihood of a September hike than the market is pricing in," BNP Paribas analysts wrote in a note. "We expect a positive assessment of the state of the economy before Ms. Yellen gets into tools that the Fed has at its disposal to combat any economic downturn."
The chances of a September rate hike currently sit at 21%, according to CME Group fed funds futures. A rate hike in December has better chances at 41%.
The Fed's promises for gradual rate increases is hurting its credibility and possibly hindering the economy, St. Louis Fed President James Bullard told CNBC on Friday. Bullard, a voting member of the policy committee, said that the process is "affecting global pricing" and hopes the Fed and market expectations begin to line up with a "more realistic assessment of what is going to happen." Bullard expects one rate hike over the next two-and-a-half years. 
Fed members headed to Jackson Hole for their closely-watched two-day summer summit on Thursday. Prominent central bankers, finance ministers and economists from around the world meet annually to discuss economic trends and monetary policy action.
Herbalife (HLF) fell 5% in premarket trading on reports activist investor Carl Icahn is looking to sell his stake. Investment bank Jefferies Group has helped Icahn seek out buyers for his 18% stake, worth roughly $1 billion, over the past month. Fellow activist investor Bill Ackman reiterated on Friday that he has a $1 billion short position on Herbalife.
GameStop (GME) slipped 10% as quarterly sales missed estimates and comparable-store sales disappointed. The video-game retailer earned 27 cents a share, a penny above forecasts, while revenue of $1.63 billion missed estimates of $1.76 billion. Same-store sales fell 10.6%, far worse than an expected decline between 4% and 7%. Third-quarter earnings guidance between 53 cents and 58 cents a share met analysts' estimates of 55 cents.
Big Lots (BIG) reported weaker comparable-store sales than expected, while quarterly revenue declined. The liquidation retailer reported a same-store sales increase of just 0.3%, the low-end of a previous range of flat to 2% growth. Revenue fell 0.5% to $1.2 billion, $20 million less than estimated. 
Ulta Salon (ULTA) fell despite a better-than-expected second quarter. The beauty chain earned $1.43 a share, 3 cents above estimates. Revenue surged 22% to $1.07 billion, inching past forecasts by $10 million. 
Splunk (SPLK) slid after topping estimates on its top- and bottom-lines over the second quarter. The software company earned 5 cents a share, exceeding forecasts by 2 cents. Sales climbed 44% to $212.8 million, higher than consensus by $12.3 million. Splunk also increased its full-year sales guidance to $910 million to $914 million, above previous estimates of revenue no higher than $896 million.