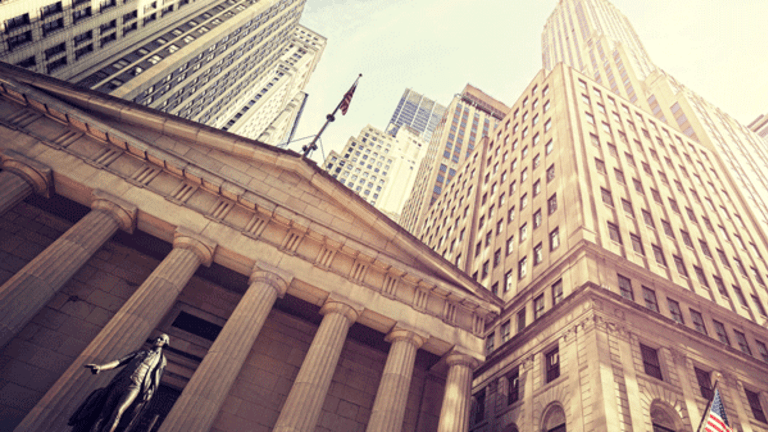 Stock Futures Little Changed as Gap, Abercrombie Round Out Retail Earnings
Stock futures are little changed on Friday as a mix of earnings from the likes of Foot Locker , Gap and Salesforce pull markets in two directions.
Stock futures were little changed on Friday as a mix of retail earnings from the likes of Foot Locker (FL) and Gap (GPS) pulled markets in two directions. 
S&P 500 futures were up 0.01%, Dow Jones Industrial Average futures were flat, and Nasdaq futures added 0.08%. 
Foot Locker fell 2% before the bell despite in-line quarterly sales and better-than-expected profit. The athletic shoe store chain earned $1.17 a share during the quarter, up from 57 cents a share a year earlier and 7 cents above consensus. Gross margins rose to 33.9% from 33.8%, while revenue increased nearly 6% to $1.89 billion. Same-store sales increased 4.7% as expected. 
Gap moved lower in premarket trading after reporting in-line earnings and a drop in revenue over its third quarter. The apparel retailer earned 60 cents a share, as expected, while revenue slipped 1.6% to $3.8 billion. Third-quarter profit declined nearly 18%, while sales dropped for their seventh straight quarter. The company also said it would close 65 stores this year, higher than its originally planned 50 store closings.
Abercrombie & Fitch (ANF) said third-quarter profit tumbled 81% as same-store sales in the period tumbled 6%, more than analysts' expectations of a 4.4% drop. Revenue declined 6% to $821.7 million, falling short of $831.1 million consensus. Abercrombie also warned that it would take a $16 million lease termination charge in its current quarter. The stock declined 10.5% in premarket trading.
Williams-Sonoma (WSM) slumped 5% after a mixed third quarter. The homewares retailer earned 79 cents a share, 2 cents above estimates. Sales climbed 1.6% to $1.25 billion, but fell short of expectations by $10 million.
More than two-thirds of retailers listed on the S&P 500 have reported earnings so far this reporting season. Of those that have reported, 59% have exceeded earnings estimates, while 32% have fallen short. The blended growth estimate for retail and restaurant stocks is 10.1%, according to Thomson Reuters. Companies in the internet and catalog retail and hotels, restaurants and leisure subsectors have driven the bulk of growth. 
In other earnings news, Salesforce.com (CRM) surged 6% before the bell after guiding for a better-than-expected fourth quarter. The cloud software developer anticipates fourth-quarter revenue of $2.26 billion to $2.27 billion, above consensus of $2.24 billion. Full-year guidance of $8.36 billion to $8.37 billion beat estimates of $8.31 billion.
Applied Materials (AMAT) fell 2% in premarket trading after fourth-quarter revenue came in short of estimates. The chipmaker earned an adjusted 66 cents a share on $3.3 billion in sales, a mixed result compared to consensus of 65 cents on $3.31 billion. First-quarter adjusted earnings guidance of 62 cents to 70 cents a share came in higher than 59 cents expected. 
Tesla (TSLA) fell and SolarCity (SCTY) gained after the companies' shareholders approved a proposed merger. More than 85% of votes were in approval. Tesla CEO Elon Musk assured voters that their "faith will be rewarded."
American Airlines (AAL) rose more than 1% after Citi named the airline its top pick in the industry. Analysts pointed to its streamlining of operations after merging with US Airways. 
The U.S. dollar fluctuated on Friday after hitting its highest level in nearly 14 years earlier in the session. The dollar has skyrocketed against foreign currencies, while U.S. bonds have dropped as investors anticipate higher U.S. inflation and interest rates. President-elect Donald Trump's infrastructure spending plans are expected to heat up inflation in coming years. The U.S. Dollar Index gave up earlier gains to trade flat. 
The chances of a rate hike in December were reinforced on Thursday after Federal Reserve Chair Janet Yellen told lawmakers that an interest rate hike could come "relatively soon." Yellen noted that the labor market continued to show strength and that the economy appeared to have recovered from a sluggish start to the year. Yellen also repeated the stance that the current state of the economy will likely "warrant only gradual increases in the federal funds rate over time" and noted that a delay could impact financial stability.
The comments were made to the Congressional Joint Economic Committee on Thursday morning. A December rate hike already had a high probability among Wall Street pundits with any doubt after Donald Trump's recent election as U.S. president quickly evaporating. The chances of a December rate hike currently sit at 90%, according to CME Group fed funds futures.