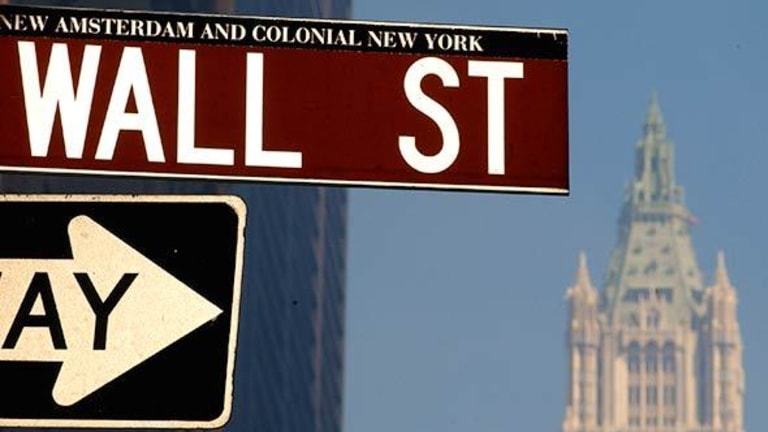 Stock Futures Little Changed Amid Flood of Earnings Reports
Stock futures are little changed on Tuesday morning as a rush of earnings reports leaves Wall Street torn on which direction to go.
Stock futures were little changed on Tuesday morning as a rush of earnings reports left Wall Street torn on which direction to go. 
S&P 500 futures were down 0.02%, Dow Jones Industrial Average futures fell 0.02%, and Nasdaq futures added 0.06%. 
It's full-steam ahead for earnings with a major chunk of S&P 500 companies set to report in the coming days. So far, less than one-fifth of S&P 500 companies have reported earnings. Average earnings for the S&P 500 in the fourth quarter are expected to increase 6.3% from the same period a year earlier, according to Thomson Reuters.
Alibaba (BABA) - Get Free Report rose 4% after topping analysts' estimates in its third quarter on strength in its digital media and entertainment units. The Chinese e-commerce giant reported a 54% surge in sales to $7.7 billion in its third quarter, better than an anticipated $7.3 billion in sales. Adjusted earnings of $1.30 a share were as expected. Digital media and entertainment revenue rocketed 273% higher, while cloud-computing revenue climbed 115%. 
Lockheed Martin (LMT) - Get Free Report declined after issuing a weaker-than-forecast outlook for profit over fiscal 2017. The defense company targets full-year earnings of $12.25 to $12.55 a share, below estimates of $12.88 a share. A sales range of $49.4 billion to $50.6 billion was in line with estimates of $49.5 billion. Lockheed did manage to top profit and sales estimates over its fourth quarter.   
3M (MMM) - Get Free Report reported better-than-expected profit and sales over its recent quarter, thanks to growth in its industrial segment. Profit of $1.88 a share compared to $1.66 a share in the year-ago quarter and beat estimates by a penny. Revenue increased 0.4% to $7.33 billion, in line with estimates. Sales in its industrial segment rose 3% to $2.5 billion. 
Yahoo! (YHOO)  rose more than 1% in premarket trading Tuesday after the Internet company posted stronger-than-expected fourth-quarter earnings and sales. Adjusted earnings of 25 cents a share beat estimates by 4 cents. Revenue of $1.47 billion exceeded estimates of $1.3 billion. Yahoo! also provided an update on its pending $4.8 billion acquisition by Verizon (VZ) - Get Free Report , noting that it now expects the deal to close in the second quarter of 2017, rather than the first quarter of this year. The deal has hung in the balance since a string of recent account breaches which are estimated to have affected more than 1 billion user accounts.
Meanwhile, Verizon missed fourth-quarter earnings forecasts in its recent quarter, the first reporting period under new Chief Financial Officer Matthew Ellis, who took the role in November. The telecom earned 86 cents a share over the quarter, 3 cents below estimates. Revenue of $32.34 billion came in above consensus of $32.11 billion. Verizon sees little sales growth over this year, noting that revenue will stay "fairly consistent" with 2016.
Kimberly-Clark (KMB) - Get Free Report missed fourth-quarter estimates, while sales growth plateaued. The consumer goods company earned $1.40 a share, up from 91 cents in the year-ago quarter but 2 cents short of estimates. Sales of $4.5 billion were unchanged and missed consensus of $4.6 billion. Kimberly-Clark said it sees sales growth in 2017 similar to 2016 and warned that it expected a "continued difficult environment" this year. Multinationals such as Kimberly-Clark have struggled with a strong U.S. dollar, which makes sales accrued overseas less profitable when exchanging currency. 
Another multinational, Johnson& Johnson (JNJ) - Get Free Report , also guided for a weaker full year than anticipated. Earnings for the full year are expected to come in between $6.93 and $7.08 a share on revenue of $74.1 billion to $74.8 billion. Analysts anticipated earnings of $7.11 a share on $75.1 billion in sales. For its December quarter, adjusted earnings of $1.58 a share came in 2 cents above estimates. Revenue increased 1.7% to $18.12 billion, driven by growth in its pharmaceutical unit. 
DuPont (DD) - Get Free Report  beat fourth-quarter earnings Tuesday but cautioned that its merger with Dow Chemical (DOW) - Get Free Report would hit earnings in the first three months of the year. Adjusted earnings for its December-ended quarter came in at 51 cents a share, far better than a loss of 26 cents a share in the year-ago quarter and above forecasts of 41 cents a share in profit. Revenue fell 2% to $5.2 billion on lower volumes. 
DuPont said it anticipates its merger with Dow to close in the first half of 2017, though regulatory approval is still required. First-quarter earnings will likely include a charge of 15 cents a share for "transaction costs associated with the planned merger with Dow," the company said. 
Dow Chemical is a holding in Jim Cramer's Action Alerts PLUS Charitable Trust Portfolio. Want to be alerted before Cramer buys or sells DOW? Learn more now.
Stocks continued their losing streak on Monday on worries President Donald Trump's "America First" policies could hurt growth. Trump signed an executive order on Monday to formally withdraw the U.S. from the Trans-Pacific Partnership, a deal he frequently lambasted on the campaign trail. Other executive orders included a hiring freeze on federal employees. Government jobs are a major chunk of the U.S. economy, accounting for roughly 8.3% of total job creation last year.
Earlier Monday, Trump met with business leaders and repeated his proposal for significant border taxes for companies manufacturing outside of the U.S. He also said companies building domestic factories would receive speedy approvals. Lockheed Martin, Under Armour (UA) - Get Free Report and Tesla  (TSLA) - Get Free Report executives, among others, were in attendance. Trump also said he planned to cut business regulations by 75% or more.
The White House said Donald Trump would have breakfast Tuesday with leaders of carmakersGeneral Motors (GM) - Get Free Report , Ford (F) - Get Free Report and Fiat Chrysler Automobiles (FCAU) - Get Free Report , continuing the push to boost U.S. employment. During his election campaign, Trump criticized Ford for its plans to move production to Mexico, and since winning the election has threatened on Twitter to impose significant tariffs on imported vehicles. He also promised tax advantages to companies that produce products domestically.  
Apple (AAPL) - Get Free Report was downgraded to equal-weight at Barclays. There appears to be limited near-term upside in the company's earnings potential, Barclays said.
Apple is a holding in Jim Cramer's Action Alerts PLUS Charitable Trust Portfolio. Want to be alerted before Cramer buys or sells AAPL? Learn more now.