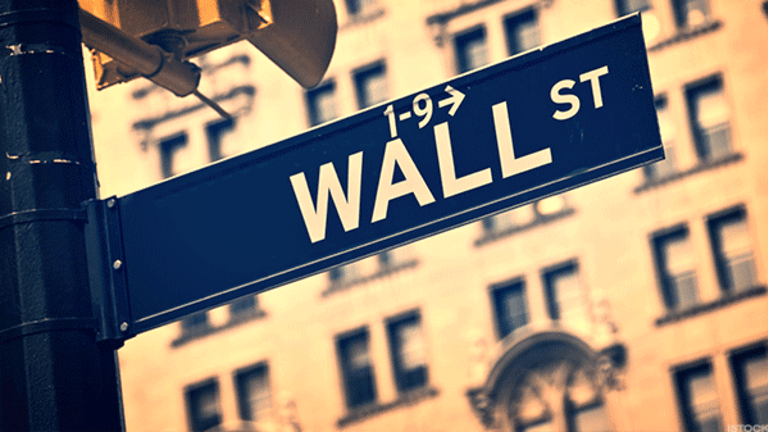 Dow Futures Creep Higher as Index's 20,000 Milestone Is Within Reach
Stock futures are mixed Wednesday, with the Dow Jones Industrial Average's 20,000 milestone still within reach.
Stock futures traded mixed Wednesday, with the Dow Jones Industrial Average's 20,000 milestone still within reach. 
Dow futures were up 0.04%, S&P 500 futures were down 0.07%, and Nasdaq futures declined 0.04%. The Volatility Index, commonly referred to as the "fear index," was hovering at lows of 11.35. Since the election, the index has dropped nearly 40%. 
The Dow came close to capturing the historic 20,000 level on Tuesday but a lack of forward momentum put it within agonizing reach without pushing it over the edge. Still, the blue-chip index was able to clinch a new record close, alongside the Nasdaq. 
The Dow has moved higher in response to optimism over President-elect Donald Trump's proposed spending plans. Trump's administration, viewed as Wall Street friendly, has already backed deregulation, infrastructure spending and tax cuts.
Crude oil prices moved higher on Wednesday after a weekly reading on oil inventories from the American Petroleum Institute showed a decline of 4.1 million barrels in the U.S. Official data from the Energy Information Administration will be released mid-morning on Wednesday.
Oil prices have seen a choppy few days as worries resurfaced over whether major oil-producing nations could adhere to a recent production cut agreement. Organization of Petroleum Exporting Countries recently agreed to cut output to 32.5 million barrels a day, a limit to go into effect in January. However, OPEC's output remains at record highs with just two weeks left in the year. OPEC members have to cut production by more than 1 million barrels a day.
West Texas Intermediate crude for January delivery was up 0.2% to $52.22 a barrel. 
In earnings news, Nike (NKE) - Get Free Report rose nearly 3% in premarket trading after topping analysts' estimates on its top- and bottom-lines. The footwear and apparel retailer earned 50 cents a share, 7 cents higher than anticipated, while a sales increase of 6% exceeded estimates. Futures orders, a closely watched metric of future performance, rose just 2%, more than half off analysts' forecasts. 
FedEx (FDX) - Get Free Report fell 3.8% in premarket trading after a disappointing quarter. The shipping company reported adjusted earnings of $2.80 a share on revenue of $14.93 billion in revenue. Analysts expected profit of $2.90 a share on sales of $14.91 billion. Operating expenses in the quarter rose 22% to $13.8 billion. Management also warned that aspects of President-elect Trump's trade proposals could hurt the company. 
Accenture (ACN) - Get Free Report slid 1% after issuing disappointing guidance for fiscal 2017. The company cut its full-year earnings outlook to $5.64 to $5.87 a share, down from $5.75 to $5.98. Its current-quarter sales projections also missed estimates. 
Finish Line (FINL)  declined 14% in premarket trading after lowering its guidance for full-year comparable-store sales. The shoe retailer cut same-store sales growth for its February-ending fiscal year to flat to up 1%, down from previous growth targets of 3% to 5%. Full-year earnings guidance was also reduced to $1.24 to $1.30 a share, down from $1.50 to $1.56 a share. 
Merrimack Pharmaceuticals (MACK) - Get Free Report slumped 8% on Wednesday after halting its Phase II trial of a critical breast cancer treatment. A data and safety monitoring board recommendation suggested the MM-302 treatment was unlikely to deliver benefit over comparable treatment. Merrimack will offer further details in January.