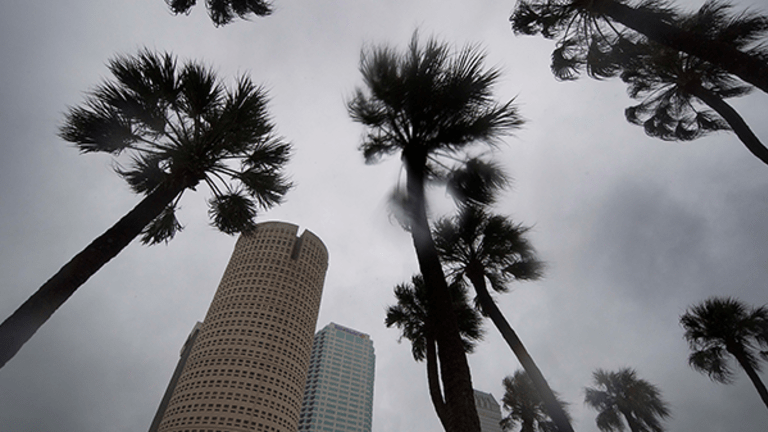 Stock Futures Rise as Irma Weakens to Tropical Storm and North Korea Is Quiet
Stock futures are rising confidently.
Stock futures are rising confidently.
If you'd like to receive our daily "5 Things You Must Know Before the Bell" newsletter, please register here.
Stock futures moved higher on Monday, Sept. 11, as Hurricane Irma's preliminary damage wasn't as devastating as some had predicted and North Korea didn't perform any nuclear tests over the weekend.
Dow Jones Industrial Average futures were up more than 100 points, or 0.49%, and S&P 500 futures rose 0.47%. Nasdaq futures gained a healthy 0.66%.
Hurricane Irma lost some of its steam over the weekend and was downgraded to a Tropical Storm early Monday as it moved along the Florida coastline and into the southeastern U.S. 
Irma's strong gusts and powerful storm surge still caused life-threatening conditions, but maximum sustained wind speeds fell to 70 mph from Irma's peak wind speed of 185 mph late last week. The threshold for a storm to become a hurricane is 74 miles per hour. Irma is expected to continue to weaken as it moves further inland. The storm will reach the Florida panhandle Monday afternoon and move into Georgia and Alabama Monday night and into Tuesday.
Still, Irma the hurricane swamped much of downtown Miami and toppled at least three constructions cranes -- two over downtown Miami and one in Fort Lauderdale, the Associated Press reported. 
According to the governor's office in Florida, about 5.7 million homes and businesses in the state lost power, CNN reported, and utility officials said it could take weeks to restore electricity to everyone.
Two tornadoes reportedly touched down in Brevard County, Florida, destroying mobile homes. No injuries have yet been reported as a result of the cyclones.
Bryan Koon, Florida's emergency management director, said late Sunday, Sept. 10, that authorities had only scattered information about the storm's toll.
"I've not heard of catastrophic damage. It doesn't mean it doesn't exist. It means it hasn't gotten to us yet," Koon told the AP.
At least one person was found dead in Orange County, Florida, as a result of a traffic accident during the storm, police said, according to CNN.
AIR Worldwide, a risk modeling software company, projected that Irma will create combined insured losses of $20 billion to $65 billion. Before Irma made landfall, Barclays forecasters predicted damages in line with Hurricane Katrina in 2005, which cost about $50 billion in insured damages.
Enki Research analyst Chuck Watson said Sunday, Sept. 10, that Irma's current cost looked "pretty grim," and estimated as much as $172 billion in total U.S. damage, according to CNN Money. Watson said about $65 billion of the total loss will be insured damages, while $40 billion will need to be covered by the struggling National Flood Insurance Program.
Investors were concerned last week that insurers with heavy exposure to Florida would falter as the storm took a toll. But Universal Insurance Holdings Inc. (UVE) - Get Report stock jumped 14.8% and Travelers Cos. (TRV) - Get Report rose 2.6% in premarket trading on Monday. Federated National Holdings Co. (FNHC) - Get Report finished trading on Friday, Sept. 8, up over 14% ahead of Irma's Florida landfall. Allstate Corp. (ALL) - Get Report closed up nearly 4% Friday.
At the same time, geopolitical concerns quieted some as North Korea didn't launch any missiles during its Foundation Day celebration Saturday, Sept. 9. The country carried out a nuclear test on the public holiday last year, prompting investors to prepare for similar action this weekend. 
Foundation Day celebrated the rogue nation's 69th founding anniversary this year and is one of the most important holidays in North Korea. Celebrations came and went with no test, as Pyongyang instead held gala party for the scientists involved in creating the intercontinental ballistic missiles North Korea has been testing.
As major risk concerns abated some over the weekend, gold prices dropped 0.92%, or $12.40, to $1,338.80 per pound.
Apple Inc. (AAPL) - Get Report shares were climbing 1.2% in premarket trading on Monday amid multiple media reports the tech giant's new anniversary iPhone will carry a $1,000 price tag.
The reports suggested a so-called Anniversary iPhone will be unveiled by Apple on Tuesday, Sept. 12, in Cupertino, California, along with two new iPhone products, an Apple Watch and an upgraded version of Apple TV that is expected to support ultra high definition 4K software.
The new premium iPhone is likely to steal the market's attention, given both the dominance of iPhone revenue to Apple's top line and its reported $999 price tag, which could prove to be a significant test of customer loyalty amid so-called upgrade fatigue and intense challenges from rivals such as Samsung Electronics and HTC.
The new iPhone celebrates the 10th anniversary of the company's best-selling product.
Apple is a holding in Jim Cramer's Action Alerts PLUS Charitable Trust Portfolio. Want to be alerted before Cramer buys or sells AAPL? Learn more now.
Tesla Inc. (TSLA) - Get Report  stock rose 1.9% premarket after the car company extended the battery life of certain models for drivers in Florida so they could evacuate from Hurricane Irma.
Tesla performed an automatic update on Model S/X60/60D vehicles that unlocked the full capacity of the 75kWh battery, according to a report from Electrek. The update allowed for an extra 30 to 40 miles of driving.
Tesla used to offer the option to buy a Model S or Model X with a 75 kWh battery pack software-locked at a capacity of 60 kWh. Customers could then pay between $4,500 and $9,000 to unlock the extra 20%, depending on the model and time of the upgrade.
Tesla confirmed that it had given the extra mileage to drivers in the path of Hurricane Irma until Sept. 16, after a Model S driver contacted the company saying he would need around another 30 miles of range to evacuate in traffic.
About 5.6 million people were ordered to evacuate in Florida as Hurricane Irma barreled down on the state.
Earnings are expected after the market close Monday from Peregrine Pharmaceuticals Inc. (PPHM) and Layne Christensen Co. (LAYN) .
No economic data is expected Monday.
Updated from 7:34 a.m. ET.
More of What's Trending on TheStreet:
Hurricane Irma Disaster Sends Looters Descending on a Florida Foot Locker: Watch
Hurricane Irma Spurs Price Gouging Accusations at Happiest Place on Earth Disney