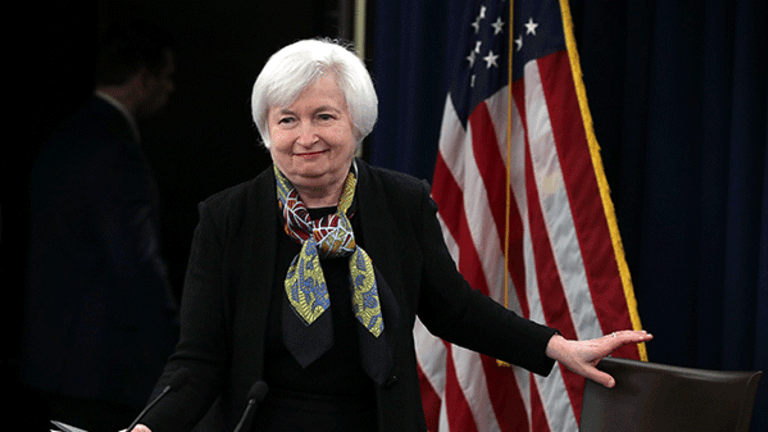 Stock futures found some relief after a key Federal Reserve official downplayed a potential interest rate hike, but uncertainty continues to be the watchword on Wall Street.
Lael Brainard, a board of governor's member at the Fed, told an audience in Chicago on Monday that a near-future hike in interest rates is "less compelling" given continued sluggishness in the U.S. economy.
After the U.S. stock market fell 400 points on Friday, September 9, the Dow Jones Industrial Average rose 1.3% on Monday, September 12, after Brainard's remarks. Futures markets also rallied after the Chicago speech, although gold and oil futures lagged, primarily due to the ongoing uncertainty over an interest rate hike and as the International Energy Agency's cut its demand forecast on Monday.
But other Federal Reserve officials seem to believe an interest rate hike is very much in play. Earlier on Monday, Atlanta Federal Reserve chief Dennis Lockhart called for a "serious discussion" on a rate increase, as the U.S. economy nears "full employment."
So what's the Federal Reserve going to do in its highly anticipated Federal Open Markets Committee (FOMC) September 20-21 meetings next week? Experts contacted by TheStreet say any definite predictions are hard to come by.
"The Fed has done a great job of completely confusing the market about what it's intentions are, most likely they don't even really know, which doesn't inspire me with a ton of confidence," says Matthew Tuttle, founder of Tuttle Wealth Management in Riverside, Conn. "A big part of this recent rally is on the back of Fed easing, once they do start to tighten it will be the beginning of the end of the bull market. As long as there is uncertainty, we will continue to see greater than normal volatility."
Other industry experts say there's a good chance the Fed will raise rates, and soon.
"I think the probability of a Fed rate increase in the upcoming meeting is higher than most market participants believe," says Aaron Jackson, an economics professor at Bentley University. "The current implied Fed funds futures probability is at about 15% for a September move, but I put it at closer to 50/50."
Jackson says he's seeing a more normalized labor market condition, with a number of measures of wage inflation continuing to move upward. "So, with the employment side of the Fed's mandate fairly close to accomplished, any additional improvements will in all likelihood lead to elevated inflation pressures in the future," he wrote. "Additionally, a number of people at the Fed have been increasingly worried about the potential for financial market imbalances (bubbles) which could cause significant problems later on. And with a number of countries more recently beginning to talk seriously about using expansionary fiscal policy to create more stimulus, this will allow global interest rates, as well as U.S. interest rates to rise and give more cover for the Fed to increase (in addition to the factors mentioned above).
Kevin Mahn, chief investment officer of Hennion & Walsh, in Parsippany, N.J., says the Federal Reserve is taking a more low key, subdued approach to interest rates, a demeanor he things will continue.
"While I believe that the Federal Reserve would like to have adopted more of an increasingly hawkish stance, given solidifying economic data in the U.S. and certain mounting inflationary pressures this year, they have instead largely taken more of a dovish tone presumably to appease certain vocal dissenters and those concerned with global economic growth altogether," Mahn says.
He describes the "hovish" stance (a term Mahn uses to describe the ongoing hybrid state of hawkish/dovish positioning by the Fed) now appears to be leaning more toward a hawkish stance as Fed Chair Janet Yellen recently stated that she feels the case for an increase in the federal-funds rate has strengthened in recent months while the Kansas City Fed President Esther George also recently suggested that it is time to move rates.
Mahn is calling for a significant hike in rates by year-end.
"While the market originally believed that we may only see one 25 basis-point (i.e. 0.25%) hike to the federal funds target rate in December, I would not be surprised to see a 25 Basis Point hike in September after their next meeting concludes on September 21 as well," he says. Mahn says his viewpoint was seemingly priced into the markets this past Friday as the selloff that took place was largely attributed to traders and investors repositioning their portfolios as a result of the most recent hawkish comments from the Boston Fed President Eric Rosengren earlier that morning. "In reality, one, or even two, 25 basis point hikes will have relatively little impact on the demand or supply for credit and should have relatively little impact on capital markets worldwide," he adds. "The hikes will, however, restart the Fed's tightening engine and give them some room to cut rates, as needed, if economic conditions deteriorate significantly down the road."
Others aren't so certain about a September rate hike, although December is different story.
Karissa McDonough, chief fixed income strategist at People's United Wealth Management, in Burlington, Vt., notes the probability for a September rate hike is back down to about 20%, following last month's jobs report, while December probability remains just above 50%.
"If we look at history, the Fed prefers policy changes in December," McDonough says. "If Janet Yellen is looking to draw a line in the sand and take control of monetary policy, the fixed income market will have to prepare for changes surrounding Fed rhetoric and potential tightening."
With the FOMC meeting a week away, investors are busy reading the tea leaves coming out of the Fed, as conflicting as they are. Right now, investors remain skittish over the uncertainty, but that's the reality for another few days, whether market mavens like it or not.