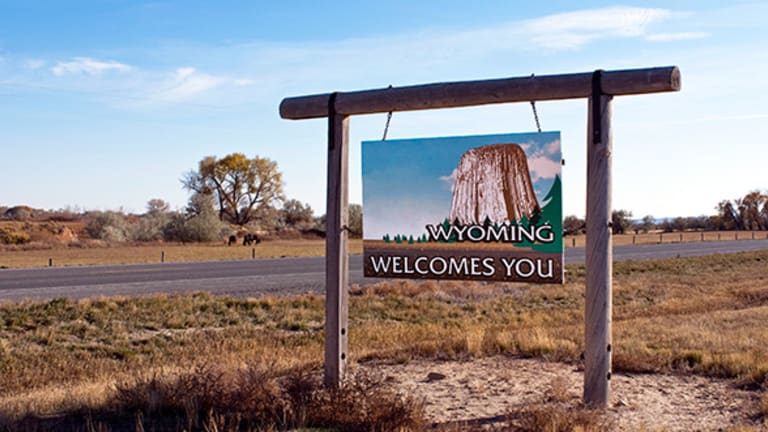 Stock Futures Edge Higher as Central Bankers Head to Jackson Hole
Stock futures are lower.
If you'd like to receive our daily "5 Things You Must Know Before the Bell" newsletter, please register here.
Stock futures moved slightly higher on Thursday, Aug. 24, as central bankers and policymakers headed to a three-day economic summit. 
Dow Jones Industrial Average futures were up 0.26% and S&P 500 futures gained 0.24%, while Nasdaq futures added 0.34%.
Central bankers convened in Jackson Hole, Wyoming, for the highly anticipated annual Economic Policy Symposium. The event runs from Thursday to Saturday, Aug. 26, with speeches from Federal Reserve Chair Janet Yellen and her European counterpart Mario Draghi, European Central Bank president, on Friday, Aug. 25, to be of particular interest.
Draghi will speak just two weeks before the ECB's meeting on Sept. 7, and Yellen more than three weeks from the Fed's next meeting on Sep. 19-20.
Investors will comb through the speeches for any hawkish commentary. Yellen's language, in particular, will be analyzed to determine whether September is a go for the Fed to begin unwinding its balance sheet. The Fed had previously said it would implement that move "relatively soon" should the economy continue to grow at the pace expected. Unloading mortgage-backed securities and other assets would likely tighten monetary conditions in the same way an interest-rate hike would. Another rate increase isn't expected until December at the earliest.
However, weak inflation trends could delay the Fed's timing on reducing its balance sheet and hiking rates. In minutes from the last meeting, Fed members were split on whether slowing inflation trends were transient or not. A number of Fed officials have said that even with a series of interest rate hikes forecast over the next 18 months, the long-term federal funds rate will likely remain below historical averages.
"More hawkish members of the Fed hold the position that waiting to raise rates could lead to excess future inflation, while the more dovish contingent feels that the Fed can wait until inflation accelerates before aggressively raising interest rates," said Matthew Peterson, chief wealth strategist at LPL Financial. "This discussion isn't new and is likely to continue at future Fed meetings." 
Weekly jobless claims edged higher, though held near multi-year lows. The number of new claims for unemployment benefits in the U.S. increased by 2,000 to 234,000, according to the Department of Labor. The less volatile four-week average fell by 2,750 to 237,750. Continuing jobless claims held steady at 1.95 million. 
HP Inc. (HPQ)  moved lower in premarket trading as quarterly profit dipped from a year earlier. Net income of $696 million, or 41 cents a share, fell from $783 million, or 45 cents, in the same quarter a year earlier. Excluding one-time charges, adjusted earnings of 43 cents a share beat consensus by 1 cent. Revenue rose by 10% to $13.1 billion and came in higher than an estimated $12.3 billion. For the fourth quarter, HP anticipates earnings of 42 cents to 45 cents a share, wrapping estimates of 44 cents. 
Tiffany & Co. (TIF)  fell in premarket trading despite a better-than-expected second quarter. The jewelry retailer earned 92 cents a share, higher than 84 cents a year earlier and above estimates of 86 cents. Revenue increased 3% $959.7 million, surprising analysts looking for a slight decrease. Same-store sales fell by 2%.
Williams-Sonoma Inc. (WSM)  added more than 4% before the bell following a solid earnings beat. The homewares retail chain earned net income of 61 cents a share, 3 cents higher than a year earlier. Analysts had expected earnings of 59 cents a share. Revenue of $1.2 billion matched estimates. The company expects to earn 80 cents to 87 cents a share on revenue of $1.27 billion to $1.31 billion over the third quarter, wrapping analysts' estimates of 82 cents a share in earnings on $1.28 billion in sales. 
Dollar Tree Inc. (DLTR)  increased 9% after a better-than-expected second quarter and solid guidance for its third quarter and full year. The discount chain earned 98 cents a share over the quarter, higher than 72 cents a year earlier, and above estimates of 87 cents. Sales increased nearly 6% to $5.28 billion, exceeding consensus of $5.27 billion. 
For the third quarter, Dollar Tree anticipates earnings of 83 cents to 90 cents a share on $5.2 billion to $5.29 billion in sales. Analysts anticipate earnings of 87 cents a share on $5.24 billion in sales. Full-year guidance also wrapped estimates. 
Other earnings of note include Heico Corp. (HEI) , PVH Corp. (PVH) , Tilly's Inc. (TLYS) , Staples Inc. (SPLS) , JM Smucker Co. (SJM) , Signet Jewelers Ltd. (SIG) , Sears Holdings Corp. (SHLD) , Seadrill Ltd. (SDRL) , Perry Ellis International Inc. (PERY) , Michaels Cos. Inc. (MIK) , Hormel Foods Corp. (HRL) , Burlington Stores Inc. (BURL) , and Abercrombie & Fitch Co. (ANF) . 
Updated from 7:43 a.m., Thursday, Aug. 24. 
Don't miss these top stories on TheStreet:
Blue Apron Hiring Freeze Comes After Meal Kit Company Takes These Big Blows
We Are Astonished By How Far Uber Has Deviated From Its Original Master Plan
Bitcoin's Crash Could Be Epic -- Here's the Price One Firm Sees
We Might Have Unlocked the Secret Behind Amazon's Big Deal for Whole Foods