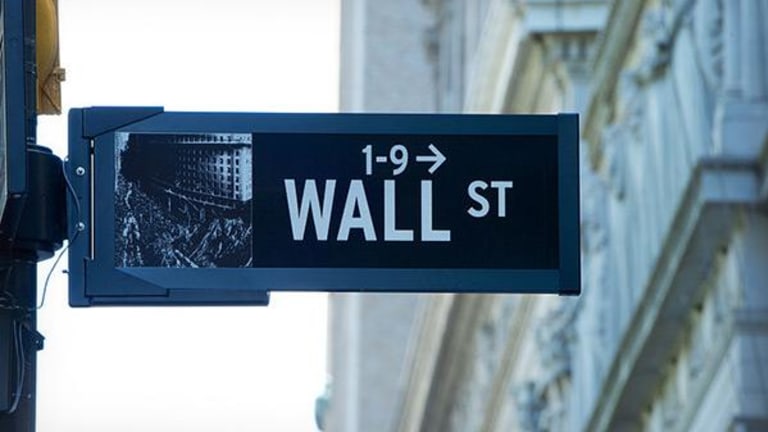 Stock Futures Higher as Positive Earnings Offset Weaker Durable Goods Orders
Stock futures creep higher on Thursday as Wall Street returns its attention to positive earnings for market direction after a day focused on the White House's tax reform plans.
Stock futures crept higher on Thursday as Wall Street returned its attention to positive earnings for market direction after a day focused on the White House's tax reform plans. Positive earnings were enough to offset disappointing data on U.S. durable goods orders.
S&P 500 futures were up 0.12%, Dow Jones Industrial Average futures added 0.11%, and Nasdaq futures climbed 0.2%. 
Orders for long-lasting U.S. goods rose in March, though not at the pace analysts anticipated. Durable goods orders increased by 0.7% in March, according to the Census Bureau, falling short of consensus of 1.1% growth. Goods orders rose by an upwardly revised 2.1% in February. Core goods unexpectedly declined by 0.2%, well short of analysts' estimates for an increase of 0.4%. 
The U.S. trade balance remained flat in March at a deficit of $64.81 billion. The deficit was expected to widen slightly to $65.5 billion. 
Jobless claims rose in the past week, though held close to multi-year lows. The number of new claims for unemployment benefits rose by 14,000 to 257,000 in the past week. The less volatile, four-week average fell by 500 to 242,250. 
PayPal (PYPL) - Get Free Report climbed 6% in premarket trading after surpassing quarterly targets and after its board authorized a $5 billion stock repurchase program. Adjusted profit of 44 cents a share exceeded consensus by 3 cents, while revenue of $2.98 billion topped estimates of $2.94 billion. Total payments volume grew 23% and neared a never-before-seen total of $100 billion. Its new share buyback program will go into effect once its current $2 billion plan has been exhausted. 
Under Armour (UA) - Get Free Report surged nearly 10% before the bell following a narrower loss than anticipated and better-than-expected revenue. The athletic wear company reported a loss of a penny a share compared to profit of 4 cents a year earlier. Analysts anticipated a loss of 4 cents a share. Sales of $1.12 billion edged past consensus of $1.11 billion.
Ford (F) - Get Free Report increased on Thursday morning even as safety recall costs ate into profit over its first quarter. Net income declined by 35% to $1.6 billion. However, adjusted earnings of 39 cents a share beat estimates by 3 cents, while revenue rose by 4% to $39.1 billion. 
Comcast (CMCSA) - Get Free Report  climbed nearly 1% after posting an increase in new video and high-speed internet customers and growth in its newer businesses, such as home automation. The company added 42,000 video customers over the quarter, slowing slightly from an addition of 53,000 in the same quarter a year earlier. The number of broadband customers rose by 429,000, while broadband revenue rose 10%. Quarterly net income of 53 cents a share came in a dime higher than a year earlier and better than analysts' estimates of 44 cents. Revenue increased 8.9% and topped expectations. 
Comcast is a holding in Jim Cramer's Action Alerts PLUS Charitable Trust Portfolio. Want to be alerted before Cramer buys or sells CMCSA? Learn more now.
Bristol-Myers Squibb (BMY) - Get Free Report rose on Thursday morning following a better-than-expected quarter. Net income increased to 94 cents a share from 71 cents a year earlier, while adjusted earnings of 84 cents a share topped consensus of 73 cents. Revenue of $4.93 billion came in higher than analysts' target of $4.75 billion. 
Deutsche Bank (DB) - Get Free Report posted slightly better-than-expected first-quarter profit, although revenue slipped, as Germany's biggest lender attempts to put its litigation and capital raising risks behind it. Deutsche Bank said pretax profis for the first three months of the year were €878 million ($956.8 million), modestly ahead of the consensus forecast of €868 million but a significant swing from the €2.4 billion loss recorded over the same period last year. Revenue for the quarter grew 4.4% to €7.346 billion, the bank said, missing analysts' forecasts of €8.1 billion. Net income was €575 million, beating the €522 million estimate.
Amgen (AMGN) - Get Free Report fell in premarket trading after a double-digit slump in sales of its rheumatoid arthritis drug Enbrel raised concerns over future performance. Enbrel sales declined by 15% as competition rose. Adjusted earnings did surpass estimates, though revenue fell short.
Buffalo Wild Wings (BWLD) fell short of earnings estimates, but reported in-line sales over its first quarter. Earnings of $1.44 a share came in 24 cents below estimates, while revenue climbed 5.2% to $534.76 million. The wings chain has recently been under pressure from activist investor Marcato Capital to shake up its management and board.
So far this earnings season, more than one-third of S&P 500 companies have reported on their recent quarterly performance. Of those that have reported, nearly 78% have exceeded first-quarter earnings estimates, above the historical average of 64%. Companies have had generally weaker performances on the top-line with 64% topping consensus, beating out the historical average of 59% by a narrower margin.
Other earnings reports Thursday include Southwest (LUV) - Get Free Report , SiriusXM (SIRI) - Get Free Report , Pinnacle Foods (PF) , MGM Resorts (MGM) - Get Free Report , Dow Chemical (DOW) - Get Free Report , Domino's Pizza (DPZ) - Get Free Report , Boston Scientific (BSX) - Get Free Report , American Airlines (AAL) - Get Free Report , Air Products & Chemical (APD) - Get Free Report , and AbbVie (ABBV) - Get Free Report . 
Dow Chemical and Southwest are holdings in Jim Cramer's Action Alerts PLUS Charitable Trust Portfolio. Want to be alerted before Cramer buys or sells DOW? Learn more now.
Stocks faltered on Wednesday after the White House revealed its highly anticipated tax plan this afternoon. A one-page release from the White House and a brief press conference didn't contain many surprises but raised many questions.
"There is still a lot unknown about the tax plan," said Matthew Peterson, chief wealth strategist at LPL Financial. "For example, we know the tax brackets, but not what income levels would trigger the rates. Cash held overseas being repatriated would be at a lower, but still unknown, level."
President Donald Trump's tax plan includes a reduction in the corporate tax rate to 15% from 35% and a top individual tax rate of 35% as widely expected. The plan reduces the number of individual tax brackets to three from seven. The plan also backs the repeal of the alternative minimum tax and the death tax. Trump called upon the simplification of the tax code on the campaign trail and over the past three months in office.