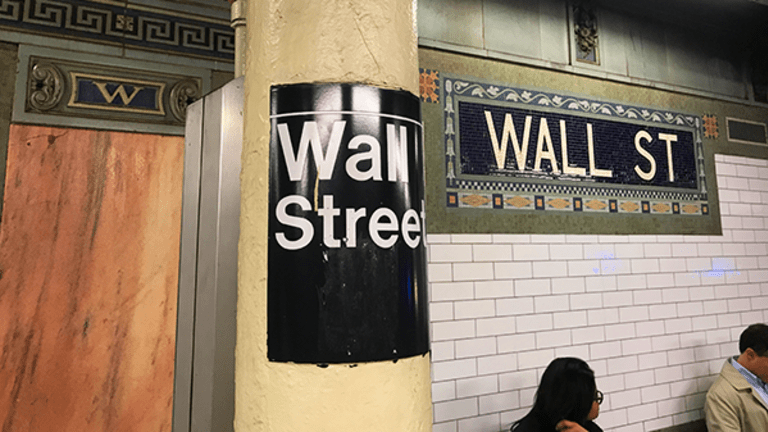 Stock Futures Creep Higher as D.C. Grows Quiet After Week of Bombshells
Stock futures creep higher on Friday in a quieter end to the week after a series of bombshells rock the White House.
Stock futures crept higher on Friday in a quieter end to the week after a series of bombshells rocked the White House.
S&P 500 futures were up 0.26%, Dow Jones Industrial Average futures increased 0.17%, and Nasdaq futures grew 0.36%.
It is still too early to be trusting of this bounce, said James "Rev Shark" Deporre over on our premium site for investors, Real Money. Get his insights with a free trial subscription to Real Money.
Markets have had a wild week after concerning news on the Trump campaign and presidency broke Monday, Tuesday and Wednesday evenings. No new developments were reported on Thursday evening. Donald Trump will set off on his first trip abroad since assuming office on Friday -- he will visit Saudi Arabia, the Vatican, and Israel. 
Earlier in the week, a report from Reuters said former National Security Adviser Michael Flynn and others in Trump's presidential campaign had extensive contacts with Russian officials. Flynn and others on Trump's team made contact with contacts associated with the Kremlin at least 18 times over the final seven months of the election.
The revelation follows news Wednesday that the U.S. Department of Justice named former FBI Director Robert S. Mueller to head a probe into allegations that Russia interfered in last year's presidential elections and any ties between the Trump campaign and Moscow.
On late Tuesday, a New York Times report found that Trump asked former FBI Director James Comey to shut down the federal investigation into Flynn, according to Comey's memos. Flynn was forced to resign on Feb. 13 amid questions over his contact with the Russian ambassador and discussions of U.S. sanctions.
On Monday, news broke that Trump had divulged highly classified intelligence to Russia during a meeting last week, according to a report from The Washington Post. Trump reportedly shared top-secret information on the fight against ISIS with Russian Foreign Minister Sergey Lavrov and Russian Ambassador Sergey Kislyak in a meeting in which U.S. media was barred. The meeting had also raised eyebrows because it occurred just a day after Trump fired Comey.
Gap (GPS) - Get Gap Inc. (The) Report added 3.6% in premarket trading Friday after surpassing analysts' estimates over its first quarter. Earnings of 36 cents a share rose from 32 cents in the year-ago quarter. Analysts anticipated earnings of 29 cents a share. Revenue held flat at $3.44 billion, but exceeded targets by $50 million. First-quarter same-store sales increased 2%. 
Ross Stores (ROST) - Get Ross Stores Inc. Report  rose more than 3% after exceeding earnings and revenue estimates over its recent quarter. The retailer earned 82 cents a share, 2 cents above expectations. Sales rose just over 7% to $3.31 billion, $40 million higher than anticipated. 
Salesforce.com (CRM) - Get Salesforce Inc. Report  increased 2% after a better-than-expected quarter and outlook. The cloud-software developer earned an adjusted 28 cents a share, 2 cents higher than consensus. Revenue climbed 24.5% to $2.39 billion, $40 million above expectations. The company also upped its full-year sales guidance to at least $10.25 billion, up from its previous range of $10.15 billion to $10.2 billion. 
Foot Locker (FL) - Get Foot Locker Inc. Report reported a decline in quarterly profit and meager growth in sales. The sports shoe retailer earned $1.36 a share, down 3 cents from a year earlier. Analysts anticipates earnings of $1.38. Sales increased 0.7% to $2 billion, falling short of estimates of $2.02 billion. Same-store sales increased 0.5%, well below a target of 1.4% growth. CEO Richard Johnson conceded that the quarter "did fall short of our original expectations." He blamed a slow start in February tied to a delay in income tax refunds.
Campbell Soup (CPB) - Get Campbell Soup Company Report earned 59 cents a share on an adjusted basis in the first quarter, below estimates of 64 cents. Revenue of $1.85 billion also came in below forecasts. The company raised its 2017 per-share earnings guidance but trimmed its sales forecast.
Deere & Co. (DE) - Get Deere & Company Report  reported fiscal second-quarter earnings of $2.49 a share, easily topping estimates of $1.63. Deere said it also expects fiscal 2017 profit to be about $2 billion, up from a previous $1.5 billion expectation. The stock gained 6.7% in premarket trading.
Vistra Energy (VST) - Get Vistra Corp. Report has made a takeover approach to debt-laden rival Dynegy (DYN) , The Wall Street Journal reported, citing people familiar with the matter. A merger of the two companies would create one of the largest independent power producers in the U.S. Each company has a so-called enterprise value, including debt, of about $10 billion, according to S&P Capital IQ, the  Journal noted. The Texas power companies are in preliminary talks, some of the people told the Journal, and it's far from certain the talks will lead to a deal.
Synchrony Financial (SFY) - Get SoFi Select 500 ETF Reporthiked its dividend to 15 cents per share from 13 cents per share, while also approving a share repurchase program of up to $1.64 billion through June 30, 2018. The company said that it plans to make share repurchases from time to time based on market conditions.