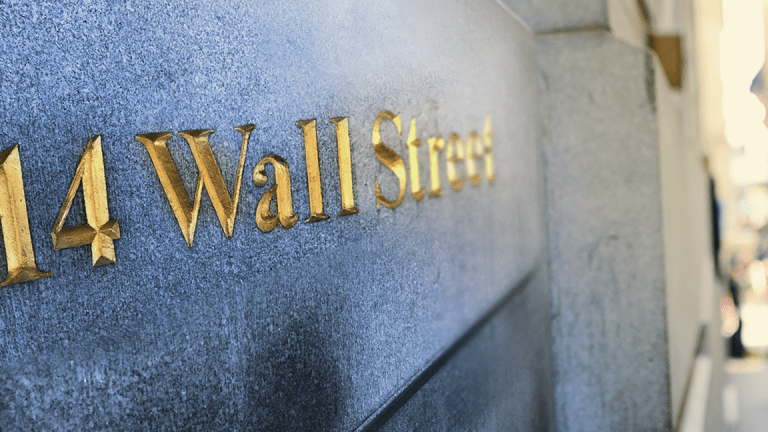 Wall Street Retreats as Selling Momentum Pushes Stocks Lower
A selloff on Wall Street picks up speed on Wednesday, as a series of disappointing earnings encourage bearish sentiment among investors.
A selloff on Wall Street picked up speed on Wednesday, Oct. 25, as a series of disappointing earnings encouraged bearish sentiment among investors. 
The Dow Jones Industrial Average dropped 0.71%, or 165 points, and retreated from a record close set a day earlier. The index was on track for its worst daily points decline since Sept. 5.
The S&P 500 fell 0.7%, and the Nasdaq declined 0.74%. 
Chipotle Mexican Grill Inc. (CMG) - Get Chipotle Mexican Grill, Inc. Report  was the worst performer on the S&P 500, slumping 15%, after a weak third quarter, partly tied to Hurricane Harvey and Irma that disrupted operations and traffic in late August and early September. The fast casual chain reported third-quarter earnings that missed Wall Street estimates by nearly $1.
Chipotle posted earnings of 69 cents a share, while analysts expected $1.64. Chipotle said earnings reflect an impact of 64 cents a share from being systematically hacked in May and about losses of 13 cents from hurricane disruption. Third-quarter revenue increased 8.8% from a year earlier to $1.13 billion. Restaurant sales increased 1%.
Advanced Micro Devices Inc. (AMD) - Get Advanced Micro Devices, Inc. Report declined 12% after guiding for a decline in fourth-quarter revenue. The chipmaker said it expects revenue to decline about 15% sequentially in the fourth quarter, plus or minus 3%.
For the third quarter, AMD swung to a profit of 7 cents a share from a loss of 50 cents in the same quarter a year earlier. AMD reported adjusted earnings of 10 cents a share on revenue of $1.64 billion. Analysts were expecting adjusted earnings of 8 cents on revenue of $1.51 million.
Dow component Boeing Co. (BA) - Get Boeing Company Report  was down 2% even after beating third-quarter earnings estimates and raising its full-year guidance as commercial airplane earnings rose 15%. Adjusted earnings of $2.72 a share beat estimates of $2.65. Revenue rose 2% to $24.31 billion.
Boeing boosted its full-year earnings per share guidance to between $11.20 and $11.40, citing strong deliveries, services and delivery mix and "overall solid execution." Previous guidance was between $11.10 and $11.30 a share. Boeing boosted "core" or non-GAAP guidance to between $9.90 and $10.19 a share from $9.80 to $10 a share.
AT&T Inc. (T) - Get AT&T Inc. Reportreported third-quarter revenue that came in below forecasts as customers continued to cut the cord. Chief Financial Officer John Stephens told investors on a conference call Tuesday that pressures on AT&T's traditional pay-TV business would lessen in the fourth quarter. AT&T said it lost 89,000 video subscribers in the third quarter.
AT&T earned an adjusted 74 cents a share in the quarter, in line with analysts' forecasts. But sales of $39.7 billion were below expectations of $40.1 billion.
"This was an unprecedented quarter when it comes to natural disasters," Stephens said. The telecom said that damage from hurricanes in the U.S. and earthquakes in Mexico and higher interest expense for pre-funding debt for the purchase of Time Warner Inc. (TWX) lowered earnings.
AT&T shares dropped more than 3%. Dow component Verizon Communications Inc. (VZ) - Get Verizon Communications Inc. Report sold off in sympathy and was the worst performer on the blue-chip index. 
In other earnings news, Visa Inc. (V) - Get Visa Inc. Class A Report  exceeded profit and sales estimates over its recent quarter. The credit card company reported an 11% increase in profit and earnings of 90 cents in its fiscal fourth quarter, topping estimates by 5 cents. Revenue of $4.86 billion also came in higher than forecasts. Payments volume rose 10%.
Coca-Cola Co. (KO) - Get Coca-Cola Company Report  reported a better-than-expected third quarter on its top-line and bottom-line. The beverage giant posted adjusted profit of 50 cents a share in the third quarter, beating Wall Street estimates of 49 cents. Revenue was $9.08 billion; analysts expected $8.73 billion. Volume grew 1% in its juice, dairy, tea and beverages segment, while soda volume was flat. 
Walgreen Boots Alliance Inc. (WBA) - Get Walgreens Boots Alliance Inc Report posted fourth quarter earnings of $1.31 per share, beating Wall Street estimates of $1.21. It posted a 5.3% increase in sales, totaling $30.1 billion in the same period, also exceeding Wall Street's projection of $29.9 billion. The $1.31 per share earnings figure accounts for Walgreen's $4.3 billion acquisition of nearly 2,000 Rite Aid stores -- about half of the chain -- and three distribution centers. The deal cleared regulatory hurdles in September, Walgreen said, wrapping up a merger that has been in the works for over two years.
One-third of S&P 500 companies have reported earnings so far this reporting season with the pace picking up significantly this week. Of those, 72% have exceeded earnings estimates and 71% have bested revenue consensus, according to Thomson Reuters. Analysts anticipate blended earnings growth of 4.7% and revenue growth of 4.5%. Profit growth is nearly half that when excluding energy earnings. 
Nike Inc. (NKE) - Get NIKE, Inc. (NKE) Report surged more than 1% on Wednesday after guiding for solid profit growth. At its analyst meeting Wednesday, the company said it anticipates mid-teens earnings growth over the next five years. Nike is a component of the Dow. 
In economic news, durable goods orders rose at double the pace expected in September. Orders for long-lasting goods in the U.S. increased by 2.2%, according to the Census Bureau, far better than an expected 1% rise. Excluding transportation, orders climbed by 0.7%. Core capital goods orders rose 1.3%. Orders increased 1.7% in August.
New home sales in the U.S. rose to a seasonally adjusted pace of 667,000 in September, a ten-year high, according to the Commerce Department. That was far higher than consensus of 555,000. August's number was revised to 561,000 from 560,000. 
Crude oil prices were slightly lower after a weekly reading on U.S. inventories showed a surprise rise. The Energy Information Administration reported that crude supplies increased by 900,000 barrels in the week ended Oct. 20, compared to an expected decrease of 425,000 barrels.
Stockpiles declined by 5.7 million barrels in the previous week as refinery operations in the Texas and Louisiana region worked through excess inventories following Hurricane Harvey. 
West Texas Intermediate crude was down 0.5% to $52.23 a barrel on Wednesday. 
Powerhouse performances from Caterpillar Inc. (CAT) - Get Caterpillar Inc. Report and 3M Co. (MMM) - Get 3M Company Report inspired a Dow Jones rally on Tuesday, Oct. 24, leading the blue-chip index to its 54th record close of the year. The Dow gained 168 points in its best one-day points gain since Sept. 11. The index hasn't scored as many closes in one year since 1995. The S&P 500 and Nasdaq were just short of their own closing records.
Updated from 12:47 p.m. ET, Oct. 25. 
More of What's Trending on TheStreet:
Join Jim Cramer, CNBC's Jon Najarian and Other Experts Oct. 28 in New York
Jim Cramer will host CNBC's Jon Najarian, TD Ameritrade's JJ Kinahan, famed analytics expert Marc Chaikin and other market mavens on Oct. 28 in New York City to share successful strategies for active investors.
You can join them as they discuss how smart investors can make the most of options trading, futures contracts, fundamental and quantitative analysis and great ETFs to buy right now. Participants will also get a chance to meet Jim and other panelists and take photos.
When: Saturday, Oct. 28, 8 a.m.-3 p.m.
Where: The Harvard Club of New York, 35 West 44th St., New York, N.Y.
Cost: $250 per person.
Click here for the full conference agenda or to reserve your seat now.