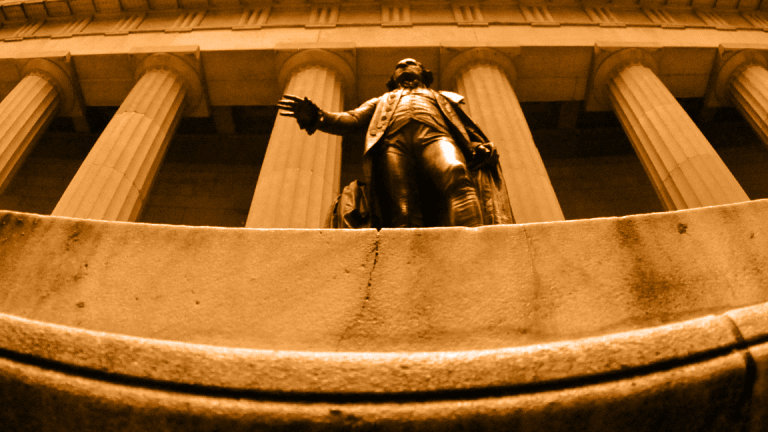 Hurricanes Again Could Impact the Jobs Report in the Week Ahead
The impact of a string of devastating hurricanes in late August and early September will again be the focus of investor attention in the coming week.
The impact of a string of devastating hurricanes in late August and early September will again be the focus of investor attention in the coming week. This time it's for the U.S. jobs report for October, to be released on Friday, Nov. 3, which should provide color on how those disasters affected the U.S. economy.
After a surprisingly weak September report, the onus is on October to show that this isn't the beginning of a trend. But, like with the September jobs report, Wall Street could take any weakness in stride as a momentary blip in an otherwise healthy labor market.
The U.S. nonfarm payrolls report for September showed the first contraction in seven years, a result of Hurricane Harvey and Irma that hit Texas and Florida, respectively. Almost 3% of employed workers nationwide said they had not been able to work or had worked fewer hours in September because of bad weather, a record high for the measure. Leisure and hospitality jobs saw a sharp decline.
But markets mostly shrugged when that surprise came on Oct. 6. The Dow Jones Industrial Average and S&P 500 both closed with minor losses, while the Nasdaq inched higher to seal a new record.
Investors have high hopes of a solid rebound on nonfarm payrolls in October. Consensus is for 310,000 jobs to have been added to the U.S. economy and for the unemployment rate to hold at 4.2%, according to FactSet. Year-over-year hourly earnings are expected to have increased 2.7%.
Wall Street should get a better grasp on Republicans' plans for tax reform in the coming week with House Republicans slated to unveil their bill on Wednesday, Nov. 1, according to CNBC sources. Investors so far have seen little detail on highly anticipated reform, though the promise of what's to come has supported market gains in recent months. The Trump White House has promised tax cuts for individuals and businesses, but details on how they will be paid for without blowing up the deficit have not been forthcoming.
Don't expect a big market rally when those details come to light, though, predicted Polaris Greystone's Jeffrey Powell.
"The markets in a way have priced in a potential tax change," Powell said in a call. "When it comes to fruition it's more the 'buy on rumor, sell on news' type of situation. It's already in the market right now. People have been expecting that."
The Federal Reserve will meet in the coming week for a policy decision on interest rates. It will come as a big surprise to markets if the central bank makes any change, though investors will be looking out for any tweaks to language that might indicate a move higher in December. The chances of a interest rate hike at this meeting sit at just 1.5%, according to CME Group fed funds futures, but spikes to 96% at the December meeting. An announcement on rates will be made on Wednesday, Nov. 1. 
Also on the economic calendar, personal income and outlays for September will be released on Monday, Oct. 30; Chicago PMI and consumer confidence for October is set for Tuesday, Oct. 31; the ADP employment report for October, the PMI manufacturing index and the ISM manufacturing index for October, and construction spending for September on Wednesday; a preliminary reading on productivity and costs for the third quarter on Thursday, Nov. 2; and international trade and factory orders for September, and the ISM non-manufacturing index for October on Friday, Nov. 3. 
Wall Street begins the week with more than half of S&P 500 companies already having reported earnings. There's still more to come, though.
In consumer and healthcare earnings, Mondelez International Inc.  (MDLZ) will report on Monday; Kellogg Co. (K)  and Under Armour Inc.  (UA) on Tuesday; Clorox Co. (CLX) , Estee Lauder Cos.  (EL) , Groupon Inc. (GRPN) , Honda Motor Co.  (HMC) , Kraft Heinz Co. (KHC) , Molson Coors Brewing Co. (TAP) , Shake Shack Inc. (SHAK)  and Sodastream International Ltd.  (SODA) on Wednesday; Blue Apron Holdings Inc. (APRN) , Starbucks Corp. (SBUX)  and Yum! Brands Inc. (YUM) on Thursday; and Revlon Inc. (REV) , and Sotheby's (BID) on Friday.
Healthcare earnings include Pfizer Inc. (PFE) on Tuesday; Allergan PLC (AGN) on Wednesday; Cigna Corp. (CI) on Thursday. Media earnings include CBS Corp. (CBS) , AMC Networks (AMCX) , Discovery Communications Inc. (DISCA) , Gannett Co. Inc. (GCI)  and Pandora Media Inc.  (P) on Thursday.
Tech earnings include 3D Systems Corp. (DDD) on Tuesday; and Facebook Inc. (FB) , Fitbit Inc. (FIT) , Garmin Ltd. (GRMN) , Qualcomm Inc. (QCOM) , Tesla Inc. (TSLA)  and Yelp Inc. (YELP) on Wednesday.
So far, nearly 74% of S&P 500 companies have exceeded earnings estimates this quarter, according to Thomson Reuters estimates. That comes in above the historical beat average of 64%. Nearly 67% of companies have topped revenue expectations.
Earnings-related gains have supported markets in recent weeks, giving major indexes enough energy to score new records and hold around those levels.
"Although there are pockets of weakness (such as biotech and telecom), there have been some notable beats helping propel market higher," Jeff Zipper, managing director of investments from U.S. Bank Private Wealth Management, told TheStreet. "That said, earnings growth appears to be coming in slower than the last two quarters, and there is no room for error on companies missing (such as biotech) which probably is a product of current valuations."