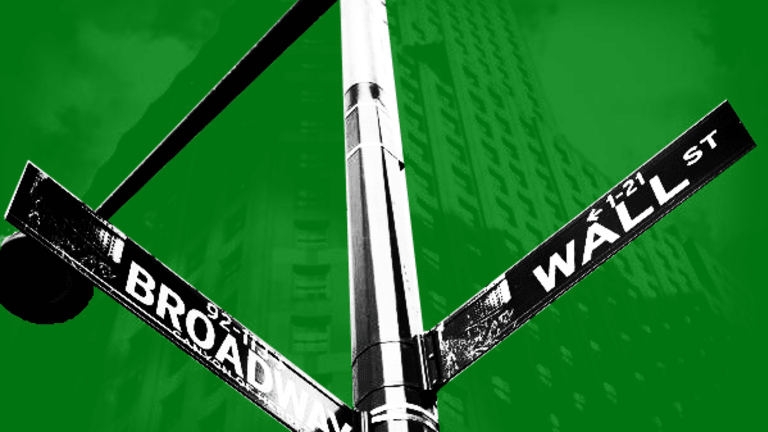 S&P 500 and Dow Score Records With Wall Street Upbeat Ahead of Fed
The S&P 500 and Dow score new records. Here's where stocks settled on Monday.
A generally upbeat mood gave stocks rise on Monday, Sept. 18, and pushed the S&P 500 and Dow Jones Industrial Average to new heights. 
The S&P 500 added 0.15%, trading above its 2,500 milestone and setting a record high of 2,503, its second all-time closing high in a row. The Dow settled at records for day five, rising by 0.28% to a new all-time high of 22,331.
The Nasdaq was up 0.10%. The Nasdaq missed out on its own record close, trading roughly 6 points below an all-time high of 6,460 set on Sept. 13. 
The Federal Open Market Committee, the monetary-policy arm of the Fed, will convene on Tuesday, Sept. 19, for a two-day meeting culminating in an announcement on Wednesday, Sept. 20. Investors are pretty confident in what's to come. Markets have given a near-zero chance of a change to U.S. interest rates, but near-certainty to the Fed beginning to unwind its $4.5 trillion balance sheet.
The chances the Fed holds rates unchanged at its September meeting sit at more than 98%, according to the CME Group. Fed funds futures are currently pricing in a nearly 51% chance of a 25-basis-point increase at the December meeting, putting the federal funds rate at 1.25% to 1.5%.
"The Fed has been very transparent to market participants like us about their forward guidance and our viewpoint is that if they were to do something [with rates] it would probably be in December as opposed to now," Eric Freedman, chief investment officer at U.S. Bank Wealth Management, told TheStreet. "I think the big thing next week will be more about the balance sheet than it will be about rates."
The Fed had previously said it would begin unwinding its balance sheet "relatively soon" should the economy continue to grow at the pace expected, a signal many took to mean September. Reducing the balance sheet tightens market conditions in much the same way as an interest-rate hike.
If you'd like to receive the free "5 Things You Must Know" newsletter, please register here.
North Korea is also likely to influence markets this week, with President Donald Trump taking the stage at the U.N. General Assembly on Tuesday morning to discuss how to deal with the increasingly-aggressive dictator Kim Jong-Un.
The rogue nation has conducted a number of missile tests in recent weeks, with two of the devices flying over Japan.
National Security Adviser H.R. McMaster said on Friday, "This is not an issue between the United States and North Korea. This is an issue between the world and North Korea." 
In the defense industry, meanwhile, Northrop Grumman Corp. (NOC) agreed to buy Orbital ATK Inc. (OA) , a merger that brings together two major U.S. contractors, for about $7.8 billion in cash. The deal also includes the assumption of $1.4 billion in net debt. Orbital ATK shareholders will receive a cash payment of $134.50 a share. The companies expect the transaction to close in the first half of 2018.
It has already been a busy month for M&A in the sector, with United Technologies Corp. (UTX) announcing that it would acquire Rockwell Collins Inc. (COL) for around $23 billion earlier in September. 
Gains in semiconductor company Nvidia Corp. (NVDA) inspired a rally across chipmakers, though the rest of the tech sector sat it out.
Nvidia is a holding in Jim Cramer's Action Alerts PLUS Charitable Trust Portfolio. Want to be alerted before Cramer buys or sells NVDA? Learn more now.
Nvidia reached an all-time high and inspired gains in fellow chipmakers on Monday after a bullish note from Bank of America analyst Vivek Arya. Arya raised the firm's price target to $210, up from $185. The new price target implies a 17% upside to the stock's closing price on Friday, Sept. 15.
In a note, Arya said Nvidia has an "underappreciated transformation from a traditional PC graphics chip vendor, into a supplier into high end gaming, enterprise graphics, cloud, accelerated computing and automotive markets." Arya is also confident Nvidia can dominate the emerging $30 billion artificial-intelligence chip market.
Other chipmakers including Micron Technology Inc. (MU) , Taiwan Semiconductor Manufacturing Co. Ltd. (TSM) , Analog Devices Inc. (ADI) , Semiconductor Manufacturing International (SMI) , and Texas Instruments Inc. (TXN) were also higher.
Caterpillar Inc. (CAT) led the Dow higher after a bullish note from UBS. Analyst Steven Fisher upgraded to a buy from neutral and upped his price target to $140 from $116. The firm based its revision on analysis showing higher private nonresidential construction activity in the fourth quarter and through 2018 and an increase in equipment spending at mining companies next year. Caterpillar rose more than 1% and was on track to close at records. 
Elsewhere on the domestic front, confidence among homebuilders fell in September as worries increased that Hurricanes Harvey and Irma might cause difficulty in finding labor and push up the costs of materials. The National Association of Home Builders' housing market index decreased by three points to 64. The group expects confidence to return in spring once rebuilding in Florida and Texas is under way.
Teva Pharmaceutical Industries Ltd. (TEVA) agreed on Monday to sell its women's health business, an arm that includes contraception and fertility products, for $1.38 billion. Teva is selling its women's health portfolio to QVC Capital for $703 million and its emergency contraception products to Foundation Consumer Healthcare for $675 million. The drug company will use the funds to pay down its debt. 
U.S. oil prices fluctuated on Monday before settling slightly higher amid reports that Royal Dutch Shell (RDS.A) is re-starting a key Houston refinery that was shuttered by Hurricane Harvey three weeks ago. Refineries in the region are slowly beginning to come back online, meaning that mushrooming crude stockpiles can begin to processed and delivered to markets. 
Houston-based energy services firm Baker Hughes reported on Friday that U.S. oil and gas producers took eight rigs offline during the past week, bringing the Houston oilfield services provider's total count to 936, the lowest since June. They also indicated that the oil rig count decreased by seven from the previous week to 749, while the natural gas rig count fell by one to 186 and the U.S. offshore rig count rose marginally.
West Texas Intermediate crude was barely higher, settling at $49.91 a barrel on Monday. 
Dollar Tree Inc. (DLTR) announced Monday that Gary Philbin will replace Bob Sasser as CEO of the discount retail chain, effective immediately. Sasser, who had led the company as CEO for 13 years, will move to executive chairman of the board. Sasser started at Dollar Tree in 1999 and was promoted to president and operating chief in 2001. In 2004, he assumed the CEO role.
Rite Aid Corp. (RAD) rose 3.6% on reports Walgreen Boots Alliance Inc.  (WBA) will tweak how many of the target's stores it purchases in order to secure regulatory approval. The Federal Trade Commission is reportedly close to ending its review process for the deal and could either make a decision or request more information before concluding. 
More of What's Trending on TheStreet: