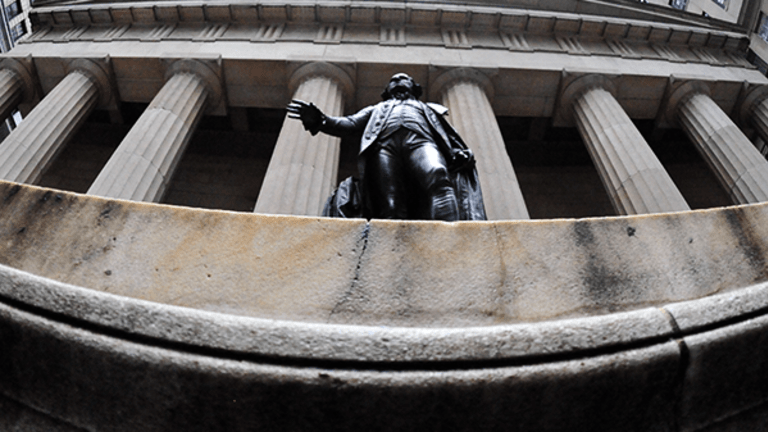 S&P 500 Rebounds With Small Gains, Weathering Deadly London Terror Attack
The S&P 500 and Nasdaq both rebounded on Wednesday, while the Dow slipped slightly.
The S&P 500 rebounded by the final hour of trading Wednesday, shaking off earlier pressure from dual forces: worries over progress over regulatory reform and a shooting in London that kept world markets on edge. 
The S&P 500 ended the day up 0.19%, while the Dow Jones Industrial Average fell 0.03%. The Nasdaq was the best performer, rising 0.48%, thanks to gains in the tech sector.
Tech stocks including Apple (AAPL) - Get Report , Nvidia (NVDA) - Get Report , Microsoft (MSFT) - Get Report , Himax Technologies (HIMX) - Get Report , and Texas Instruments (TXN) - Get Report moved higher, while the Technology Select Sector SPDR ETF (XLK) - Get Report increased 0.68%.
Apple is a holding in Jim Cramer's Action Alerts PLUS Charitable Trust Portfolio. Want to be alerted before Cramer buys or sells AAPL? Learn more now.
Britain's parliament was on lockdown after what British police have called a terrorist incident. Police allegedly shot and killed an attacker who stabbed a law enforcement officer outside the Palace of Westminster. Lawmakers have suspended sessions for the remainder of the day and Prime Minister Theresa May has been confirmed as safe. At least four were confirmed dead in the attacks.
Patience with the slow progress of health care and financial reforms wore thin on Tuesday, sending stocks spiralling to their worst losses of the year. Uncertainty over when and how the Trump administration will implement regulatory reform spooked the financial sector, in particular.
"It was inevitable that the Trump-driven optimism would eventually falter," said James "Rev Shark" Deporre in his daily column for RealMoney, our premium site for investors. "The challenge of implementing complex fiscal policy with an institution as dysfunctional as Congress was greatly overestimated, but the market embraced the optimism for far longer than many thought possible."
The passage of the Republicans' health care bill looks tenuous as a number of GOP lawmakers withhold their support ahead of a House vote on Thursday. Donald Trump headed to Capitol Hill on Tuesday for a closed-door meeting to make the case for his Obamacare repeal and replace bill. Trump reportedly told lawmakers that their seats would be on the line in 2018 if they didn't back the bill.
However, as of Tuesday evening, at least 27 Republicans have either said they will vote against the American Health Care Act bill or are leaning toward voting against the bill, according to NBC News. Republicans can afford to lose just 21 votes from their party. 
Speaker Paul Ryan's bill, designed to replace the Affordable Care Act, has been widely criticized on both sides of the aisle. The Congressional Budget Office calculated that 24 million more people will be uninsured by 2026 under the Republicans' bill, including 14 million more by 2018. Premiums are expected to jump 20% in the individual market in 2018 and 2019.
Some analysts retained faith in the staying power of the Trump rally, betting that reforms would eventually make their way down the pipeline as the administration has promised.
"The president has only been in office for 60 days and we anticipate some combination of tax cuts and regulatory restraint will eventually be signed into law and smaller companies should stand to gain," Jack Ablin, chief investment officer at BMO Capital, wrote in a note.
Crude oil prices fell again on Wednesday after U.S. inventories rose at a faster pace than expected in the past week. Stockpiles climbed by 5 million barrels over the week ended March 17, the 10th increase in the past 11 weeks. The increase was more than double estimates. 
Prices have been under pressure on signs of ballooning U.S. stockpiles and an uptick in global production. Weekly data on Friday showed another increase in oil-drilling rig activity in the U.S.
West Texas Intermediate crude was down 0.4% to $48.07 a barrel on Wednesday.
Existing home sales in the U.S. fell in February as constrained inventory failed to meet high demand. Previously owned home sales declined by 3.7% to an adjusted annual rate of 5.48 million in February, according to the National Association of Realtors. Analysts anticipated a stronger rate of 5.57 million.
Dow component Nike (NKE) - Get Report slumped 7% following weaker-than-expected guidance. The athletic apparel company reported worldwide futures orders, a measure of future sales, fell 4% and that it anticipates current-quarter sales growth in the mid-single-digit percentages. CEO Mark Parker said online shopping trends have made for a more competitive environment.
Retailer Sears (SHLD)  voiced concern about its ability to continue as a going concern in its annual report filed Tuesday evening. Unless the company raises $2 billion this year, there is a strong likelihood it will be forced to file for bankruptcy protection. Sears declined by 12%.
Snap (SNAP) - Get Report rose 7% after receiving its second buy rating from an analyst firm a day earlier. The disappearing message app received a buy and $30 price target from Drexel Hamilton, which said the company should "not be pigeonholed in a particular industry, or investors risk missing the forest for the trees."
PPG Industries (PPG) - Get Report increased its offer for Akzo Nobel (AKZOY) again on Wednesday, after the Dutch paint maker rejected its second bid earlier in the trading session. PPF raised its bid to €90 per share for the chemicals group, from the €88.72 offer made on Monday. The new offer is a 40% premium to the share price on March 8, a day before the first bid was made. Akzo Nobel shares traded in the U.S. declined 1%.
You're Invited...
Wall Street Goes to Washington: In the first of a series of conversations with the President's economic advisors, acclaimed author and columnist Michael Wolff will sit down with Anthony Scaramucci, co-founder of private equity firm Skybridge Capital, to discuss the Trump administration, his thoughts on policies and regulations under debate and his outlook for the next four years. Join us for this cocktail party on Monday, March 27 at The Metropolitan Club in New York. The event is free, but seating is limited and reservations are required. For more information or to RSVP, email events@thestreet.com.