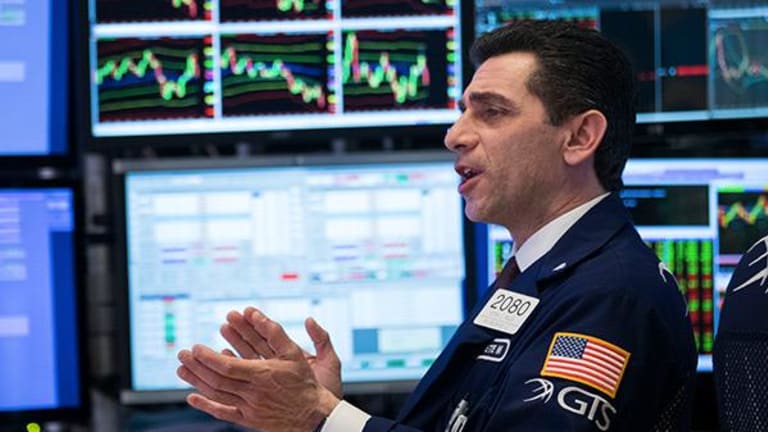 S&P 500, Nasdaq Jump to New Records as Crude Oil Slides
It was a punishing day for crude oil, but Wall Street didn't appear to mind.
It was a punishing day for crude oil, but Wall Street didn't appear to mind. The S&P 500 and Nasdaq ended at records after rising for the sixth session in a row, a streak not seen since mid-February. 
The S&P 500 was up 0.44% to 2,415.03 and the Nasdaq grew 0.69% to 6,205.26. The Dow Jones Industrial Average rose 0.33%.
Crude oil prices plummeted to below $50 a barrel on Thursday, settling at a one-week low, after an extension to a global output agreement disappointed investors looking for more. The Organization of Petroleum Exporting Countries reportedly have agreed on a nine-month extension to a production cut agreement, which was set to expire at the end of June. 
Investors had widely accepted an extension to the current deal and had hoped for further action to balance global oil markets.
West Texas Intermediate crude oil was down 4.8% to $48.90 a barrel on Thursday.
"Even if oil prices fall, say, on disappointment by some investors who were hoping that the OPEC would reduce output even further, the selling will most likely be short-lived," explained Fawad Razaqzada, market analyst at Forex.com, in a note. "That's because the OPEC and Russia are actively trying to address the issue of the global glut. As the market slowly balances, prices should recover in the coming months."
Best Buy (BBY) surged 21% after the electronics retailer posted unexpected growth in same-store sales over its recent quarter. Adjusted earnings increased to 60 cents from 43 cents a share and blew past consensus of 40 cents. Revenue also beat estimates. Same-store sales rose 1.6%, surprising analysts looking for a decrease of 1.3%. CEO Hubert Joly said the positive performance was tied to "strong performance in gaming, a better-than-expected result in mobile, and the improvement of overall sales trends due to the arrival of delayed federal tax refund checks."
Nasdaq component Sears (SHLD) rocketed 15% higher after reporting its first GAAP profit since its second quarter of last year. CEO Eddie Lampert said the quarter was challenging, though "demonstrated our commitment to return... to solid financial footing." Investors overlooked a wider adjusted loss and a 12.4% drop in same-store sales, its 11th straight quarter of declines. 
Abercrombie & Fitch (ANF)  also boosted the consumer sector, climbing 8% on Thursday after exceeding sales estimates. A loss of 91 cents a share widened from a loss of 59 cents in the year-ago quarter. Analysts anticipated a narrower loss of 70 cents a share. Sales of $661.1 million came in higher than a target of $651.5 million. Same-store sales declined by 3%, slightly narrower than an anticipated drop of 3.1%. Abercrombie shares spiked on Wednesday on reports of takeover interest from Cerberus and American Eagle (AEO) .
The S&P Retail SPDR ETF (XRT) added 1.1% on Thursday, while the Consumer Discretionary SPDR ETF (XLY) increased 1%. 
Gains on Wall Street went from negligible to modest on Wednesday after Federal Reserve minutes showed a central bank comfortable with moving rates higher again. The Fed's willingness to hike rates is seen as a vote of confidence in the health of the U.S. economy. The S&P 500 rose for its fifth session in a row on Wednesday, a streak not seen since mid-February, and ended at a new record close. 
The global economy is stronger and its outlook "brighter" than it has been in years, Fed Governor Lael Brainard said during a panel discussion in Washington Thursday. Brainard also said U.S. economic risks have retreated due to strength in the global economy. 
U.S. weekly jobless claims rose in the past week, though held around multi-year lows. The number of new claims for unemployment benefits increased by 1,000 to 234,000. The less-volatile, four-week claims average fell by 5,750 to 235,250. The monthly average hit its lowest level since April 1973. 
The U.S. trade deficit in goods expanded by 3.8% in April to $67.6 billion. Advanced U.S. retail inventories declined by 0.3%, while wholesale inventories dropped 0.3%.  
The latest plan from the House of Representatives to repeal and replace the Affordable Care Act would increase the number of people without health coverage by 14 million from today's coverage level in 2018, and by 23 million by 2026, according to estimates released by Capitol Hill budget and tax analysts Wednesday. The plan would cut the deficit by $119 billion through 2026. The numbers from the Congressional Budget Office refer to the ACA repeal and replace bill passed by the House along party lines on May 4.
Analysts warned that hospital stocks could suffer if the House plan to repeal and replace Obamacare eventually becomes law, including shares of companies such as Community Health (CYH) , HCA Healthcare (HCA) and TenetHealthcare (THC) .
The biggest beneficiaries among public companies are likely to be the largest health insurers, including Anthemundefined , UnitedHealth (UNH) , Cigna (CI) and Humana (HUM) .
HP (HPQ)  fell 3% even after it edged out profit and sales estimates over its second quarter. Adjusted earnings of 40 cents a share came in a penny above consensus. Revenue increased 7% to $12.4 billion, beating expectations by $520 million.
NetApp (NTAP)   rose 3.4% after a better-than-expected fiscal fourth quarter. Adjusted earnings of 86 cents a share beat consensus by 4 cents, while revenue of $1.48 billion came in $40 million higher than targets. The company anticipates first-quarter revenue between $1.24 billion and $1.39 billion, wrapping consensus of $1.33 billion. 
Dollar Tree (DLTR)  rose after meeting analysts' estimates on its top- and bottom-line over its recent quarter. Adjusted earnings of 98 cents a share on revenue of $5.29 billion came in as analysts expected. Second-quarter sales guidance of $5.18 billion to $5.28 billion wrapped consensus of $5.24 billion. 
Netflix (NFLX) rose 3% to trade at a record high after a bullish note from PiperJaffray analysts. The firm said current estimates for the streaming service's international profitability looks conservative. "We believe that, by 2020, there is potential for market penetration higher than current estimates," analysts wrote in a note. 
Netflix should watch out for Facebook as it drops clues it wants to launch its own video on demand service, argues Brian Sozzi over on our premium site for investors, Real Money. Get his insights with a free trial subscription to Real Money.
General Motors (GM) sank nearly 2% after being accused of implementing devices designed to cheat diesel emissions tests, similar to those used by Volkswagen (VLKAY) , Reuters reports. The so-called "defeat devices" were allegedly placed into hundreds of thousands of its diesel trucks so that they could pass federal emissions tests.
The proposed class-action lawsuit seeks damages, including possible refunds or lost resale value as well as punitive damages. GM has called the allegations "baseless" and maintains that its engines meet EPA and CARB standards, according to CNBC.
Meet the Millennial Media Moguls
Planning to be in New York on Tuesday, June 13? You're invited to join us for an evening of cocktails and conversation with three dynamic young CEOs whose companies have found big news audiences and good markets. How have they done it? What have they learned? Meet Chris Altchek, CEO and co-founder of Mic; Shafqat Islam, co-founder and CEO of NewsCred; and Kathryn Minshew, the CEO and co-founder of TheMuse. Our panel discussion will be led by Ken Doctor, media analyst and columnist for TheStreet. The event, from 6 to 8 p.m. is free, but space is limited and reservations are required. Please click here to RSVP and get more information.
Read More Trending Articles: