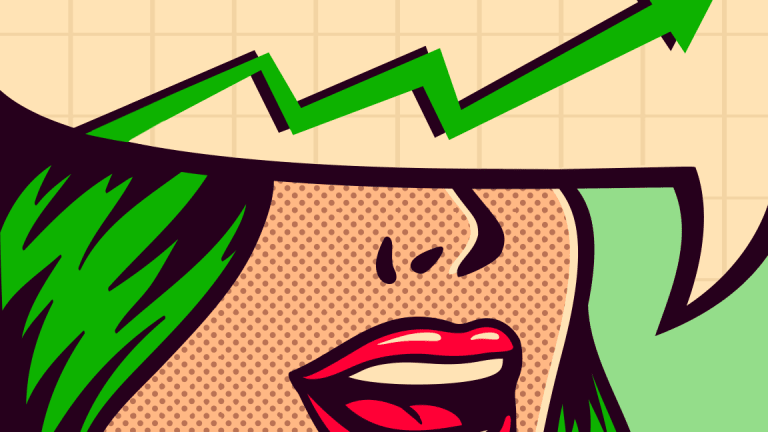 Publish date:
Positive Earnings Drive Dow to New Record in Best Performance in a Month
Powerhouse performances from Caterpillar and 3M inspire a Dow rally, leading the index to new all-time highs in its 54th record close of the year.
Powerhouse performances from Caterpillar and 3M inspire a Dow rally, leading the index to new all-time highs in its 54th record close of the year.
Powerhouse performances from Caterpillar Inc. (CAT) - Get Report and 3M Co. (MMM) - Get Report inspired a Dow Jones rally, leading the blue-chip index to its 54th record close of the year. 
The Dow was up 0.72%, gaining 168 points in its best one-day points gain since Sept. 11. The index hasn't scored as many closes in one year since 1995. 
The S&P 500 added 0.16% and the Nasdaq rose 0.18%. Both were just short of their own closing records. 
A burst of earnings reports kept investors busy on Tuesday, the most prominent including Caterpillar Inc. (CAT) - Get Report , McDonald's Corp. (MCD) - Get Report  and General Motors Co. (GM) - Get Report . 
Dow component Caterpillar rose 5% after exceeding profit and sales estimates in its third quarter. The heavy machinery company earned $1.77 a share, far better than 48 cents a year earlier. Adjusted profit of $1.05 a share beat estimates of $1.27. Overall revenue of $11.4 billion came in higher than $10.7 billion consensus. 
McDonald's, also a Dow component, matched quarterly profit estimates and showcased robust comparable-store sales. The world's largest burger chain reported adjusted earnings of $1.76 a share, in-line with estimates, while revenue fell just over 10% to $5.755 billion and came in slightly higher than consensus. Global comparable-store sales increased 6% over the third quarter, better than an expected 4.5% increase. In the U.S., comparable-store sales rose by 4.1%, ahead of estimates of 3.4% growth. 
3M Co. (MMM) - Get Report , also part of the Dow, reported better-than-expected quarterly results and higher full-year guidance. Earnings rose to $2.33 a share from $2.15 a year earlier and beat estimates of $2.21 a share. Revenue of $8.17 billion came in higher than an expected $7.92 billion. Industrial sales increased 6.2% to $2.8 billion, ahead of analysts' targets. For fiscal 2017, 3M expects profit of $9 to $9.10 a share, up from $8.80 to $9.05.
Lockheed Martin Corp. (LMT) - Get Report   issued strong guidance, which overshadowed a weaker third quarter. The defense company expects full-year revenue of $50 billion to $51.2 billion, higher than earlier forecasts of $49.8 billion to $51 billion. Full-year earnings are expected to come in between $12.85 and $13.15 a share, up from a previous projection of $12.30 to $12.60. Lockheed Martin reported third-quarter adjusted profit of $3.24 a share, below consensus of $3.26. 
General Motors' adjusted earnings topped estimates, and lower revenue beat expectations. Adjusted profit of $1.32 a share came in above estimates of $1.11. Revenue fell nearly 14% to $33.62 billion, which compared with a consensus estimate of $32.18 billion. GM also said it was profitable in every segment for the first time in three years. 
Novartis AG (NVS) - Get Report reported third-quarter earnings that topped estimates on growth from two recently launched drugs -- Cosentyx and Entresto. Novartis reported sales of $12.4 billion in the third quarter, slightly higher than analysts' expectations, while core operating income rose 1% in constant currencies to $2.4 billion. 
Biogen Inc. (BIIB) - Get Report was one of the worst performers on the S&P 500 after U.S. sales of its neuromuscular disorder drug Spinraza missed estimates. U.S. sales of the medication reached $197.6 million, lower than projections of $242 million, even though global revenue from the treatment was better than expected. Spinraza was approved last year.
Biogen's drop weighed on other pharmaceuticals stocks, including AstraZeneca PLC (AZN) - Get Report , Sarepta Therapeutics Inc. (SRPT) - Get Report  and MannKind Corp. (MNKD) - Get Report . The iShares Biotechnology Index ETF (IBB) - Get Report dropped 0.8%. 
JetBlue Airways Corp. (JBLU) - Get Report  reported a decline in quarterly profit following a wave of hurricanes that battered the south and southeastern U.S. and Puerto Rico. Earnings of 55 cents a share fell from 58 cents a share a year earlier, with the hurricanes depressing earnings results by six cents a share. Sales increased 4.7% to $1.81 billion, though fell short of $1.83 billion consensus. Passenger revenue increased 3.3%, short of projections, while load factor of 85.1% dipped below consensus of 85.4%.  
What Fiat Chrysler's CEO just told us. 
Eli Lilly & Co. is a holding in Jim Cramer's Action Alerts PLUS Charitable Trust Portfolio. Want to be alerted before Cramer buys or sells LLY?Learn more now.
Roughly one-quarter of S&P 500 companies have reported earnings so far, the majority of which have bested profit and sales estimates. Analysts anticipate blended earnings growth of 3.8% in the third quarter, or 1.6% excluding energy, according to Thomson Reuters estimates. Revenue is expected to rise by 4.4%.
House Republicans hope to unveil their tax reform bill on Nov. 1, according to CNBC. Investors so far have seen little detail on highly anticipated reform, though the promise of what's to come has supported market gains in recent months. The Trump White House has promised tax cuts for individuals and businesses, but details on how they will be paid for without blowing up the deficit have not been forthcoming. 
Manufacturing and services activity both increased in October, according to the latest Markit PMI manufacturing index. A measure of manufacturing rose to 54.5 in October from 52.4, hitting a nine-month high. Services climbed to 55.9, an eight-month high, from 55.3 a month earlier.
Investors were also looking toward the first estimate of third-quarter economic growth to be released on Friday, Oct. 27, which could be dented by the recent series of severe hurricanes. Economists surveyed by FactSet anticipate the U.S. economy to have grown 2.5% from July to September, slowing from 3.1% growth in the second quarter. This is just a preliminary number -- it will go through two revisions.
Sears Holdings Corp. (SHLD) will no longer sell appliances from Whirlpool Corp. (WHR) - Get Report following a pricing dispute. Sears will stop carrying Whirlpool brands such as Maytag, Kitchenaid, and Jenn-Air, according to an internal Sears memo seen by The Wall Street Journal.  The disagreement with Whirlpool was unrelated to credit issues at Sears and instead had to do with pricing, one person familiar with the situation told the Journal.
Whirlpool shares were already lower, down 10%, after a disappointing third quarter and reduced guidance. The appliances maker anticipates fiscal 2017 earnings of $13.60 to $13.90 a share, down from a previous forecast of $14.50 to $15. The company said margins have come under pressure on "raw material inflation, unfavorable price/mix and slow progress on our European integration." 
More of What's Trending on TheStreet:
Join Jim Cramer, CNBC's Jon Najarian and Other Experts Oct. 28 in New York
Jim Cramer will host CNBC's Jon Najarian, TD Ameritrade's JJ Kinahan, famed analytics expert Marc Chaikin and other market mavens on Oct. 28 in New York City to share successful strategies for active investors.
You can join them as they discuss how smart investors can make the most of options trading, futures contracts, fundamental and quantitative analysis and great ETFs to buy right now. Participants will also get a chance to meet Jim and other panelists and take photos.
When: Saturday, Oct. 28, 8 a.m.-3 p.m.
Where: The Harvard Club of New York, 35 West 44th St., New York, N.Y.
Cost: $250 per person.
Click here for the full conference agenda or to reserve your seat now.