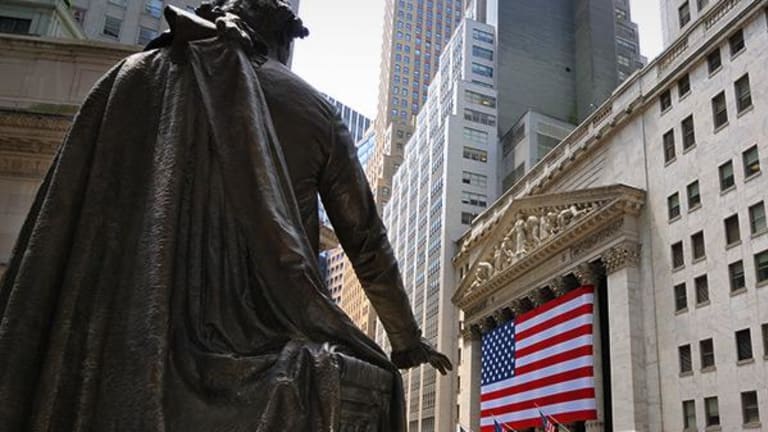 Positive Earnings Are Setting Up the Dow for Its Push to 20,000
A series of positive earnings on Wednesday morning set the Dow Jones Industrial Average up to close in on its 20,000 milestone.
A series of positive earnings on Wednesday morning set the Dow Jones Industrial Average up to close in on its 20,000 milestone. 
S&P 500 futures were up 0.27%, Dow futures rose 0.3%, and Nasdaq futures climbed 0.4%. 
The Dow posted a triple-digit gain on Tuesday for the first time in three weeks, putting the index within 90 points of 20,000. The S&P 500 and Nasdaq closed at fresh records. Better-than-expected earnings from the likes of DuPont (DD) - Get Free Report and Alibaba (BABA) - Get Free Report drove gains, while President Donald Trump's executive orders on the Keystone XL pipeline set off a rally among steelmakers and other materials stocks. 
The Dow came within a hair of the 20,000 a few weeks ago before selling off on uncertainty over an administration under Donald Trump. Markets had initially rallied in the two months following Trump's unexpected win in November. Investors had placed big bets that a Trump administration would lead to higher infrastructure spending and looser financial regulations. Stocks backed off those gains, though, as questions arose as to which policies Trump would focus on and how quickly change could come. 
United Technologies (UTX) - Get Free Report rose more than 1% in premarket trading on Wednesday after an in-line fourth quarter and after the company highlighted the potential for a series of acquisitions in 2017. The aerospace company earned an adjusted $1.56 a share, as analysts expected, while revenue of $14.66 billion came in just short of $14.71 billion consensus. United said it had bookmarked $1 billion to $2 billion for potential acquisitions this year, while also pegging $3.5 billion for stock buybacks. 
Boeing (BA) - Get Free Report moved higher in premarket trading after topping fourth-quarter profit estimates and guiding for an in-line 2017. The aerospace company earned an adjusted $2.47 a share, higher than consensus of $2.34 a share. Revenue of $23.29 billion exceeded estimates of $23.13 billion. Boeing anticipates full-year earnings between $9.10 and $9.30 a share, cupping estimates of $9.25.
Texas Instruments (TXN) - Get Free Report rose nearly 1% after reporting a double-digit percentage increase in quarterly profit. Earnings rose 26% over its recent quarter, while revenue rose 7.1%. Analog chip sales increased 10%, while embedded processor sales rose 6.3%. 
Alcoa (AA) - Get Free Report increased 4% on improving volume and sales over its recent quarter. Revenue climbed 3.5% to $2.54 billion over the recent quarter, above estimates of $2.46 billion. Alcoa said it anticipates global aluminium demand to increase by 4% this year. This quarter marked its first since splitting its business into two and separating from the units that produce manufactured goods. 
Fourth-quarter earnings at Novartis (NVS) - Get Free Report missed analysts' expectations, though shares climbed after the pharmaceutical company launched a $5 billion share buyback and said it may sell its Alcon eye care unit. Novartis said core net income for the three months ended in December was $2.66 billion, marginally lower forecasts of $2.7 billion. The company said it was considering a "range" of options to boost shareholder value, including the sale of the Alcon division which generated about $5.8 billion in sales last year.
Seagate (STX) - Get Free Report surged 12% before the bell after a better-than-expected quarter. The hard-drive tech company earned $1 a share over its recent quarter, sharply higher than 55 cents a share a year earlier. Adjusted earnings of $1.38 a share soared past estimates of $1.08 a share. Revenue of $2.89 billion came in above forecasts of $2.83 billion. 
Brinker (EAT) - Get Free Report fell 4% after warning of weaker sales at its restaurant chains over the full year. The owner of Chili's expects revenue to fall 2% to 2.5% this year, while same-store sales will likely drop 1.5% to 2%. Analysts expected flat full-year same-store sales. Fourth-quarter same-restaurant sales declined 3.1%, while revenue dropped 2.2%.  
Crude oil prices moved lower on Wednesday ahead of weekly data from the Energy Information Administration on domestic inventories. Data out Tuesday night from the American Petroleum Institute showed an increase in crude, gasoline and diesel supplies over the past week. 
West Texas Intermediate crude was down 0.9% to $52.69 a barrel on Wednesday. 
Other commodities were also in decline on Wednesday. Gold for April delivery declined 0.4% to $1,205.40 an ounce, silver for March delivery fell 1.2% to $16.98 an ounce, and copper for March delivery dropped 0.7% to $269.05 a pound. The U.S. Dollar Index declined 0.2% to 100.03.