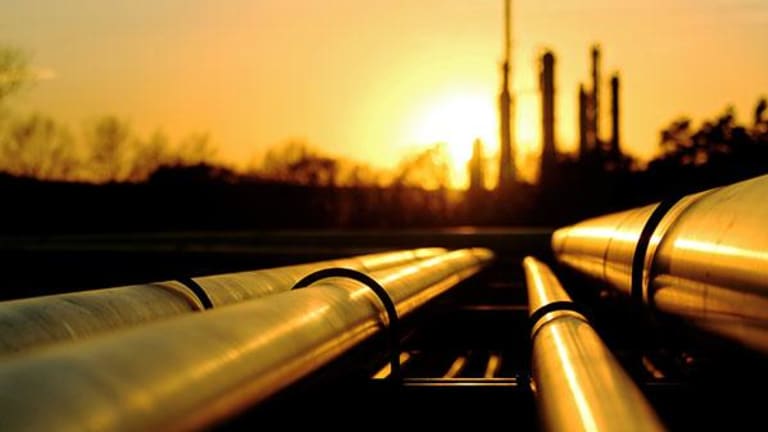 Outlook Murky for Crude Oil Futures
Experts say oil future contracts are stabilizing, but the crude market has to shed some volatility first before prices really rise.
You can't blame oil future traders for having a serious case of the shakes in 2016.
Volatility has been the watchword virtually all year, with U.S. oil futures sinking to $26 per barrel in February before cresting the $50 mark by late spring (September and October, 2018 futures are trading at $53, as of mid-August, while current futures prices are hovering at $45.)
While analysts point to the spate of geopolitical issues that have roiled energy markets (African supply disruptions, a weaker than expected China economy, and a decimated Venezuelan oil market among them), experts say burgeoning crude oil inventories are holding oil prices back.
"As of now, overproduction of crude and a glut of refined products keep the commodity under pressure," says Nilanjan Choudhury, an analyst at Zacks.com, in a recent research note.
At over 520 million barrels, current crude supplies are up 15% from the year-ago period and are at the highest level during this time of the year, Choudhury notes. "As it is, improvement in oil fundamentals remain fragile with the existing stocks of refined product inventories - gasoline and distillate - remaining at their maximum seasonal levels in at least 20 years despite healthy demand," he says. "Piling on the misery is a Baker Hughes report revealing a steady rise in the U.S. oil rig count and pointing to the resurgence in shale drilling activities."
On the demand side, efficiency gains through things like new Corporate Average Fuel Economy (CAFE) standards and the substitution of oil outputs in industrial process will steer prices, says Peter Bryant, managing partner at Clareo, in Orange County, Calif., and a long-term observer of the natural resources sector. "Government regulation and mandates play a role, as well," he says.
"On the supply side, the current outlook is one of over-supply with an ongoing production war between Saudi Arabia and other countries," Bryant adds.
That all translates into "downward pressure" on prices going forward. "The only upward pressure will come from supply disruptions from geopolitical issues," Bryant says. "Regulation is causing limits on supply growth, such as the bans on fracking in parts of the U.S."
Other industry experts say crude oil prices should stabilize for the rest of 2016, with a brighter outlook for 2017.
"We are forecasting that oil prices remain stable in 2016 in the $40-50 range, and that prices rally to the $50-70 range in 2017 as global offshore production starts to decline in response to an enormous cut back in capital expenditures by the 'super major' oil companies," says Jay Hatfield co-founder and president of InfraCap, which invests in the midstream master limited partnership sector. "This decline is likely to produce a small shortage of supply relative to demand and eliminate the excess inventory of oil, which will allow the price to increase to the higher range indicated."
Oil futures investors should expect choppy waters in the meantime, though. "We believe the sector will be volatile for the rest of the year, so investors should dollar cost average into the sector to build a position that takes advantage of a potential significant rally in oil prices during 2017," Hatfield states.
Going forward, the big themes should be more stability and higher demand, Hatfield notes.
"The global market for oil has stabilized in the $40-$50 range, driven by a significant reduction in U.S. production from over 9.6 million barrels per day to the current level of approximately 8.5 million barrels per day," he adds. "Also, demand has continued to grow by the normal 1% to 2% global annual rate, stimulated by lower prices. Global supply and demand are in rough balance, but there is a significant overhang of excess inventory. In addition, when oil prices ran to $50 per barrel, U.S. producers raised equity capital and put on additional rigs, which helped to cap prices at the $50 level."
That means we're headed into the shoulder season for demand for energy, so should see prices test the lower end of our range over the next couple of months, Hatfield says.
Also keeping the price of oil tamped down relies on cheap energy sources from fracking, other experts say. That, coupled with other key macro-themes are expected to keep oil prices from rising, thus further vexing the oil futures market.
"There are three main factors currently affecting today's oil market including, cheap gas from fracking, over supply from the Middle East and reduced -- or not as great as anticipated -- demand for oil," says Dr. Joseph D. Smith, Wayne and Gayle Laufer Endowed Energy Chair Director, at the Missouri University of Science and Technology.
Smith says the fracking issue continues to "amaze" him.
"Fracking technology originally was developed when oil prices were above $100 per barrel," he says. "Now, oil varies between $30 and $50 per barrel - one half of what it was just before fracking came into play."
Lower oil prices have yet to make a significant dent in the fracking sector, Smith adds. "The U.S. fracking industry is alive and well even with this significant reduction in profit margin," he explains. "The industry has improved the technology used to frack and recover oil and gas from fracked wells, which has made it less expensive to drill and recover product. That means they can continue to operate with a profit with reduced oil prices."
As for demand, Smith says global oil companies just haven't seen the predicted demand for more oil and gas, and that's a trend expected to continue. "In 2011,the IEA [International Energy Agency] estimated a 30% increase in energy demand with most of this coming from developing countries," he says. "Clearly China and India were a large part of this increased demand projection. Economic activity requires more energy so as these countries economies continue to grow their demand for energy can safely be projected to grow."
But what has actually happened since 2011? Not much in terms of heightened demand, Smith adds.
"We have not seen the significant economic growth in these countries that was expected, which means their demand for energy has not grown at the same rate as was predicted," he says.
"That also helps to keep our oil and gas prices low," Smith says.
Going forward, Smith expects the price of oil to remain at or near $50 per barrel for the rest of 2016. "That could change based on the election process," he states. "Plus, if the U.S. gets into another war, or if we enact new regulations that impacts the fracking, we might see a decrease in inventories but prices will likely remain constant for the rest of 2016."
Considering how 2016 began, that's not the worst scenario for the oil futures market. But few traders are waving pom-poms over a middling forecast, either.