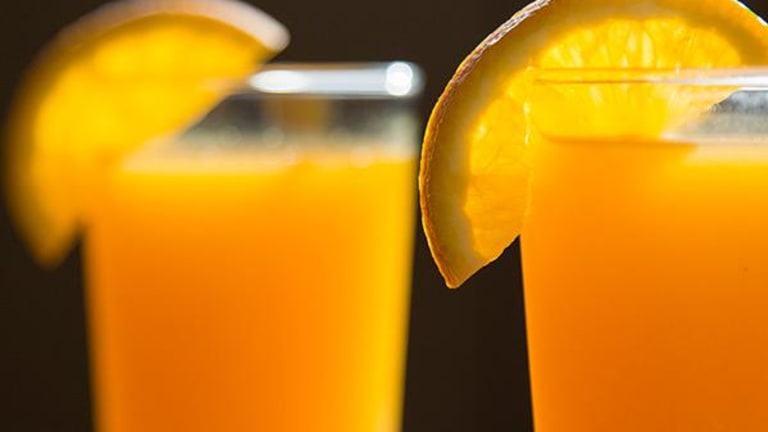 Orange Juice Futures at Record Highs as Production Slides
What's behind the boost in O.J. futures? Myriad global impactors, like decreased production and plant-based disease problems in the U.S. and Brazil, are squeezing supply.
Orange juice futures hit record highs last week, as frozen concentrated juice rose to to $2.2365 a pound, a 50% climb so far in 2016.
A significant, sustained slide in the number of oranges is one big reason why prices are rising.
"Since the early 2000s, the State of Florida wanted to overcome the threat of citrus canker and greening by cutting down all trees that are within a one-mile radius of a tree spotted with a disease," says Burak Kazaz, professor of supply chain management at Syracuse University's Martin J. Whitman School of Management. "That has led to a reduction in the supply side of oranges."
Kazaz says the company that was contracted to perform this task was paid in the number of trees it cut. "Not surprisingly, they spotted many trees and they cut anything and everything around one spotted tree," he adds. "The end result is that the State of Florida lost its growth potential in crop supply."
Risks associated with hurricanes and other natural disasters have also curbed juice production. "In 2004 and 2005, the State of Florida experienced devastating storms that reduced the crop supply for oranges," Kazaz adds. "As a result, prices went up for fresh orange juice, causing consumers to look for alternatives. Often, they switched from consuming orange juice to energy drinks."
All that directly impacts orange futures prices, as those Florida oranges are often consumed as "fresh oranges" rather than being saved for "concentrate," Kazaz explains.
"Orange juice futures are for 'frozen' orange juice," he says. "As a result, there isn't much orange left to be saved and stored for sale in the future and financial markets. There is now a much smaller number of orange growers who supply oranges for the frozen orange juice market."
Additionally, prices of "frozen" orange juice futures don't move as much as prices for fresh orange juice, Kazaz adds. "Thus, for traders, there isn't much opportunity to make money from fluctuations, which historically lead to more trades," he says.
Production-wise, Brazil and the U.S. are two of the world's top orange juice suppliers, and lower supply from both countries is expected to keep juice futures prices at high levels. The USDA is estimating only 70 million boxes of oranges in the 2016 and 2017 Florida harvest (compared to 81 million in the 2015 and 2016 season.) Brazilian government figures forecast 14.4 million metric tons of oranges, down 2.4 million over the same time period. Orange growers in both countries are battling tree and plant-based diseases that have negatively impacted orange harvests this year.
"The orange crop in Florida this year is going to be significantly weaker because of a debilitating disease that renders the fruits un-harvestable," explains Natalie Sexton, co-founder of Natalie's Orchid Island Juice Company, a juice producer based in Fort Pierce, Fla. "It's called citrus greening or Huanglongbing (HLB), and it originated in China. HLB is fatal for citrus trees and there currently is no cure. That's a big reason why the USDA predicts volume will be down 14% compared to last year." Of course, last year already saw lowered production; in fact, production has been down 13 of the last 14 seasons, Sexton adds.
Consequently, orange juice producers, responding to the reduced citrus output in Florida because of the blight, have turned to Brazil, a traditional alternate juice source, says Sexton. "Brazil is the largest orange fruit producer in the world, but producers found that a higher than normal temperature growing season there has yielded significantly less usable fruit," she says. "The lower than expected harvest, coupled with a strong Brazilian currency, means it will not be as cheap for U.S. companies to source from Brazil this year."
The USDA estimates world orange juice production declined by 9% over last season, largely due to the decline in Brazil and U.S. production and inventories partly associated with citrus greening. "If you look at Florida specifically, from concentrate orange juice (FCOJ) production and inventories are down," notes Dr. Marisa Zansler, director of economic and market research at the Florida Department of Citrus. "In addition, the continued demand for Florida oranges for use in not-from-concentrate orange juice means that a vast majority of Florida oranges will be utilized in single-strength orange juice. In turn, this reduces the availability of Florida oranges that might otherwise be used for FCOJ, which orange juice futures are based on."
Those issues, more than anything else, have led to the decline in orange production and the rise of O.J. futures prices in late 2016, experts say. "The world is going to have a shortage this year," says Thomas Spreen, an agricultural professor of economics at the University of Florida. "There's likely more upside than downside to this market."