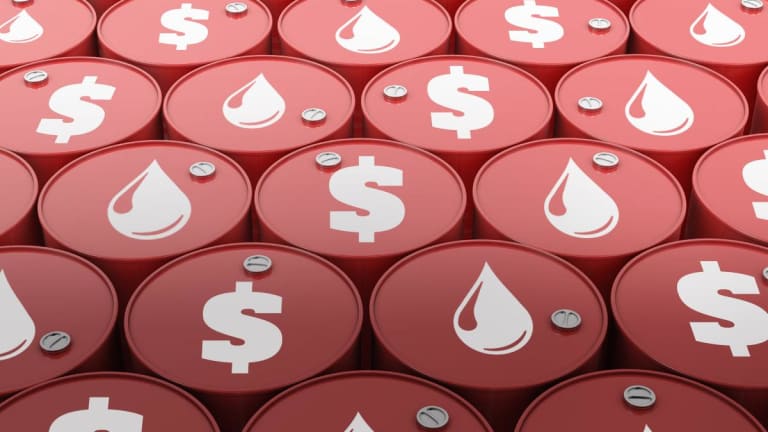 Global oil prices surged Monday as military tensions between Iran and the United States continued to escalate and Saudi Arabia alleged that two of its tankers were victims of a 'sabotage attack' near a key transportation route in the middle east.
Saudi Arabia's energy minister said two of his country's tankers were "attacked" near the Strait of Hormuz, a busy shipping route which separates the Persian Gulf states from Iran and the epicenter of military tensions between Washington and Tehran. The Kingdom did not say who was responsible for the incident, while the United Arab Emirates added that four of its vessels were also sabotaged.  Iran's foreign ministry, which threatened to close the strait to oil traffic earlier this year, described it as ""worrisome and dreadful" and called for a full investigation. 
"The international community has a joint responsibility to protect the safety of maritime navigation and the security of oil tankers, to mitigate against the adverse consequences of such incidents on energy markets and the danger they pose to the global economy," Saudi energy minister Khalid al-Faliah said in a statement Monday.
Brent crude contracts for July delivery, the global benchmark for oil prices, were rising 2.2% to $72.15 a barrel, while West Texas Intermediate crude contracts for June delivery were up 2.1% at $62.95 a barrel.
The alleged attack comes just hours ahead of a visit to Brussels by U.S. Secretary of State Mike Pompeo, who is expected to arrive in the Belgian capital later today for meetings with European leaders on how to "best support the full implementation of the nuclear deal", according to EU foreign minister Federica Mogherini.
The deal in question, the Joint Comprehensive Plan of Action (JCPOA) treaty, was abandoned by the U.S. last year in a move that sparked the simmering tensions with Tehran and alienated European allies that still support the effort aimed and thwarting Iran's nuclear ambitions in a non-confrontational manner.
Last week, Iran's President Hassan Rouhani said his administration would start enriching uranium within 60 days if European signatories to JCPOA didn't press Washington to revoke the sanctions it has placed on the sale of Iranian crude.
Trump revoked waivers that allowed eight different countries -- including China and Japan -- to purchase Iranian crude despite U.S. sanctions. The move triggered stockpiling of exports from Tehran, with China importing a record 10.64 million barrels last month, according to official customs data, despite consistent signals of slowing growth and weakening demand in the world's second-largest economy.
Trump has since called on OPEC members to make up for the shortfall in global supply that would result from the sanctions, although key producers such as Saudi Arabia and Russia have been reluctant to heed the President's message.