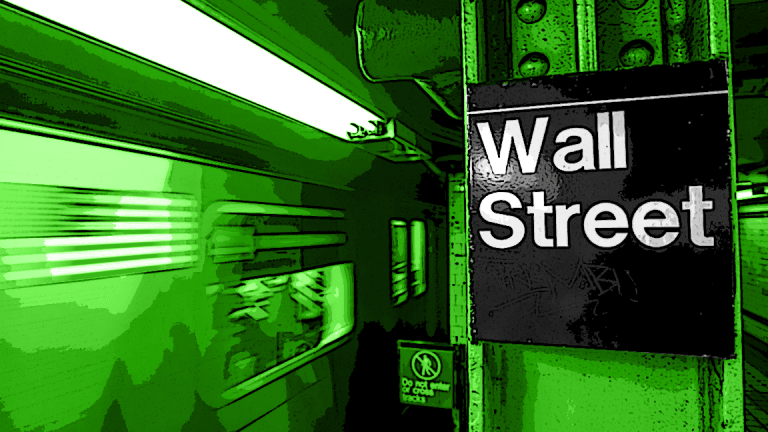 North Korea Threats and Fed Actions: Here's How Markets Ended the Week.
The week began with a stretch of new records before turning lower at the midway mark. Here's where markets ended.
The week began with a stretch of new records before turning lower. Here's a recap of what happened and why.
How Markets Closed Out the Week
The Dow Jones Industrial Average declined slightly, while both the S&P 500 and the Nasdaq both inched up.
Those levels followed whiplash-inducing turnarounds at the end of the week: Just days earlier, both the 30-member blue-chip index and S&P 500 had ended at new all-time highs. The Nasdaq reached its own record on Tuesday.
By Thursday, though, the Dow had snapped a seven-day record-breaking streak, while the S&P 500 failed to end at all-time highs for the first day in four. It was the Dow's first down day in 10 sessions. 
North Korea Threat Escalates
The threat of escalating conflict between the U.S. and North Korea loomed over Wall Street for much of the week.
On Thursday, North Korea's foreign minister reportedly said his country may test a hydrogen bomb in the Pacific Ocean to fulfill dictator Kim Jong Un's vow to take the "highest-level" action against the United States, the Associated Press reported.
Kim, in a statement, said President Donald Trump is "unfit to hold the prerogative of supreme command of a country." He also described the U.S. president as "a rogue and a gangster fond of playing with fire."
Earlier Thursday, Trump announced that new sanctions have been levied against North Korea. A new executive order would allow the federal government to take punitive measures against individuals, banks and other companies that trade with the country, he said.
"Foreign banks will face a clear choice: do business with the United States or facilitate trade with the lawless regime in North Korea," Trump said on Thursday. "The regime can no longer count on others to facilitate its trade and banking activities."
Trump beat the drum for nationalism in an address to the U.N. General Assembly on Tuesday, telling leaders that he would "always put America first."
The current era is a time of "immense promise and great peril," he added, amping up the level of aggression toward North Korea.
Kim Jong-un is head of a "depraved" regime, the real estate mogul said, and the U.S. is "ready, willing and able" to use military force." He promised to "destroy" the country if the U.S. is forced to act.
"It is time for North Korea to realize that its de-nuclearization is its only responsible future," Trump said.
The authoritarian country has conducted a number of missile tests in recent weeks, with two of the devices flying over Japan, and has threatened to bomb U.S. territory Guam. The face-off has unsettled markets since it returned to headlines in early August.
Federal Reserve Makes Its Move
The Federal Open Market Committee, the monetary policy arm of the Federal Reserve, announced Wednesday that it would leave the federal funds rate unchanged, a move widely telegraphed and largely expected.
As predicted, the Fed also said that it would start unwinding its massive balance sheet in October, beginning with a reduction of up to $10 billion a month. Plans call for that amount to increase by $10 billion a quarter and reach $50 billion a month by this time next year.
The Fed holds $4.5 trillion in Treasury securities and mortgage-backed assets on its balance sheet.
One surprise was that Fed officials sounded far more hawkish on the future path of rate hikes. Investors had predicted that the Fed would slow the pace of increases as the U.S. economy faces consistently soft inflation, coupled with wage growth that's stuck in neutral.
But 12 of the 16 FOMC members said in Wednesday's communique that they anticipate a third rate hike this year, while 11 of the 16 project three next year.
Fed funds futures priced in a 70% chance of a rates increase in December following that announcement -- far higher than a 51% chance prior to the meeting. A 25-basis-point increase at the Fed's December meeting would put the federal funds rate at 1.25% to 1.5%.
"In just two weeks it went from basically low probability to much higher probability," Alpine Funds' Mark Spellman said in a call.
Still, Spellman is skeptical about whether a December hike will actually come to pass. "They can put it off until early next year," he added.
Fed Chair Janet Yellen "told us two or three years ago that PCE -- personal consumption expenditure -- needs to get to about 2% before ... inflation would be in a position where they'd have to take action from a monetary policy standpoint. It's never come close. We're still waiting for that."
In comments during a news conference, Yellen conceded that inflation was running below the Fed's 2% target and that it was a "concern."
"For a number of years, there were very understandable reasons for that shortfall, and they included quite a lot of slack in the labor market, which my judgment would be has largely disappeared," she said. "This year, the shortfall of inflation from 2%, when none of those factors is operative, is more of a mystery. And I will not say that the committee clearly understands what the causes are of that."
Deal Talks
Lots of deal rumors swirled in the past week, chief among them Sprint Corp. (S) and T-Mobile US Inc. (TMUS)  . Both got a boost in recent days on reports the two are closer to sealing a deal. The telecoms are discussing initial terms for a merger agreement that could close as soon as the end of October, insiders told Reuters. Sprint's Japanese parent company, SoftBank Group Corp. (SFTBF) , would own between 40% and 50% of the combined firm, while T-Mobile parent company Deutsche Telekom AG (DTEGY) would hold a majority stake.
Time Inc. (TIME) was also contemplating a deal. The magazine empire on Friday said it was holding talks to sell a number of its assets, including Time UK, a majority stake in Essence, and Time Customer Service. The assets up for sale generated 17% of total revenue over 12 months.
Alphabet Inc.'s (GOOGL) Google reached a deal valued at more than $1 billion to buy part of the smartphone division of Taiwan's HTC Corp. Google will pay HTC $1.1 billion and receive a non-exclusive license for HTC intellectual property, while certain HTC employees, "many of whom are already working with Google to develop Pixel smartphones -- will join Google," the companies said in a joint news release. The companies said the transaction, subject to regulatory approvals, is expected to close by early 2018.
Alphabet is a holding in Jim Cramer'sAction Alerts PLUS Charitable Trust Portfolio.Want to be alerted before Cramer buys or sells GOOGL? Learn more now.
Apple Falls
Apple was under pressure this week on reports of weak sales of its latest iPhone model and connectivity issues with its next-generation smartwatch.
In a report Friday, Nomura noted signs of weakness in preorders of the iPhone 8 as slower promotional activities and the launch of the company's special edition iPhone X potentially cannibalize sales.
Apple confirmed that the new watch had encountered connectivity problems earlier in the week. The Apple Watch Series 3 is the first model to link to networks independently rather than through an iPhone.
In a statement to The Verge, Apple said the problems occurred when the watches were already using unauthenticated WiFi networks without connectivity. Apple said it was "investigating a fix for a future software release."
Apple is a holdings in Jim Cramer's Action Alerts PLUS Charitable Trust Portfolio. Want to be alerted before Cramer buys or sells AAPL? Learn more now.