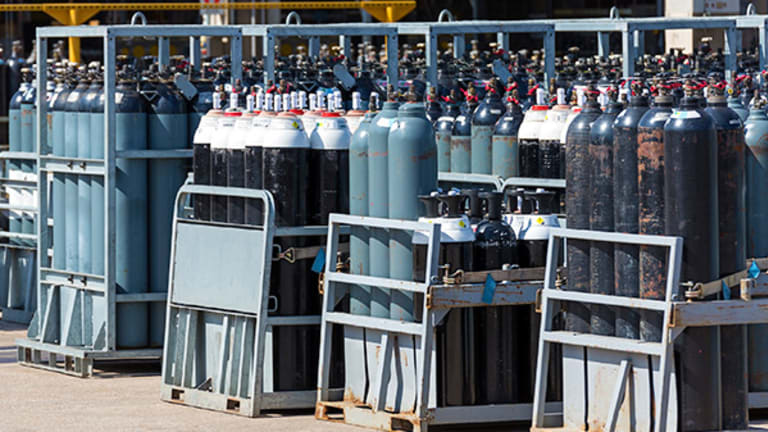 Natural Gas Futures Prices Are Heading into a Decline for 2017
With heightened inventories and moderately lower demand, and hot weather in the rear view mirror, natural gas futures prices could be weakening.
Natural gas inventories are stacking up in 2016, and correspondingly, demand is not strong enough to ease stockpile levels. As a result, that will likely lower natural gas prices for the rest of 2016 and well into 2017, experts say.
Working natural gas inventories were 3,288 billion cubic feet (Bcf) as of Friday, July 29, 6 Bcf lower than the previous week, "marking the first decline during the June-August period since 2006," the U.S. Energy Information Administration reports.
Demand for the natural gas is higher, but only moderately so, the EIA reports. This from the agency:
"EIA's forecast of U.S. total natural gas consumption averages 76.3 Bcf/d in 2016 and 77.2 Bcf/d in 2017, compared with 75.3 Bcf/d in 2015. In 2016, increases in total natural gas consumption are mainly attributed to increases in electric power sector use. Forecast electric power sector use of natural gas increases by 4.8% in 2016, then declines by 1.7% in 2017, as rising natural gas prices contribute to increasing coal use for electricity generation. Forecast industrial sector consumption of natural gas increases by 2.5% in 2016 and by 1.1% in 2017, as new fertilizer and chemical projects come online. But it's not enough demand to reassure commodities futures investors that long-term price hikes are on the way.
"I believe that natural gas prices are going to head much lower," predicts Vic Patel, founder of Forex Training Group and a trader with 20-years' experience in the futures markets. "We have had three strong weekly selloffs over the last few weeks, and from the technical chart standpoint, the likely price target is around the $1.75 level."
The reason, Patel says, is a "simple" supply and demand imbalance. "The stockpiles are increasing and there is not enough demand to meet the excess," he says. "In fact, the supply is approaching record levels. We had a very warm winter, and if we continue to see higher temperatures this coming winter, then this trend will continue and drive natural gas prices below $1.75 level by year end."
Right now, the Henry Hub natural gas spot price averaged $2.82/MMBtu in July, up 24 cents/MMBtu from the June average, according to EIA statistics. Agency analysts say the July price upgrade is linked directly to "warmer-than-normal temperatures in July, which led to increased demand from the electric power sector."
Longer term, the EIA states natural gas prices will rise "gradually", with Henry Hub prices averaging $2.41/MMBtu in 2016 and $2.95/MMBtu in 2017. Current futures contracts traded up slightly, with November, 2016 contracts traded through early August standing at $3.01/MMBtu, with a lower range of $2.12/MMBtu and a higher range of $4.28/MMBtu. That's roughly similar to what energy traders saw a year ago at this time, when natural gas futures contracts for November 2015 delivery averaged $2.91/MMBtu, and lower/upper range forecasts were pegged at $2.08/MMBtu and $4.06/MMBtu, respectively.
Not every energy analyst sees gas prices in decline, or staying on an even keel; some see prices going up.
This week, BofA Merrill Lynch has revised its 2017 pricing estimates, calling for a rise in Henry Hub natural gas prices to $3.50/mmBtu, up from its prior forecast of $3.20/mmBtu, back in January 2016. That estimate isn't pegged to any short- or long-term weather factors, but to gradually rising demand thanks to lower gas prices, and to increased exports to countries like Mexico. There, close-by liquid natural gas terminals, like Cheniere Energy's Louisiana-based Sabine Pass LNG terminal, and transportation pipelines, will keep gas flowing south of the border, and at cheap prices, BofA reports.
Natural gas futures prices, as measured by NYMEX, reflect the uncertainly over where gas prices are headed into 2017. September, 2016 contracts are priced in at $2.840, and succeeding monthly contracts don't climb higher than $3.330 (for January, 2017 natural gas contracts) all the way through to September, 2017, where prices settle at $3.029.
But with 2016's steaming hot weather mostly out of the way across the U.S., the sentiment turns to lower natural gas prices for the remainder of the year. "Seasonally, the market has turned a major corner," states Andy Weissman, chief executive of EBW AnalyticsGroup, in a recent research report. "With the heart of the summer already behind us and relatively benign weather expected for the remainder of August and September, the picture for natural gas over the next four to six weeks looks highly negative."