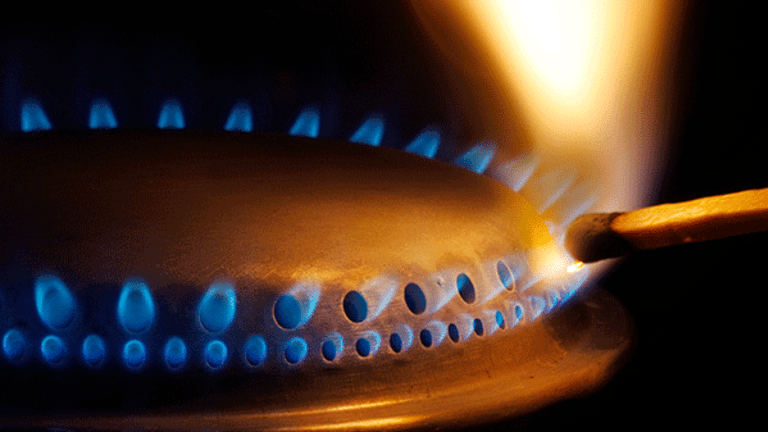 Natural Gas Futures Down Over 10%, But Why?
Mother Nature may have some explaining to do this January, as natural gas traders fret over lower prices.
Natural gas has started the year with a major dip. In fact, during January 3 trading, their futures were down to their lowest levels since mid-December, deflating by 10.7% to $3.253 per million British million thermal units.
Warmer weather across the U.S. in January is one logical reason for the slowdown in prices, but natural gas futures contracts from March, April, and May 2017 are all down this week to roughly $3.250, according to CME Group futures pricing. That represents the commodity's lowest pricing levels since February 24, 2014, when natural gas prices fell 11.25% in one day.
Major energy-related exchange traded funds absorbed some blows, as well, on the first trading day in January. The United States Natural Gas Fund (UNG) - Get United States Natural Gas Fund LP Report slid 10.9%, while the iPath Bloomberg Natural Gas Subindex Total Return ETN (GAZ) - Get iPath Series B Bloomberg Natural Gas Subindex Total Return ETN Reportplummeted 14.5%.
Is it all about the weather?
Not exactly. In fact, there are a few underlying issues impacting natural gas prices that go beyond anything Mother Nature conjures up.
"Since last March, natural gas prices have actually been climbing," offers Howard Marella, a commodities specialist at Icon Alternatives. "But, just a few weeks ago, the first signs of a price failure hit the markets."
Marella points to a "significant" drop in natural gas supply, as recorded in recent weeks by the U.S. Energy Information Association. "However, expressed in price, the surplus is proving to be more than adequate," he says. "Even with the expectation for a cold winter, demand isn't keeping up with supply. Consequently, every mild turn of the weather becomes a negative for price."
Longer term, the current regulatory environment in which the natural gas industry operates is much less stringent and relies more heavily on competitive forces than in the past, Marella says. "The last 20 years have seen dramatic changes throughout the industry, spurred by its ever-changing regulatory environment," he notes. "However, despite the restructuring and deregulation of some portions of the natural gas supply chain, there still exist significant regulatory oversight of the industry in the transportation and distribution of natural gas."
Marella says this oversight is necessary to ensure market participants who possess monopoly power in the industry don't abuse this power, or distort the smooth and efficient functioning of the natural gas markets. "Yet even though the tide has turned, I wouldn't expect a (pricing) move straight down," Marella notes. "Buyers will surface and supply may tighten."
Abundant supply seems to be a recurring theme with commodities experts.
"Natural gas prices after 2009 to 2010 have actually been trading in a fairly consistent range of $2 to $5, which appears to be the result of available natural gas due to fracking," notes Bob Silvers, managing director, energy and utilities practice at SSA & Company. "Long term, I believe prices will remain in the $2  to $5 range as both oil and gas will be plentiful, even with potential production cuts. However, when prices are this low the percentage change appears to be significant, even with a small change in price."
Silvers advises natural gas investors to more or less shrug off the one-day losses Wall Street saw on January 3. "Short-term spikes like that are predominately due to weather forecasts, like a warmer than usually winter, and/or oil production forecasts," he says. "This type of news will almost always cause a spike in prices -- up or down."
Others agree that the recent natural gas decline is mainly due to weather, but the market's tendency to overreact also impacts price swings.
"I like to remind people that natural gas was similarly dismissed in the fall, after which it proceeded to rally over 30% at the first appearance of conducive weather conditions," says Tim Pickering, founder of Auspice Capital, which offers a natural gas ETF. "The market tends to use an 11- to 15-day window as a prediction for the following one-or-two months."
"This leads to overreaction - either up or down - and is part of what makes natural gas such an attractive trading market," Pickering says.