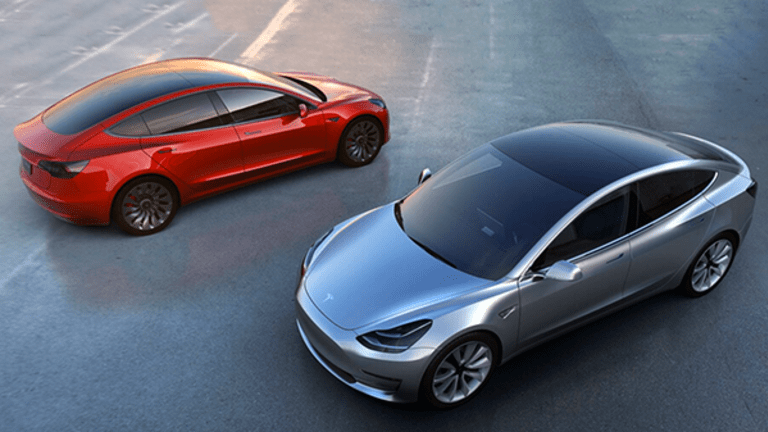 Elon Musk Teases 'News' on Tesla's Highly Anticipated Model 3
Get ready.
Tesla Inc. (TSLA) - Get Report CEO Elon Musk Friday said there would be "news on Sunday" about the company's much anticipated Model 3.
Tesla shares were up 0.18% in Friday morning trading to $361.40, after closing at $360.75 on Thursday.
Musk on Friday tweeted the revelation in response to a follower's request for information on the release date of the car.
Douglas Bailey, whose Twitter profile says is from Sydney and has 251 followers, asked Musk for mercy and to end the speculation around when the model would be released.
There is still no official release date for the vehicle, which has prices starting around $35,000 making it the cheapest Tesla model. The company unveiled the model last year, saying the production version would be shown off in July, since then the car has received more than 400,000 pre-orders.
At its annual shareholder meeting earlier this month, Musk said Tesla was "definitely" on trace to begin Model 3 production in July, at which time customers will be able to customize their orders in terms of wheel size and color.
Visit here for the latest business headlines.
Read More Trending Articles:
Nike Officially Arrives on Amazon, but Then Adidas' Stock Does Something Bizarre
Big Banks Are on Steroids: Market Recon
Investing With Intent: Cramer's 'Mad Money' Recap (Thursday 6/29/17)
Here's Why Amazon Could Feast on the Remaining Carcass of Rite Aid After Failed Walgreens Merger