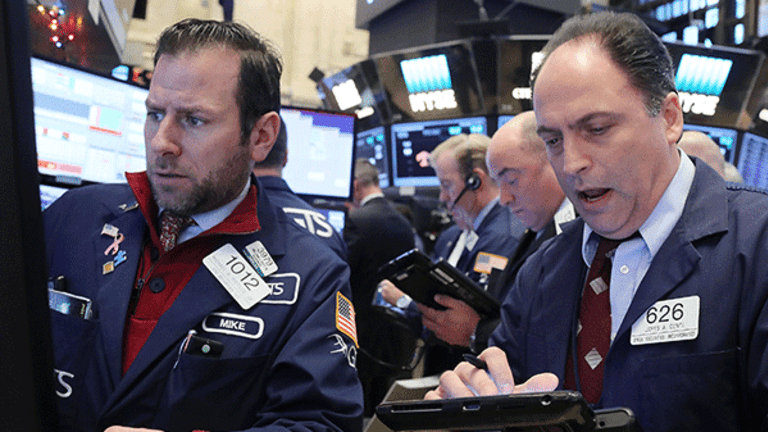 Stocks Rise as Fed's Yellen Walks the Line on Future Rate Hikes
Stocks are higher. Here's how the market is trading in the afternoon session on Tuesday.
Stocks were higher on Tuesday, Sept. 26, as Federal Reserve Chair Janet Yellen tiptoed the line between dove and hawk. 
The Dow Jones Industrial Average was up 0.07%, the S&P 500 rose 0.14%, and the Nasdaq gained 0.37%. 
In comments at the National Association for Business Economics Meeting in Cleveland, Yellen took a far more dovish tone than comments last week suggested, but kept the possibility of an interest rate hike in December alive.
On the dovish side, Yellen said the Fed may have made an error in assessing the labor market and inflation trends, meaning easy monetary policy may be the right move in the near-term.
"My colleagues and I may have misjudged the strength of the labor market, the degree to which longer-run inflation expectations are consistent with our inflation objective, or even the fundamental forces driving inflation," Yellen said. 
Yellen continued, "In my view, it strengthens the case for a gradual pace of adjustments. Moving too quickly risks overadjusting policy to head off projected developments that may not come to pass."
But Yellen also reiterated her belief that soft inflation was "probably temporary" and that inflation would reach the Fed's 2% target in the next few years. Yellen also cautioned against moving too gradually, noting the risk that the labor market could overheat. 
It has been nearly a week since the Fed announced it would begin unwinding its $4.5 trillion balance sheet and signaled the possibility of an interest rate hike in December. The main surprise out of the September meeting was the Fed's seemingly hawkish stance when it came to the future pace of rate hikes -- the majority of members expected another rate hike by year's end and around three in 2018.  
The chances of a 25-basis-point rate hike at the December meeting sit at 76.4%, according to CME Group fed funds futures. Another rate hike would put the federal funds rate at 1.25% to 1.5%. 
Tech stocks were the best performers on Tuesday following Monday's selloff. The sector had been under pressure on reports that demand for Apple Inc.'s (AAPL) latest iPhone models was far less than anticipated. Apple had already been in selloff mode after its newest Apple Watch model was found to have connectivity issues.
Nvidia Corp. (NVDA) was higher after inking a deal to provide chips to some of China's largest cloud-computing companies. Alibaba Group Holding Ltd. (BABA) , Baidu Inc. (BIDU) , and Tencent Holdings Ltd. are integrating Nvidia's Volta chips into its data centers, according to a statement.
Red Hat Inc. (RHT)  also contributed to sector gains after a better-than-expected second quarter. Net income of 53 cents a share came in far higher than 32 cents a share a year earlier. Adjusted earnings of 77 cents a share bested estimates by a dime. Revenue increased nearly 21% to $723.4 million, higher than consensus of $699.6 million. For the third quarter, the open-source software company anticipates revenue of at least $730 million, higher than $710.5 million estimated.
Other tech stocks on the rise included Alphabet Inc. (GOOGL) , Facebook Inc. (FB) , Cisco Systems Inc. (CSCO) , International Business Machines Corp. (IBM)  and Broadcom Ltd. (AVGO) . The Technology Select Sector SPDR ETF (XLK) increased 0.6%. 
Apple and Nvidia are holdings in Jim Cramer'sAction Alerts PLUS Charitable Trust Portfolio.Want to be alerted before Cramer buys or sells those stocks?Learn more now.
Concerns over warfare with North Korea increased to begin the week, holding markets underwater during the session on Monday, Sept. 25. North Korean officials have engaged in a war of words in recent weeks: on Monday, North Korean Foreign Minister Ri Yong Ho told reporters that the U.S. had "declared war on our country" and that it had the "right" to shoot down U.S. aircraft even outside of its airspace.
North Korea's bellicose language follows on from U.S. President Donald Trump's series of threats at his U.N. General Assembly address when he said he would destroy the country and called North Korean leader Kim Jong-un "rocket man." Trump has yet to comment on the latest threats. 
Meanwhile, further information on the Trump administration's highly coveted tax reform plans will finally be made public on Wednesday, Sept. 27. President Trump will lay out "new details" in a speech on Wednesday, Sept. 27, White House press secretary Sarah Huckabee Sanders told reporters on Monday afternoon.
The Big Six -- a group of officials from the White House and Capitol Hill -- will likely scrap a previous plan to cut the corporate tax rate to 15% and instead aim for a rate between 20% to 23% in final legislation, according to Politico. The Big Six group includes Treasury Secretary Steven Mnuchin, House Speaker Paul Ryan, and Senate Majority Leader Mitch McConnell.
Oil prices took a breather early Tuesday, pulling back from a surge tied to the possibility Turkey might shutter major pipelines. Turkey's President Tayyip Erdogan on Monday said he could close the pipeline running out of the Kurdish region of Northern Iraq in response to a non-binding independence referendum that was held on Monday. The pipeline to the Turkish port of Ceyhan pumps about 500,000 to 600,000 barrels of oil per day and is the main transport route for the Kurdish regions oil exports.
West Texas Intermediate was down 0.54% to $51.92 a barrel on Tuesday. Crude prices hit their highest level since mid-April on Monday. 
Equifax Inc. (EFX)  Chairman and CEO Richard Smith will retire from the company following a data breach that compromised information on about 143 million of the credit reporting firm's customers. Smith had been in the position since 2005 following a long tenure as executive of General Electric Co.. Equifax's chief information officer and chief security officer both resigned earlier this month.
Darden Restaurants Inc. (DRI)  fell after posting disappointing same-store sales growth. The parent of Olive Garden earned an adjusted 99 cents a share over its recent quarter, in-line with estimates, while revenue of $1.94 billion nudged past consensus of $1.93 billion. Same-store sales increased 1.7%, below forecasts of 2.1% growth. 
Carnival Corp. (CCL) increased 3% after beating profit and sales estimates over its recent quarter. Net income of $1.83 a share fell a dime from a year earlier. However, adjusted earnings of $2.29 a share exceeded expectations by 9 cents. Revenue of $5.52 billion topped estimates of $5.39 billion. CEO Arnold Donald also said operations were back to normal following an earthquake in Mexico and a string of hurricanes in the Caribbean. 
Axovant Sciences Ltd. (AXON)  tumbled more than 70% on Tuesday after the firm said its Phase 3 study of intepirdine in patients in Alzheimer's disease did not achieve its co-primary efficacy endpoints. The company continues to be committed to advancing its pipeline, Axovant CEO David Hung said.
Home prices rose at a better-than-expected pace in July, according to the latest reading on the S&P CoreLogic Case-Shiller home price index. Prices increased 5.9% in July, 20 basis points higher than economists expected. Seattle, Portland, and Las Vegas reported the highest year-over-year gains among the 20 cities. Prices had risen 5.8% in June. 
New home sales showed a surprise decline in August, compounding a dismal July performance. Sales of newly-built homes decreased by 3.4% in August, failing to recover from their worst drop in seven months in July. Analysts had expected new home sales to increase by 3.3%. 
Consumer confidence dipped in September at a faster pace than anticipated. The Conference Board's consumer confidence index fell to a reading of 119.8, down from 120.4 in August. Confidence in present conditions declined, while expectations ticked higher. Confidence in Texas and Florida, two states victim to recent hurricanes, saw a sharp decline.
Updated from 1:27 p.m. ET, Sept. 26. 
Watch: Get Your First Look at the Futuristic Apple iPhone X
Don't miss these top stories on TheStreet: