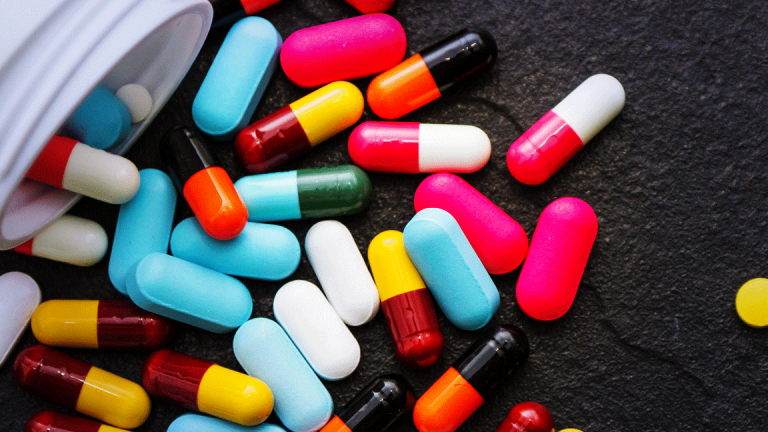 Merck Shares Drop in Premarket After European Keytruda Application Withdrawn
The withdrawal comes after the pharmaceutical company reported Keytruda brought in sales of $1.05 billion in third quarter 2017
The withdrawal comes after the pharmaceutical company reported Keytruda brought in sales of $1.05 billion in third quarter 2017
Merck & Co. Inc. (MRK) - Get Report dropped in premarket trading Monday after the company withdrew an application for approval for an additional indication of wonder drug Keytruda in Europe.
In a statement late Friday, Merck said that withdrawn its European application for the drug in combination with pemetrexed and carboplatin as a first-line treatment for metastatic nonsquamous non-small cell lung cancer. No concrete reason for the withdrawal was given.
Merck shares were down 4.19% in premarket trading, indicating an opening price of $55.80, extending a more than 6% drop Friday to close at $58.24, after the company released its third quarter earnings.
"The application was based on findings from KEYNOTE-021, Cohort G," the company said Friday. "Merck is confident in the clinical data from this rigorously conducted trial, which demonstrated significant improvements in overall response rate (ORR) and progression-free survival (PFS) for the KEYTRUDA combination regimen compared to chemotherapy alone."
Merck said that the company's broad clinical development program includes a number of studies evaluating KEYTRUDA in combination with chemotherapy in the first-line NSCLC setting and that it will share the data from these studies with regulatory authorities and the medical community as they become available.
The pharmaceutical company on Friday reported third quarter sales that missed consensus estimates despite strong Keytruda sales. The Pharmaceutical unit generated revenues of $9.2 billion, down 3% compared with the same quarter last year.
Keytruda brought in sales of $1.05 billion in third quarter, up 194% year on year. Sales continued to be driven by the launch of new indications globally.
The treatment is already approved for many types of cancers and treatment settings including lung cancer, melanoma, head and neck cancer, classical Hodgkin's lymphoma and bladder cancer. The Keytruda development program significantly advanced in the first half with regulatory approvals for four new indications in the U.S.
And Here's Why a Former Apple Executive Is Making a Huge Bet on Healthcare: 
More of What's Trending on TheStreet: