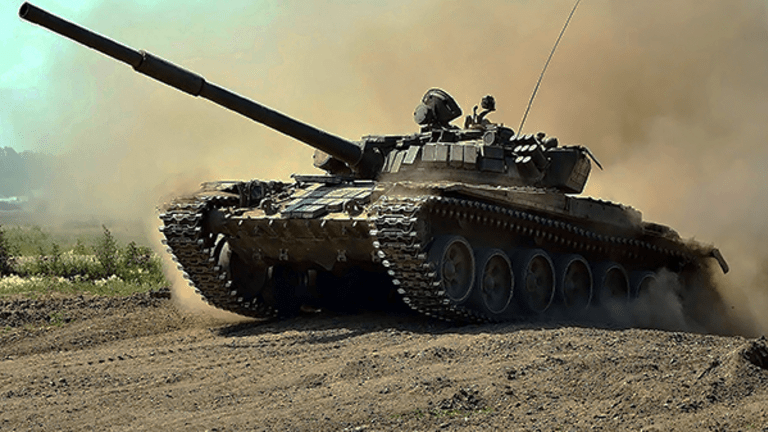 Markets Roar Back as Dow Jumps Nearly 200 Points; S&P 500 and Nasdaq Also Rise
Big gains on Wall Street as defense stocks rise.
Wall Street shook free of the malaise that characterized the beginning of the week to stride confidently higher on Tuesday, Aug. 22. A return to profit for BHP Billiton Ltd. (BHP) helped industry peers build gains, while a hawkish speech from the president set off a rally in defense stocks.
The Dow Jones Industrial Average was up 0.90%, or 196 points, for one of its best daily performances this summer. The S&P 500 added 0.99% and the Nasdaq gained 1.36%.
Defense stocks Boeing Co. (BA) , General Dynamics Corp. (GD) , Northrup Grumman Corp. (NOC) and Lockheed Martin Corp. (LMT) were higher after President Donald Trump outlined his plans for the long-running conflict in Afghanistan. In a prime-time address Monday evening, Trump promised to "change dramatically" the U.S. approach to the war but was scant on details on what the changes will be. Trump acknowledged his past calls for withdrawing entirely from Afghanistan but said that after much consideration he had decided to stay in and "fight to win."
Defense Stocks to Climb Another 100,000 Feet Thanks to Trump: Market Recon
He targeted Afghanistan as well as Pakistan for their roles in harboring terrorists and called on allies and partners to protect shared interests in the Middle East and around the globe.
"In Afghanistan and Pakistan, America's interests are clear: We must stop the re-emergence of safe havens that enable terrorists to threaten America; and we must prevent nuclear weapons and materials from coming into the hands of terrorists and being used against us," Trump said.
The SPDR S&P Aerospace & Defense ETF (XAR) had risen 26% since the close on election day. That compares with a 13.5% gain for the S&P 500.
Boeing and Northrop also benefited from the awards of multi-million dollar Air Force contracts as part of the U.S.'s planned upgrade of its nuclear arsenal. Boeing was awarded a $349 million contract and Northrop a $329 million contract. Both will work to update the technology and potentially replace missiles dating back to the 70s. In 2020, one will be chosen to work on the country's intercontinental ballistic missile system. 
BHP Billiton buoyed materials stocks after announcing that it will sell its U.S. shale oil unit as it "actively" pursues options for its "non-core" operations. BHP swung to per-share earnings of $1.10 compared with a loss of $1.20 a share a year earlier as oil and commodities markets stabilized. Analysts anticipated earnings of $1.35.
Materials stocks were the best performers on markets Tuesday. Rio Tinto plc (RIO) , Dow Chemical Co. (DOW) , Vale SA (VALE) , and Praxair Inc. (PX) were higher, while the Materials Select Sector SPDR ETF (XLB) increased 1.28%. 
Dow Chemical is a holding in Jim Cramer's Action Alerts PLUS Charitable Trust Portfolio. Want to be alerted before Cramer buys or sells DOW? Learn more now.
Federal Reserve Chair Janet Yellen will draw attention later in the week as the September meeting of the Federal Open Market Committee approaches. Yellen and her European counterpart Mario Draghi, European Central Bank president, will speak at the annual Economic Policy Symposium in Jackson Hole, Wyoming, a highly anticipated yearly event that stretches from Thursday, Aug. 24, to Saturday, Aug. 26. 
Investors largely expect the Fed to begin unwinding its balance sheet in September, a move the central bank had previously said it would implement "relatively soon," provided the economy expands as expected. Paring the Fed's sizable assets would likely tighten monetary conditions in the same way an interest-rate hike would. Another rate increase is not expected until December at the earliest.
Defense Stocks to Climb Another 100,000 Feet Thanks to Trump: Market Recon
However, weak inflation trends could delay the Fed's timing. On top of that, a number of Fed members have said that even with a series of interest rate hikes forecast over the next 18 months, the long-term federal funds rate will likely remain below historical averages.
"The debate that they and other central banks should be having at Jackson Hole is how to deal with future crises," said Aberdeen Standard Investments' Luke Bartholomew. "The reality is that the conventional tools that they've used in the past simply won't be as effective in the future with interest rates likely to be permanently lower. This might well lead to debates about whether to raise the inflation target or change the way those targets work."
Crude oil prices rose on Tuesday in a rebound from a sharp decline a day earlier. Prices slumped nearly 2% on Monday amid concerns over the Organization of Petroleum Exporting Countries' compliance with a production-cut agreement. Compliance with previously agreed-upon output restrictions reached its lowest level of 2017 in July.
West Texas Intermediate crude was up 0.6% to $47.67 a barrel.  
DSW Inc. (DSW)  roared more than 17% higher on Tuesday after reporting its first comparable-store sales growth since 2015. Same-store sales increased 0.6%, far better than an anticipated drop of 2%. Overall sales rose 3.3% to $680.4 million, coming in above consensus of $666 million. Earnings of 38 cents a share also topped estimates. 
"The current retail consolidation provides significant opportunity to acquire market share," CEO Roger Rawlins said in a statement,  "and in the next 12 months, we will unveil several exciting new initiatives that will inspire emotional loyalty with the DSW brand."
Toll Brothers Inc. (TOL) declined 2.5% after quarterly sales fell short of estimates. Revenue surged 18.1% to $1.5 billion, though came in $10 million below estimates. Earnings of 87 cents a share beat by 18 cents. The homebuilder said deliveries increased 26% in the fiscal third quarter. 
More than 90% of S&P 500 companies have reported earnings so far this season. Of those, roughly 74% have exceeded earnings estimates, above the historical average of 64%, according to Thomson Reuters data. More than 68% have topped revenue consensus, also above an average of 59%.
Chevron Corp. (CVX) increased 0.57% on reports chief executive officer John Watson will step down as soon as next month. The Wall Street Journal reports that Michael Wirth, vice chairman at Chevron, is first pick to take the position. 
Best Buy Co. Inc. (BBY) added more than 2% on Tuesday after Jefferies analysts expressed confidence in quarterly same-store sales ahead of its earnings report next week. The electronics retailer previously guided for quarterly same-store sales growth of 1.5% to 2.5%. Best Buy is set to report on Aug. 29. 
Starbucks Corp. (SBUX) rose more than 2% after Morgan Stanley reiterated an overweight rating, but cut its price target to $62 from $68. Analyst Brian Hayes said Morgan Stanley analysis "shows that the market has already quietly adjusted to a more moderate 12-17%."
Starbucks is a holding in Jim Cramer's Action Alerts PLUS Charitable Trust Portfolio. Want to be alerted before Cramer buys or sells SBUX? Learn more now.
Women Who Code CEO: Companies Have a 'Fiscal Responsibility' to See Women Succeed
Don't miss these top stories on TheStreet:
This Is Where McDonald's Is Closing a Lot of Restaurants
Amazon, Netflix, Tesla Crash Into Correction Territory -- Now What?
Apple iPhone 8's 'Crown Jewel' Has Everything to Do With Your Face
Goldman Sachs Gets Approval to Trade Stocks in This Kingdom