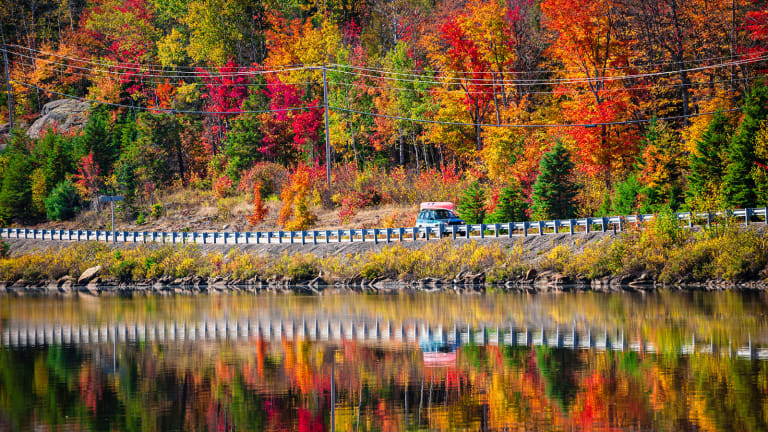 Markets Close Out September and Third Quarter -- Week in Review
Taxes, North Korea, and the end to the third quarter. Here's where markets stand.
Taxes, North Korea, and the end to the third quarter. Here's where markets stand.
The S&P 500 and Nasdaq reached new records on Friday, Sept. 29, with the former closing at all-time highs for the second day in a row. 
Markets also closed out both September and the third quarter with gains. The S&P 500 rose 1.9%, its sixth straight month of gains. The Dow increased nearly 2% and the Nasdaq roughly 1%. 
For the quarter, the S&P 500 has climbed more than 3%, the Dow 4.8%, and the Nasdaq 5.7%. Stock markets have managed to clock steady gains, and new records, even as tensions between the U.S. and North Korea threatened to spill over into warfare. The second-quarter earnings season, which occurred earlier in the third quarter, was generally positive.
Already, expectations for the third quarter have been tempered after hurricanes battered the southern U.S. and the U.S. territory of Puerto Rico. The effect of Hurricanes Harvey, Irma and Maria will likely put a dent in growth for the July-September quarter. Estimates have third-quarter GDP growth at 2.5%, according to FactSet. An initial estimate will be published on Oct. 27.
Friday marked the nine-year anniversary since the Dow suffered its worst points decline on record after the House of Representatives rejected a $700 billion bailout plan. The blue-chip index slumped just over 777 points and roughly $1.2 trillion was wiped from the stock market, the New York Times reported Friday. The House passed a new bailout package just days later. Since then, the Dow has risen 116%.
Trump Talks Taxes
President Donald Trump and his administration laid out the framework for their highly anticipated tax reform plans on Wednesday, Sept. 27.
In a nine-page document, Republicans suggested downsizing individual tax brackets into three from seven -- 12%, 25% and 35% -- with income thresholds to be decided. The current lowest bracket is 10%, but lawmakers argued that the increase will be countered by almost doubling the standard deduction to $12,000 for individuals and $24,000 for families.
The Big Six -- a group of officials from the White House and Capitol Hill -- also proposes reducing the corporate tax rate to 20% and a 25% tax rate for certain pass-through entities.
The Big Six group includes Treasury Secretary Steven Mnuchin, House Speaker Paul Ryan, and Senate Majority Leader Mitch McConnell. Commerce Secretary Wilbur Ross told CNBC on Tuesday that if done right, tax reform could bump up U.S. GDP by 1%, creating "$10 trillion more GDP, $3 trillion more revenues to the federal government" over the next 10 years or so.
"It would be a great thing to have this pro-growth measure done because the stock market has been depending on it since the election," Dan North, chief economist at Euler Hermes North America, told TheStreet. "There's optimism in the stock market that this pro-growth agenda will actually go into place."
A Good Q2 With an Eye on Q3
Wall Street weighed second-quarter growth against the potential for a weaker third quarter. The U.S. economy grew at a pace of 3.1% in the second quarter, its fastest growth in more than two years, according to the final estimate of gross domestic product released Thursday. Previous estimates put growth at 3% and economists expected the reading to remain unchanged. Higher GDP was mostly tied to farm inventories. Consumer spending growth held at 3.3%.
But the effect of Hurricanes Harvey, Irma and Maria could put a dent in the July-September quarter.
"Keep in mind that these are Q2 estimates, and a whole lot has happened in just a few short weeks," said Mike Loewengart, vice president of investment strategy at E*Trade. "It stands to reason that the devastation of the recent hurricanes could weigh heavy when the Q3 estimates come in, and many question how sustainable the 3% threshold is."
Estimates have third-quarter GDP growth at 2.5%, according to FactSet. An initial estimate will be published on Oct. 27.
Companies are already tempering expectations for quarterly performances in the wake of hurricane devastation. Pier 1 Imports Inc. (PIR) - Get Report  issued a muted outlook for the full year. Pier 1 expects GAAP earnings of 31 cents to 41 cents a share, below analysts' target of 46 cents. The company revised its guidance to "reflect the anticipated impact of Hurricane Harvey and Irma" on its third-quarter results.
The furniture retailer reported a loss of 10 cents a share, double a year earlier. An adjusted loss of 5 cents a share beat by a penny. Comparable-store sales increased 1.8%, outpacing an expected 0.7%.
Sherwin-Williams Co. (SHW) - Get Report also expects the recent hurricanes to impact its third quarter. More than 600 stores were affected by the weather patterns and tens of stores in the Caribbean remain closed. The paint company expects the disruptions to reduce overall third-quarter revenue by $50 million to $70 million. Earnings guidance was also cut to $3.40 to $3.70 a share, down from its previous range of $3.70 to $4.10.
Hurricane activity in the U.S. and the Caribbean will also impact Southwest Airlines Co.'s (LUV) - Get Report quarterly performance. The airline expects operating revenue to be reduced by $100 million after cancelling roughly 5,000 flights. Operating revenue per available seat miles is expected to come in flat to down 1%.
Southwest is a holding in Jim Cramer'sAction Alerts PLUS Charitable Trust Portfolio.Want to be alerted before Cramer buys or sells LUV?Learn more now.
D.R. Horton Inc. (DHI) - Get Reportslashed its fourth-quarter guidance as the recent hurricanes caused delays in its pipeline. The largest U.S. homebuilder anticipates to generate roughly $150 million of cash flow from operations over its fiscal year, down from its previous guidance of $300 million. Its fourth-quarter backlog conversion rate is expected to slip to 85% from a previous target of 88% to 90%.
A Hawkish-Dovish Fed
Federal Reserve Chair Janet Yellen took a far more dovish tone than comments last week suggested in comments at the National Association for Business Economics Meeting in Cleveland on Tuesday, Sept. 26, but kept the possibility of an interest rate hike in December alive.
On the dovish side, Yellen said the Fed may have made an error in assessing the labor market and inflation trends, meaning easy monetary policy may be the right move in the near-term.
"My colleagues and I may have misjudged the strength of the labor market, the degree to which longer-run inflation expectations are consistent with our inflation objective, or even the fundamental forces driving inflation," Yellen said.
Yellen continued, "In my view, it strengthens the case for a gradual pace of adjustments. Moving too quickly risks overadjusting policy to head off projected developments that may not come to pass."
But Yellen also reiterated her belief that soft inflation was "probably temporary" and that inflation would reach the Fed's 2% target in the next few years. Yellen also cautioned against moving too gradually, noting the risk that the labor market could overheat.
It has been more than a week since the Fed announced it would begin unwinding its $4.5 trillion balance sheet and signaled the possibility of an interest rate hike in December. The main surprise out of the September meeting was the Fed's seemingly hawkish stance when it came to the future pace of rate hikes -- the majority of members expected another rate hike by year's end and around three in 2018.
The chances of a 25-basis-point rate hike at the December meeting sit at 76.4%, according to CME Group fed funds futures. Another rate hike would put the federal funds rate at 1.25% to 1.5%.
Apple and Tech
The technology sector started the week in the pits, but clawed its way out by week's end. Bad news for Apple Inc. (AAPL) - Get Report triggered a selloff on Monday, Sept. 25. 
Reports of sluggish demand for its iPhone X sent Apple lower to begin the week. A report in Digitimes said that Apple has ordered its suppliers to ship just 40% of original iPhone X production plans and hold the remainder. Apple is reportedly waiting for pre-sale orders to begin on Oct. 27 to assess how to go forward in deliveries. When the iPhone 7 was in the pipeline last year, Apple ordered 60% of the total production plans. The iPhone X is Apple's flashier model with a $1,000 price tag.
Monday's losses were just the latest to hit Apple. A week earlier, the world's largest company was under pressure on reports of weak sales of its iPhone 8 and connectivity issues with its next-generation smartwatch.
In a report Friday, Sept. 22, Nomura noted signs of weakness in preorders of the iPhone 8 as slower promotional activities and the launch of the company's special edition iPhone X potentially cannibalize sales.
Apple confirmed that the new watch had encountered connectivity problems earlier last week. The Apple Watch Series 3 is the first model to link to networks independently rather than through an iPhone. In a statement to The Verge, Apple said the problems occurred when the watches were already using unauthenticated WiFi networks without connectivity. Apple said it was "investigating a fix for a future software release."
The tech sector rebounded for the rest of the week. Apple shares closed Friday with weekly gains of more than 1%. Amazon.com Inc. (AMZN) - Get Report , Alphabet Inc. (GOOGL) - Get Report , and Facebook Inc. (FB) - Get Report were also higher for the week. The Technology Select Sector SPDR ETF (XLK) - Get Report increased 1% over the past five days.
North Korea Again
Concerns over warfare with North Korea increased to begin the week, holding markets underwater during the session on Monday, Sept. 25. North Korean officials have engaged in a war of words in recent weeks: on Monday, North Korean Foreign Minister Ri Yong Ho told reporters that the U.S. had "declared war on our country" and that it had the "right" to shoot down U.S. aircraft even outside of its airspace.
North Korea's bellicose language follows on from U.S. President Donald Trump's series of threats at his U.N. General Assembly address when he said he would destroy the country and called North Korean leader Kim Jong-un "rocket man." Trump has yet to comment on the latest threats.
Concerns over warfare with North Korea increased, adding to markets' instability to begin the week. North Korean Foreign Minister Ri Yong Ho told reporters on Monday that the U.S. had "declared war on our country" and that it had the "right to make all self-defensive counter measures, including the right to shoot down the United States strategic bombers at any time even when they are not yet inside the aerospace border of our country."
In an appearance at the U.N. General Assembly on Saturday, Ri said that a missile attack on the U.S. mainland had become "inevitable" after U.S. President Donald Trump issued a series of threats to destroy the country and called North Korean leader Kim Jong-un "rocket man."
In response, Trump tweeted, "Just heard Foreign Minister of North Korea speak at U.N. If he echoes thoughts of Little Rocket Man, they won't be around much longer!"
Trump addressed the U.N. General Assembly last week and called Kim the head of a "depraved" regime, and said the U.S. is "ready, willing and able" to use military force. He promised to "destroy" the country if the U.S. is forced to act.
The authoritarian country has conducted a number of missile tests in recent weeks, with two of the devices flying over Japan, and has threatened to bomb U.S. territory Guam. The face-off has unsettled markets since it returned to headlines in early August.