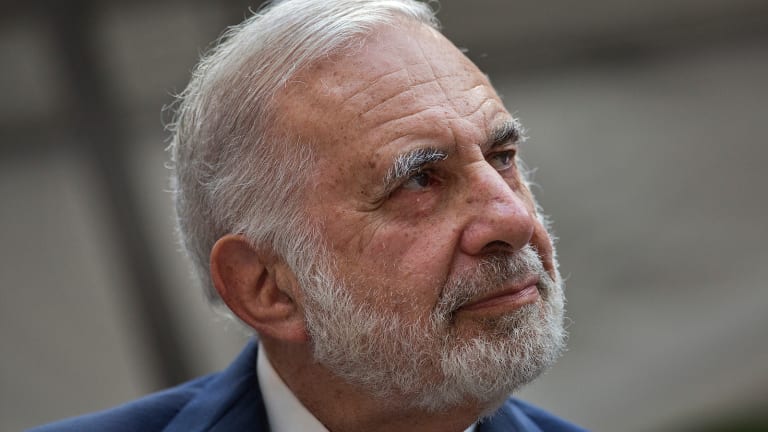 Market Rally Fades as Dow, S&P 500 and Nasdaq Finish Lower
Wall Street deflates after killer session on Tuesday.
If you'd like to receive our daily "5 Things You Must Know Before the Bell" newsletter, please register here.
Wall Street deflated mid-week in a pullback from the best day of the summer a session earlier. Stocks held in the red through to market close on Wednesday, Aug. 23, as Lowe's Cos. (LOW) led losses in the consumer sector, while defense names gave back gains. 
The Dow Jones Industrial Average was down 0.4% and the S&P 500 fell 0.34%, while the Nasdaq slid 0.3%.
Tuesday's session had been a ripper with the Dow adding nearly 200 points in its best performance of the summer and fifth best gain of the year to date. A return to profit for BHP Billiton Ltd. (BHP) helped industry peers build gains, while a hawkish speech from President Donald Trump set off a rally in defense stocks. 
The housing sector was under the microscope on Wednesday after a large slide in home sales. New home sales in the U.S. tumbled in July, missing analysts' estimates. The number of newly built homes sold in July fell 9.4% to 571,000 units, a seven-month low. Economists expected a reading of 610,000. 
"The inventory of available new homes is increasing bit by bit, starts are fairly steady, new homes are selling very quickly (2.9 months after completion), mortgage rates are still historically low, and the overall economy and labor markets remain positive, so I anticipate new home sales to reverse this latest slip," U.S. Bank Wealth Management's Ed Cowling told TheStreet. "At the same time, it does not look like there will be a strong rise in sales the remainder of the year."
Home-improvement retailer Lowe's was the worst performer on the S&P 500 after a disappointing second quarter. Adjusted profit of $1.57 a share came in 5 cents below estimates, while sales rose 6.8% to $19.5 billion, $30 million less than expected. The stock fell 6%.
Industry peer and Dow component Home Depot Inc. (HD) declined by more than 1%. Other consumer names such as Starbucks Corp. (SBUX)  and Costco Wholesale Corp. (COST) were also lower. The Consumer Discretionary SPDR ETF (XLY) declined 0.85%. 
Starbucks is a holding in Jim Cramer's Action Alerts PLUS Charitable Trust Portfolio. Want to be alerted before Cramer buys or sells SBUX? Learn more now.
Defense stocks were also lower on Wednesday in a pullback from Tuesday's gains. Boeing Co. (BA) , General Dynamics Corp. (GD) , Northrup Grumman Corp. (NOC) and Lockheed Martin Corp. (LMT)  had risen on Tuesday after Trump gave a broad outline of his plans for the long-running conflict in Afghanistan. In a prime-time address Monday evening, Trump promised to "change dramatically" the U.S. approach to the war but was scant on details on what the changes will be. 
United Technologies Corp. (UTX) was one of the few defense stocks in the green on reports of activist investor interest. An investor, possibly Dan Loeb's investment firm Third Point, has been buying up stock in United to give it better footing to push for a spin-off of non-core business units, according to The New York Post. Earlier in August, JPMorgan analysts argued that United's Otis unit, which makes escalators, could trade higher than United's other businesses. 
Markets were also looking ahead to central bank activity at the end of the week. Federal Reserve Chair Janet Yellen and her European counterpart Mario Draghi, European Central Bank president, will speak at the annual Economic Policy Symposium in Jackson Hole, Wyoming, a highly anticipated yearly event that stretches from Thursday, Aug. 24, to Saturday, Aug. 26.
Investors will parse Yellen's language to determine whether September is a go for the Fed to begin unwinding its balance sheet. The central bank previously said that was a move that it would implement "relatively soon" provided the economy expands as expected. Paring the Fed's sizable assets would likely tighten monetary conditions in the same way an interest-rate hike would. Another rate increase isn't expected until December at the earliest.
However, weak inflation trends could delay the Fed's timing on reducing its balance sheet and hiking rates. On top of that, a number of Fed officials have said that even with a series of interest rate hikes forecast over the next 18 months, the long-term federal funds rate will likely remain below historical averages.
The U.S. private sector hit its highest level in 27 months in August, led by growth in services business activity. The flash purchasing managers' index increased to 56 from 54.6 in July, according to Markit Economics. U.S. services business activity hit a 28-month high of 56.9, while manufacturing PMI reached a two-month low and manufacturing output fell to its worst level in 14 months. 
Crude oil prices were higher on Wednesday as domestic inventories declined, though not as much as expected. Crude stockpiles in the U.S. fell by 3.3 million barrels in the past week, according to the Energy Information Administration, adding to a 8.9-million barrel decline a week earlier. Analysts expected a drop of 3.5 million barrels. Gasoline stockpiles fell by 1.2 million barrels, while distillates were unchanged. 
West Texas Intermediate crude was up 1.2% to $48.41 a barrel on Wednesday. 
The future of the North American Free Trade Agreement looks uncertain after President Donald Trump said he has doubts that a deal can be renegotiated. At a campaign rally on Tuesday evening, Trump told the Arizona crowd, "Personally, I don't think we can make a deal ... I think we'll end up probably terminating NAFTA at some point." Mexico, Canada and the U.S. entered into negotiations this month to tinker with the agreement, a deal that has been in force since 1994. Trump railed against free trade on the campaign trail, arguing that it was decimating the manufacturing sector. 
Walmart Stores Inc. (WMT) , under a new partnership with Alphabet Inc.'s (GOOGL) Google, will allow shoppers to make purchases through the voice-activated device Google Home, the Google Express app or its website. A Google assistant, which is tantamount to an online personal shopper, will be assigned to each customer to fulfill the order and set it up to be delivered to their homes.
"I think this gives us a look into the future of shopping, yes," Walmart president and CEO of U.S. e-commerce, Marc Lore, told TheStreet in an interview. "I think with the advancements in artificial intelligence voice ordering will get better over time."
The initiative launches on Sept. 1, and will be offered with a free one- to three-day shipping service, depending on the size of the order.
Apple Inc. (AAPL) has scrapped the idea of an Apple-branded autonomous vehicle and is instead working on the underlying technology that allows a car to drive itself, the New York Times reported. To that end, the company is developing a self-driving shuttle service that ferries employees from one Apple building to another, said sources.
The shuttle likely will be a commercial vehicle from an automaker and Apple will use it to test the autonomous driving technology that it develops, according to the Times.
Salesforce.com Inc.  (CRM)   climbed less than 1% after topping quarterly estimates. Adjusted earnings rose to 33 cents a share from 24 cents a year earlier. Sales surged more than 25% to $2.56 billion. Analysts anticipated earnings of 32 cents a share on $2.52 billion in sales.  
American Eagle Outfitters Inc. (AEO) surged almost 7% after quarterly profit and sales came in above forecasts. Net income fell to 12 cents a share from 23 cents a year earlier. Adjusted earnings of 19 cents came in 3 cents higher than expected. Revenue of $844.6 million beat estimates of $824 million. Same-store sales increased 2%, a surprise to analysts looking for a 0.4% fall.  
Alphabet and Apple are holdings in Jim Cramer's Action Alerts PLUS Charitable Trust Portfolio. Want to be alerted before Cramer buys or sells GOOGL and AAPL? Learn more now.
Cree Inc. (CREE)  guided for a weaker-than-expected first quarter. The lighting company anticipates first-quarter adjusted earnings of 2 cents to 6 cents a share, less than estimates of 11 cents. Revenue guidance of $353 million to $367 million wraps estimates of $361 million. Fourth-quarter results exceeded consensus. 
Express Inc. (EXPR) rocketed 19% higher after a double-digit increase in e-commerce sales drove the apparel retailer to a better-than-expected quarter. Adjusted earnings of 1 cent a share came in higher than an expected net loss of 1 cent. Sales fell just over 5% to $478.5 million, though higher than consensus of $474 million. Same-store sales declined by 4%, narrower than an anticipated 5.2% drop. E-commerce sales surged 28%. 
Is the Next Generation of the Supercomputer on the Way?
More of What's Trending on TheStreet: