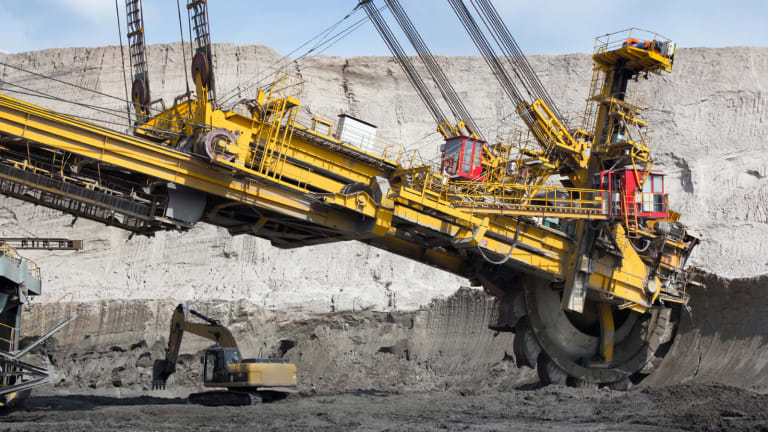 Lower Coal Prices In 2017? Chalk It Up To Lower Demand
Too much coal and too little demand has coal futures investors doing a slow burn. Will prices rise in 2017?
Average coal commodity spot prices stand at $41 per ton right now, according to the U.S. Energy Information Administration, and few analysts expect coal prices to rise anytime soon.
Both futures prices and exports in the coal market have been flat for all of 2016, a year in which Citigroup Inc. predicted coal would be a "hot commodity" this year.
"Believe it or not iron ore and coal are the hot commodities of 2016," the bank said in the note released early this year. Citigroup did warn commodities investors not to hang on to long coal positions for an extended period of time, citing low demand and high inventories. "Don't expect the strength to last," the firm states, "Structurally the world remains oversupplied with relatively low-cost material."
Currently, coal future price estimates through the end of the year will fall in the $39 per ton range, according to NYMEX coal futures estimates. The last few years have not been kind to coal investors, as new energy resources, most notably cheap oil and gas from North American-based fracking extraction, as coal prices have fallen from $130 per ton in 2012 to its current levels of $41 per ton today. Typically, as natural gas prices decline, the coal industry experienced weaker market share given that utility markets turn to use natural gas for cheaper power generation.
Vic Sperandeo, president and CEO of EAM Partners, which developed the Trader Vic Index, a collection of futures contracts in commodities, currencies and U.S. interest rates, says coal prices in 2017 will also be impacted by the U.S. presidential election.
"2017 coal prices will be governed by the policies enacted by the next president and thus by the result of the upcoming election," he says. "If the current low-growth environment continues under the next administration, then energy prices would be expected to stay soft. However, the enactment of pro-growth policies like tax cuts should drive growth in the economy as a whole and related demand should drive energy prices."
"Interestingly a weaker economic environment might drive commodities up broadly due to their inverse correlation to the dollar," Sperandeo adds.
Long-term, the picture is a positive one for coal, as major middle-class countries like China and India continue to prop up coal, even as the mining product loses its luster in western bourses.
"The future of coal is brighter than some people think," said David Price, a commodities analyst at IHS Energy, which is calling for a spike in coal prices nearing 2020, as global supplies abate.
"Coal's battle for the European and U.S. markets has likely been lost, worn down by increasing environmental costs, government measures to move away from coal, and in the U.S. at least, competition from cheap gas, but other markets continue to offer promise of further growth," he says.
Investors may think that fewer coal plants would raise the price of the commodity, given weaker product generation with fewer plants. But that isn't the case, anti-coal advocates say.
"Coal use is going to continue to decline because we are retiring additional coal plants this year - so, there will be fewer places to burn coal in 2017," says Bruce Nilles, senior campaign director for The Sierra Club's Beyond Coal Campaign. "We've also blocked the construction of new export facilities on the West Coast, so the promise of new markets has evaporated."
"In addition, the price of clean energy is ensuring that clean energy is the primary new source of electricity generation, further displacing coal," he adds. "Add in the suite of new regulatory requirements that coal has to internalize its cost of pollution - on the mining, air, water, and waste side, and coal's future continues to look bleak."
That may or may not be true in the U.S., but it's definitely not so overseas, where cheap coal still has a long line of customers. That balancing act may be keeping coal prices balanced, too, at least through 2017.