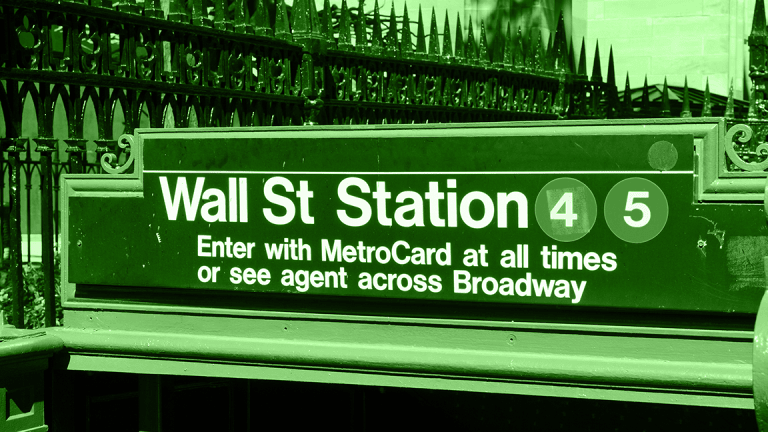 Jerome Powell, Wells Fargo, Buffalo Wild Wings and Uber - 5 Things You Must Know
U.S. stock futures are higher on Tuesday, ahead of testimony from Jerome Powell, Donald Trump's pick to serve as chairman of the Federal Reserve.
Here are five things you must know for Tuesday, Nov. 28:
1. -- U.S. stock futures were higher on Tuesday, Nov. 28, ahead of testimony from Jerome Powell, Donald Trump's pick to serve as chairman of the Federal Reserve.
Powell is scheduled for a full confirmation hearing at 10 a.m. ET before the U.S. Senate Committee on Banking, Housing, and Urban Affairs. Trump picked Powell to replace Fed Chair Janet Yellen when her term ends in February.
Powell "is expected to be more tolerant of a stronger growth profile and more rapid inflation relative to Chair Yellen, who has consistently targeted a 'moderate' growth rate," said Stifel Fixed Income Chief Economist Lindsey Piegza in a note to clients earlier this month. "Hoping to stimulate the economy and sustain improvement, the White House is stacking the deck -- or should we say Fed -- with like-minded officials who will welcome and promote the Trump agenda."
The  economic calendar in the U.S. on Tuesday includes International Trade in Goods for October at 8:30 a.m. ET, the FHFA House Price Index for September at 9 a.m., and Consumer Confidence for November at 10 a.m.
Earnings reports are expected Tuesday from Marvell Technology Group Ltd. (MRVL)  , Christopher & Banks Corp. undefined and Autodesk Inc. (ADSK) .
If you'd like to receive the free "5 Things You Must Know" newsletter, please register here.
2. -- It's clear that Cyber Monday was about one thing: smartphone sales. 
As of late afternoon on Monday, Nov. 27, Cyber Monday sales reached $3.38 billion, a 16.8% increase from last year and marking the biggest day in U.S. e-commerce history. The kicker was that smartphone visits made up more than half the overall traffic Monday. 
Mobile represented 53.3% of digital sales as of early Cyber Monday, according data from Adobe Analytics data. That's 44.6% from smartphones and 8.7% from tablets. Mobile sales accounted for  nearly 40% of total revenue, and mobile revenue grew 41% from last year. 
By far, the most surprising metric in this year's data was mobile sales, according to Tamara Gaffney, senior director of Adobe Digital Insights.
"Today in theory should not be a big smartphone day because people are back at their desktops," Gaffney told TheStreet. "The most interesting thing I see in this data is that this isn't the case."
3. -- Wells Fargo & Co. (WFC) cheated a number of its foreign-currency exchange business customers by overcharging them, The Wall Street Journal reported.
Of the roughly 300 fee agreements for foreign exchange trades reviewed internally by Wells Fargo, only 35 companies ended up paying the actual prices they had been quoted, employees of the bank told the Journal.
Foreign-exchange employees received bonuses based on how much revenue they generated, sources told the Journal, and the bank charged unusually high fees.
Wells Fargo charged one of the highest trading fees -- at least two to eight times higher than industry standards, the Journal reported, citing the bank's employees and others in the sector.
The bank has struggled since 2015 with the fallout from a sales practices scandal, which saw bankers creating fake accounts to meet quotas and charging customers for auto insurance they never intended to purchase. 
4. -- Roark Capital Group, the owner of Arby's and Cinnabon, agreed to buy Buffalo Wild Wings Inc. (BWLD) for about $2.9 billion, including debt.
Roark-backed Arby's agreed to pay about $157 a share in cash for the restaurant company, the companies said on Tuesday, confirming news first reported by Bloomberg. The deal price would represent a premium of around 34% to the stock's Nov. 13 closing price, before Roark's opening bid of about $150 a share was reported. 
Shares of Buffalo Wild Wings rose 5.9% in premarket trading on Tuesday to $155.
The deal is expected to close in the first quarter of 2018.
5. -- Uber Technologies Inc.'s string of leadership and business failures may have cost investors more than $20 billion, according to reports that suggested Japan's SoftBank Group Corp.  (SFTBY)  was seeking a 30% discount on its massive investment in the ride-hailing company.
Multiple reports, first revealed by Bloomberg, indicated that SoftBank, along with partners Dragoneer Investment Group and General Atlantic, was offering $33 a share, plus $1 billion in direct cash, for a 14% stake in Uber that would make it one of the San Francisco-based company's biggest stakeholders. The offer, however, is essentially a 30% discount to the assumed valuation of Uber, based on its last round of funding, and would peg its worth now at $48 billion.
Uber revealed last week that hackers were able to steal data for 57 million riders and drivers. With the announcement,  Uber said it concealed the breach for a year after paying $100,000 in ransom for the stolen information to be destroyed.
That revelation has authorities around the world looking into what the company knew and when it -- and its founder and former CEO Travis Kalanick -- knew it. It's also created a whole series of headaches for new CEO Dara Khosrowshahi, who said earlier this month that Uber was looking to go public by 2019.
This story has been updated to include the confirmation of the Buffalo Wild Wings acquisition.
More of What's Trending on TheStreet: