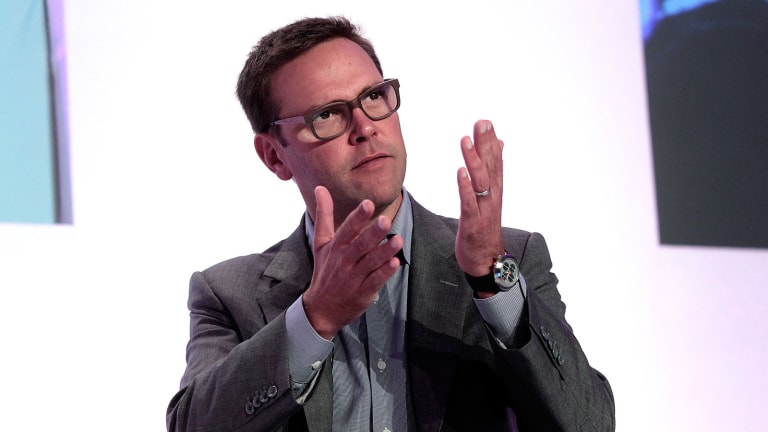 James Murdoch Criticizes Trump: 'There Are No Good Nazis'
Murdoch will donate $1 million to the Anti-Defamation League
Twenty-First Century Fox (FOXA) - Get Fox Corporation Class A Report CEO James Murdoch has criticized President Donald Trump's response to the attack in Charlottesville, VA.
Murdoch is the latest executive to lash out at the president. In a memo obtained by Hollywood Reporter, the CEO of the parent company of Fox News said, "What we watched this last week in Charlottesville and the reaction to it by the President of the United States concern all of us as Americans and free people."
The son of conservative and 21CF executive chairman Rupert Murdoch wrote he was writing in a "personal capacity, as a concerned citizen and a father," adding that he did not make a habit of commenting on current affairs.
"I can't even believe I have to write this: standing up to Nazis is essential; there are no good Nazis. Or Klansmen, or terrorists. Democrats, Republicans, and others must all agree on this, and it compromises nothing for them to do so," Murdoch wrote.
Murdoch added that he and his wife Kathryn would be donating $1 million the Anti-Defamation League and encouraged others to do so.
Murdoch junior is known to have more liberal views than his father, who is said to speak to the president often.
Backlash against the White House's equivocal response to violence in Charlottesville has grown this week.
Trump this week was forced to disband two business advisory councils as high-profile CEOs quit after the President said opponents of a white supremacist rally shared the blame for violent clashes. On Thursday night, plans for an infrastructure council were scrapped by the administration.
Fox shares closed at $27.35, after losing 2.29% throughout the day. 
More of What's Trending on TheStreet:
Apple Should Be Terrified By How Much Samsung Is Spending on Its Future