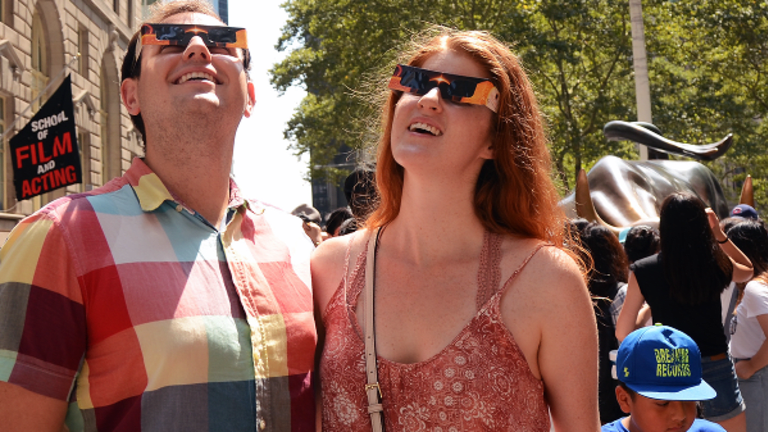 The week began with a once-in-a-lifetime solar eclipse and ended with policy shoptalk from the Federal Reserve. Here's how Wall Street ended the week.
WHERE MARKETS STAND
Stock markets closed out the week mixed, with the Dow adding 0.14% and the S&P 500 adding 0.17% on Friday, Aug. 25. The tech-heavy Nasdaq was weighed down by earnings, finishing narrowly lower on Friday.
For the week the Dow rose 0.64%, the S&P 500 gained 0.72% and the Nasdaq jumped 0.79%
The Dow posted its fifth-best daily performance of the year on Tuesday, Aug. 22.
Tuesday was also the S&P 500's fourth-best daily performance of the year.
The Nasdaq finished in the green only once during the week on Tuesday, which was its third-best daily performance of the year.
A TRIP TO JACKSON HOLE, WYOMING
Central bankers convened in Jackson Hole, Wyoming, for the highly anticipated annual Economic Policy Symposium.
Yellen made brief comments on strengthening employment figures in her speech Friday, but spent the majority of her talk addressing the efficacy of financial regulations.
Yellen said policy reform including stress tests for big banks and the creation of the Financial Stability Oversight Council has led to more credit available on good terms and an advance of lending in line with economic activity, contributing to today's "strong economy."
Yellen said there is "reason to hope" that the U.S. will experience fewer financial crises and recover more quickly should any crises occur, "sparing households and businesses some of the pain they endured during the crisis that struck a decade ago."
Because of policy reform, "Banks are safer. The risk of runs owing to maturity transformation is reduced. Efforts to enhance the resolvability of systemic firms have promoted market discipline and reduced the problem of too-big-to-fail. And a system is in place to more effectively monitor and address risks that arise outside the regulatory perimeter," Yellen said.
Dow component JPMorgan Chase & Co. (JPM) - Get JPMorgan Chase & Co. (JPM) Report traded up 0.7% following the release of Yellen's comments. Fellow Dow bank Goldman Sachs Group Inc. (GS) - Get Goldman Sachs Group, Inc. (GS) Report closed the day up 0.1%.
Notably missing from Yellen's comments was an indication of the Fed's plans for interest rate increases or intentions to trim its $4.5 trillion balance sheet.
Draghi's comments also lacked much insight into monetary policy. The ECB leader called instead for raising output growth by lifting productivity and working multi nationally to accomplish mutual trade goals. Most of Draghi's commentary focused on openness to trade and growth strategies undertaken as a global entity instead of hundreds of separate countries. "For advanced economies that are close to the technological frontier, [growth] depends crucially on openness to trade," Draghi noted.
He criticized leaders who threaten trade and offered support for "policies aimed at answering [backlash]," which are a "vital part of the policy mix for dynamic growth."
RETAIL EARNINGS
Retail names dominated the earnings calendar over the past week. Department store chains, apparel brands and other consumer stocks typically wrap up the tailend of the reporting season. 
Williams-Sonoma Inc. (WSM) - Get Williams-Sonoma, Inc. Reportreported a solid earnings beat. The homewares retail chain also guided for an in-line third quarter.
A narrower loss at Sears Holdings Corp. (SHLD) overshadowed sharp declines in sales. A net loss of $2.34 a share was far better than $3.70 a share a year earlier thanks to cost-cutting efforts. Revenue slid 23% to $4.37 billion. Sears also said it would close 28 more Kmart stores.
Sears Is Facing a Colossal Problem That Might Ignite a Bear Raid
Abercrombie & Fitch Co. (ANF) - Get Abercrombie & Fitch Co. Class A Report reported a narrower loss than expected over its second quarter. Same-store sales decreased 1%, weighed on by a 7% drop at its namesake brand, though Hollister sales rose 5%.
Abercrombie Shares Go Haywire After This Surprise
Tiffany & Co. (TIF) - Get Tiffany & Co. Report earned 92 cents a share, higher than 84 cents a year earlier and above estimates of 86 cents. Revenue increased 3% $959.7 million, surprising analysts looking for a slight decrease. Solid demand for its high-end lines and increased sales of wholesale diamonds helped to drive revenue.
American Eagle Outfitters Inc. (AEO) - Get American Eagle Outfitters, Inc. Report reported quarterly profit and sales that came in above forecasts. Same-store sales increased 2%, a surprise to analysts looking for a 0.4% fall.
Express Inc. (EXPR) - Get Express, Inc. Report enjoyed a double-digit increase in e-commerce sales which drove the apparel retailer to a better-than-expected quarter. Same-store sales declined by 4%, narrower than an anticipated 5.2% drop. E-commerce sales surged 28%.
DSW Inc. (DSW) - Get Designer Brands Inc. Class A Report reported its first comparable-store sales growth since 2015. Same-store sales increased 0.6%, far better than an anticipated drop of 2%. Overall sales rose 3.3% to $680.4 million, coming in above consensus of $666 million. Earnings of 38 cents a share also topped estimates.
Ulta Beauty Inc. (ULTA) - Get Ulta Beauty Inc Report stock fell Friday despite beating Wall Street estimates in its second quarter financials released after the closing bell on Thursday. Ulta reported earnings of $1.83 per share, topping estimates of $1.78. But revenue of $1.29 billion just barely beat analysts' expectation of $1.28 billion, causing shares to tumble. Ulta joined Broadcom to weigh on the Nasdaq and erase its early Friday gains.
GameStop Corp. (GME) - Get GameStop Corp. Class A Report tumbled at Friday's closing bell after the retailer missed second quarter earnings estimates. The company reported adjusted EPS of 15 cents, missing the analyst expectation of 18 cents. Sales rose 7% to $188.3 million, but fell short of analysts' projected $207.6 million in sales.
HOUSING ON WATCH
Surprises in new home sales and existing home sales this week raised some concerns over ongoing strength in the housing sector.
Existing home sales came in at a seasonally-adjusted annual rate of 5.44 million in July, according to the National Association of Realtors. That marked a 1.3% decline and its lowest level of the year. Economists had expected a 0.9% increase.
New home sales in the U.S. tumbled in July, missing analysts' estimates. The number of newly built homes sold in July fell 9.4% to 571,000 units, a seven-month low. Economists expected a reading of 610,000.
This month's weakness could be a transitory blip, though, U.S. Bank Wealth Management's Ed Cowling told TheStreet.
"The inventory of available new homes is increasing bit by bit, starts are fairly steady, new homes are selling very quickly (2.9 months after completion), mortgage rates are still historically low, and the overall economy and labor markets remain positive, so I anticipate new home sales to reverse this latest slip," he said. "At the same time, it does not look like there will be a strong rise in sales the remainder of the year."
THE MOON AND THE SUN
A rare solar eclipse that traversed only the U.S. demanded the country's attention on Monday, Aug. 21. Meanwhile, on Wall Street, stocks failed to find direction and closed narrowly mixed.
Bulls waited on the sidelines for reason to move back into the market. The Dow Jones Industrial Average and the S&P 500 were slightly higher, up 0.13% and 0.12%, respectively, while the Nasdaq was off 0.05%. Stocks spent much of the morning session flitting between slight losses and gains.
The sun, moon and Earth lined up perfectly for a few minutes on Monday in the first total solar eclipse to travel from the West Coast to the East in 99 years. The eclipse began in Oregon at around 1 p.m., turning day to night, and ended in South Carolina at roughly 3 p.m. Millions of Americans headed outdoors to watch the eclipse -- productivity lost is expected to total $694 million.
More of What's Trending on TheStreet:
The 30 Nastiest Storms in Recent U.S. History Have Caused Mind-Blowing Damage